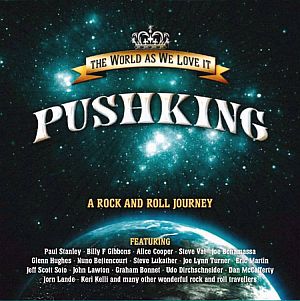 Artist: Pushking
Title: The World As We Love It
Genre: Classic Rock
Release Date: 28th January 2011
Label: earMUSIC/Edel
Album Review
PUSHKING, a band from Russia, was formed in 1994 and close to their inception have made their name mainly in Germany and Switzerland by extensive touring and playing many festivals as well. They have released many albums before the upcoming 'The World As We Love It', an album with an ambitious idea to bring many artist from across the world to perform and participate with PUSHKING, the names include ALICE COOPER, Paul Stanley (KISS), Billy Gibbons (ZZ TOP), Glenn Hughes (ex DEEP PURPLE), John Lawton (ex URIAH HEEP) amongst an impressive list of many others.
The album is quite long to accommodate all this variety of performers and ideas, it comprises of 19 songs, all solid and classic Rock. The songs feel sincere, lyrics like music are interesting. The good thing about this album is that the songs offer good variety, the first song that follows the intro, 'Nightrider' is a solid Rock'n'Roll number, the second 'It'll be OK' goes mid-tempo, emotive with a good atmosphere, swinging from ballad to a belter, probably one of my favourites here, the closing is wonderful especially. 'Trouble Love' will prod you get you singing along. 'Schindler's List' is a beautiful and quite wonderful ballad, sometimes guitars get to sound like sirens to give the song more atmosphere. The influences of their guests and inspirations are clearly present throughout, the connoisseur fans will have a field day guessing the connections.
An enjoyable album and I'm sure a must-get for their fans. Though I did find it very good and probably one of the better one in the contemporary genre of this music, it's still however not exactly groundbreaking and I'm not awed enough to be enthusiastic.
Tracklist
01. Intro – 0.14
02. Nightrider – 3.36
03. It'll be OK – 4.16
04. Trouble Love – 4.12
05. Strangers Song – 4.11
06. Cut The Wire – 4.18
07. Schindler's List – 4.17
08. God Made Us Free – 3.49
09. Why Don't You – 4.57
10. I Believe – 3.57
11. Tonight – 5.59
12. Private Own – 4.19
13. Open Letter To God – 4.47
14. Nature's Child – 4.03
15. I Love You – 4.44
16. Headshooter – 3.31
17. Heroin – 4.56
18. My Simple Song – 4.37
19. Kukarracha – 4.16
Line-up
Konstantin "KOHA" Shustarev - vocal, guitars
Andrey "DRUNIA" Kruglov - drums
Oleg "IVANICH" Bondaletov - keyboards
Dmitriy "MITYA" Losev - guitars
Roman "ROMA" Nevelev - bass
Websites
http://www.pushking.eu/
/
http://www.myspace.com/pushkingofficial
Cover Picture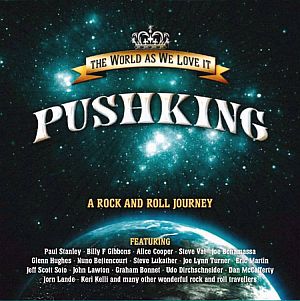 Rating
Music: 6
Sound: 7
Total: 6.5 / 10