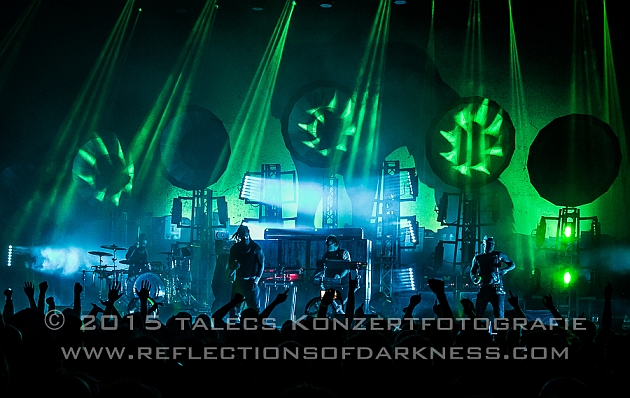 Velodrom, Berlin, Germany
11th April 2015
The Prodigy

The Kingdom is back. On April 11th, THE PRODIGY came to Berlin's Velodrom and brought the 90's to Germany's capital. At least the part of the 90s which goes crazy to Break-beats, metal riffs, screams and samples of broken windows. Meanwhile the audience turned now from teen to young at heart, but it was clearly recognizable on eyebrow piercings and tribal tattoos. For the show of only one band plus DJ Set as support at least 8,000 people paid the price of € 50. But it was worth it.
During the DJ Set the people could prepare themselves with beer for the gig. There was not really more to do. But at 9:45 the light switched off and tons of fog filled the stage. THE PRODIGY started with a blue strobe light inferno to their first song 'Breathe'. Keith Flint and Maxim Reality as front men of the band at their microphones and Liam Howlett, the mastermind behind the synthesizers, brought a drummer at an acoustic drum kit and guitar / bass guitar player with them on stage.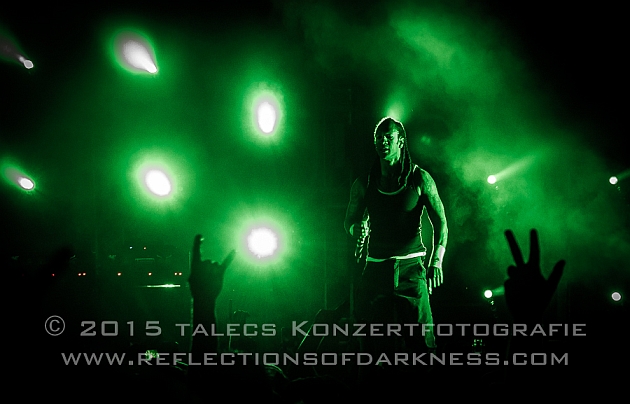 The sound in front of the stage was powerful as it should be. And even 80 meters in the back you could feel the bass in your stomach. With the fifth song, 'Firestarter', it became hot like hell in the venue. The strobe lights on stage created an atmosphere of flames with their red and orange flashings. They perfectly mixed their good old songs together with their new songs from the just released album 'The Day Is My Enemy'. People everywhere took off their shirts, even in the last rows and danced, jumped or moved to the beat. The temperature was hot like in an 90s basement rave. Who joins a PRODIGY live show in 2015, doesn't expect a further developed band. Quite the opposite, you are happy that the new album sounds as if it would be at least 15 years old. With a grin, the people were standing in front of stage and laughed about every musical stroke in their face. There are no cynical, pseudo-intellectual lyrics, and no mollified beats under foamy tunes. The drum samples matched perfect with the live-drums and the double bass attacks, the synthesizers filled the hall together with the sawing guitar and all over it, the men at the microphones screamed their paroles out of the boxes.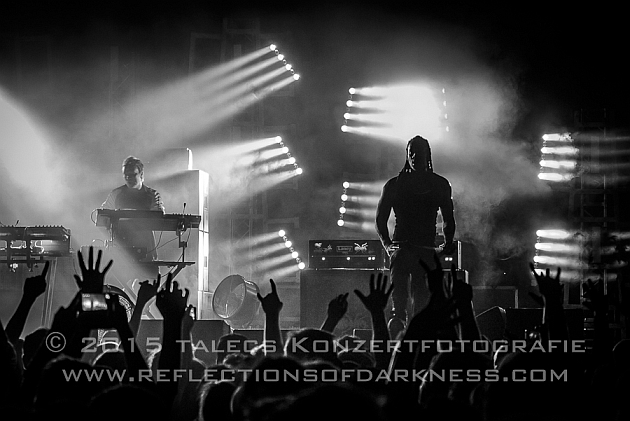 After 90 minutes the shows was over. The prodigy left their fans without any message, except of their music. But this was more, than most of the modern bands say. A little side note at the end: if you expected close-up photographs here, you will be disappointed. Due to the presented photo contract we decided to skip and not sign it. Therefore you "just" see some pictures taken from a fan at the audience area.
Setlist

01. Breathe
02. Nasty
03. Omen
04. Wild Frontier
05. Firestarter
06. Roadblox
07. Rok-Weiler
08. Poison
09. The Day Is My Enemy
10. Voodoo People
11. Get Your Fight On
12. Run With the Wolves
13. Wall of Death
14. Omen (Reprise)
15. Invaders Must Die
16. Smack My Bitch Up
---
17. Their Law
18. Take Me to the Hospital
Rating

Music: 10
Performance: 9
Sound: 9
Light: 10
Total: 9.5 / 10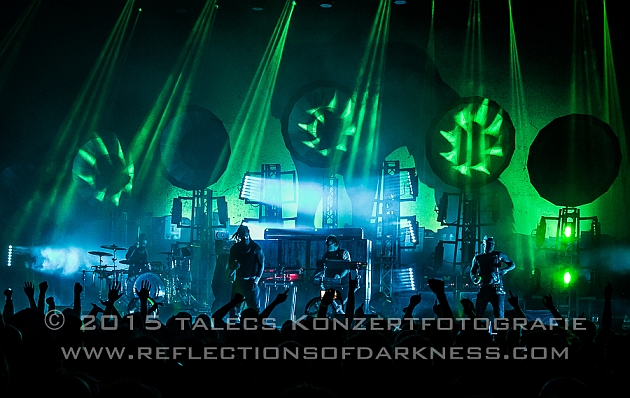 All pictures from the audience area by Alexander Jung