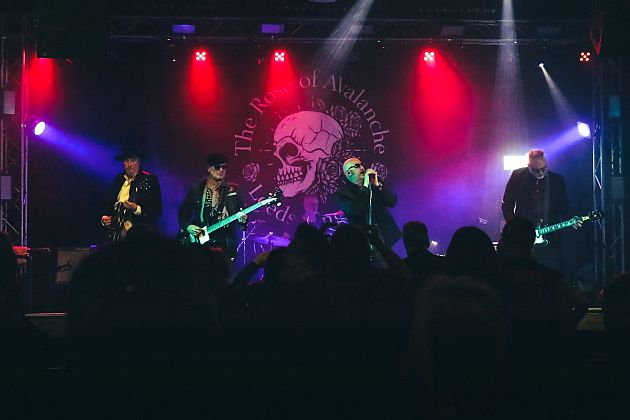 The Parish, Huddersfield, UK
25th February 2023
Rose of Avalanche & special guests: Strange Cities and Kristeen Young

ROSE OF AVALANCHE haven't had too far to travel this evening as are from just down the road in Leeds - the same cannot be said for their support acts: STRANGE CITIES and KRISTEEN YOUNG who have both hopped across the pond from the good old US of A. First though, a little about the venue.
Ideally located a short walk from the railway station and close to restaurants, The Parish is a superb venue. It has performance space upstairs and in the basement, a spacious bar area and a relaxed, friendly ambience. It also has a tasty looking menu but as my companions and I had already eaten, we didn't sample it on this occasion. We were greeted by friendly door staff - always a bonus and informed that there was no bar in the auditorium, so we sat downstairs until the first act of the night started their set.
Strange Cities
STRANGE CITIES are in their own words: "Nostalgia, bittersweetness, melancholy, sparkle sighs, broken laughter, whiskey tears, and angry nights." The San Francisco band was formed by members of IN LETTER FORM, MURDER OF LILIES and I AM ANIMAL. They consist of Daniel Nakazo Clark (vocals, guitar), Dan Caporale (drums), James Levis (guitar) and Clay Voreheis (bass, vocals).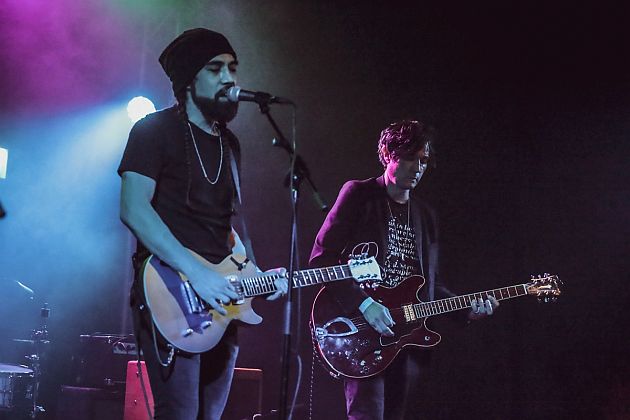 Music & Performance

Being the first act in a collection of three bands - especially from across the pond, can be an unenviable position for a band to be in, but they hold their own and receive a good reception. They have Indie-Rock vibes, but the guitar sequence has more melancholy "Goth" undertones - I detect a little hint of THE CURE on a couple of tracks. I do think that more people would watch them if there was a bar and seating in the upstairs room. The ones who drift up from the bar to watch them, seem impressed - amongst whom I spot Phil Morris and Alan Davies (ROSE OF AVALANCHE). Overall, it was a good set. I will probably have to listen to them again to get a better feel for the band but first impressions… I would definitely watch them again.
Setlist

01. Cage
02. Holoscene
03. We Could Give Up
04. Fade Away
05. Dead to Dust
06. Where Stars Collide
07. Another Version of Love
08. Terror
09. Head On
Rating

Music: 8
Performance: 8
Sound: 8
Lights: 8
Total: 8 / 10
Kristeen Young
Kristeen is a singer / songwriter from Missouri with an impressive resume. In the past, she has worked with DAVID BOWIE, MORRISEY, Brian Molko from PLACEBO, Dave Grohl and THE DAMNED. Tonight, Kristeen is like a silver bird as she delicately flutters her arms and flits about the stage.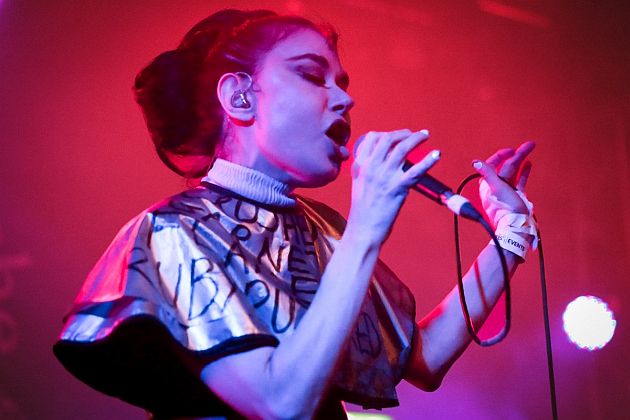 Music & Performance

It's almost cabaret style - the shiny, futuristic costume is a stark contrast to the dark function room and sea of black attire worn by the rest of us. Her astonishing soprano range, coupled with her keyboard skills, result in a sound that is reminiscent of 80s Post-Punk futurism. The reverb is almost tangible as it echoes off the walls with kooky song titles like 'The monster in the moon' and 'Sue Veneer'. It's the right combination of zany and class. There is something ethereal about Kristeen's stage presence - at juxtaposition of somehow filling the entire stage, whilst simultaneously remaining at her keyboard. One of my friends, disappears after the set and reappears proudly holding K Kristeen's album. A good test for a support band is whether you would go to see this act if they were the headline instead of the support. For many of us, it is a resounding yes!
Setlist

01. The Monster in the Moon
02. Life Kills
03. Sara Get the Baby
04. The Beauty Shop
05. Pearl of a Girl
06. Sue Veneer
Rating

Music: 9
Performance: 10
Sound: 9
Lights: 9
Total: 9.3 / 10
Rose of Avalanche

I f people ask me "Who do ROSE OF AVALANCHE sound like?" my reply is "ROSE OF AVALANCHE"! The influences of BOWIE, LOU REED and THE STOOGES are unmistakable, however the band have cultivated a sound that is unique to them… ROSE OF AVALANCHE are one of those bands who deserve to be much bigger than they are. Originally formed in 1984. The band was formed in 1984 by Phil Morris, Alan Davies and Paul James Berry. They are a beloved part of the alternative music history of Leeds. They have over the years, amassed a dedicated cult following, eager to hear more. Prior to their appearance this evening, I overheard several people enthusiastically sharing details of when they first saw ROSE OF AVALANCHE in the 80s.
The band had several line-up changes, eventually parting company in 1993 - though Paul went on to have a successful music career as a solo artist. The band reformed in 2019. when rumours of their impending reunion spread, the band received messages of support from as far away as Japan. The current line-up consists of: Phil Morris (vocals), David "Wolfie" Wolfenden, who recently replaced Paul, Alan Davies (bass guitar), Glenn Shultz (guitar) and Mark Thompson (drums). ROSE OF AVALANCHE supported THE MISSION the UK leg of their 2022 tour - and their performance was met with great enthusiasm. They recently headlined the Antenna Alternative music festival in Leeds and are playing at "Tomorrow's Ghosts Festival" in April.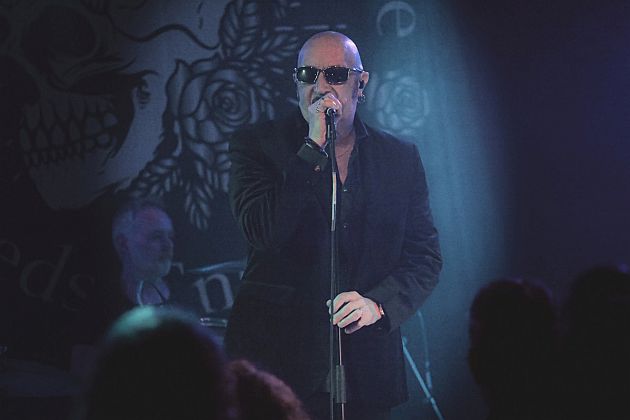 Music & Performance

Tonight the band enters with 'Dreamland'. Its long string instrumental which then builds with the drums, before Phil Morris joins in on vocals. It's an excellent opener. This is followed by fan favourites 'Don't fly too high' and 'Too many castles'. The audience appears to be having a great time, most people who have come to see the band today probably saw them the first time round. Many sing along. Some attempt a compact variation of the gothic two-step - others sway from side to side. My friend's husband forms a one-man mosh pit! Everyone is enjoying the show in their own way. We are treated to the first new ROA track, 'The Man', for thirty years and it rocks.
The almost manic pace of 'Goddess' was softened by the serenity of 'Never another sunset' (for which I have a soft spot as it is the first Rose single I ever heard) and 'Velveteen'. At one point, Phil gives us an impromptu rendition of REM's 'The one' between tracks. It becomes one of two defining moments of their set. The final song of the main set is a cover of THE STOOGES 'Loose' the band leave the crowd as always, wanting more. They soon return for the encore belting out, 'Always there' and another STOOGES cover 'Search and Destroy'. Phil strolls away, leaving Wolfie, Alan, Mark and Glenn playing an impromptu instrumental jamming session that goes on and on. It's a brilliant ending to the evening.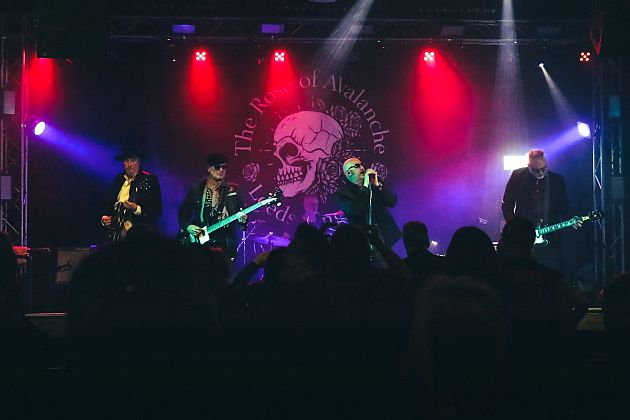 When I interviewed this band a few years ago, they were testing the water having only recently reformed. I remember one of them saying "Well we'll just go out and play and they might love us, or they might tell us to fuck off." Well suffice to say the latter most definitely is not happening. There's this buzz, this feeling that they are on the cusp of being really successful… If you love your Goth bands with a side helping of Rock and a slice of Iggy, go and see this band!
Setlist

01. Dreamland
02. Don't fly too high
03. Too Many Castles
04. Height of the clouds
05. Not another day
06. The man
07. Never Another sunset
08. Velveteen
09. Rise to the groove
10. Goddess
11. LA Rain
12. Loose
---
13. Always there
14. Search and destroy
Rating

Music: 10
Performance: 10
Sound: 10
Lights: 10
Total: 10 / 10
All Photos by Mel Butler (https://melbutlerphotography.com)
Michelle Corns