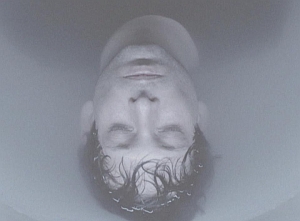 Interview with
Luis Vasquez from The Soft Moon

The new, forthcoming album from THE SOFT MOON, 'Deeper', will be released on March 30th. This American project, created in 2009 by Luis Vasquez, pioneered a new genre of crossover music, which combines Postpunk, Shoegaze, Darkwave and Psychedelia. THE SOFT MOON has grown to become the spearhead of a whole new generation of alternative bands. Our web journalist Phil Blackmarquis met Luis Vasquez in Brussels during his European media-tour and they had a long and very interesting chat...
Reflections of Darkness [RoD]
: Thank you for this interview! Let's talk about your new album, which is called 'Deeper'. I read that it's a sort of return to the first album, which was more introspective?
Luis Vasquez [LV]
:
Yeah, it basically represents my evolution as a songwriter, exploring my inner dimensions. I definitely wanted to express more song-written material, whereas before I was more into sounds and experimentation. With this one, I wanted to include more melodies, more structure, from the start to finish and I also wanted to learn more about myself, as extremely as I could. Which is why I called it 'Deeper'.
RoD
: For this, you chose a place where you could be on your own for a certain time, in Italy?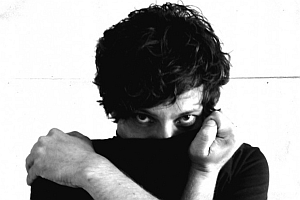 LV
:
Yeah, I just wanted to be in an unfamiliar territory. I didn't want to be comfortable during the process. I wanted to feel a little bit of struggle, to challenge myself and depend on my art to survive.
RoD
: Where was it, near Venice I think?
LV
:
Yeah, in Venice, 10 minutes away from the island, in the countryside. I just wanted to be as pure and honest as possible with my expression, without any influences...
RoD
: I read that 'Zeroes' was supposed to be your last solo album?
LV
:
It's funny because I don't remember saying that. I've been reading it too, it's even in my bio. I left it this way because I do remember feeling that way about closure with THE SOFT MOON. I just don't remember saying it but it makes sense to me and I also like the story behind, as if the project was finished but then I came back because I thought there were still important things to be said and done.

RoD
: Maybe you were a little bit tired or bored after having toured so much?
LV
:
I never really get bored. The thing is that it's very painful for me. The songs I write are about feelings I have and everything that comes out naturally is just darkness. Sometimes I don't like the answers I get to my questions so it's very torturous for me to write songs. And I'm very vulnerable after a live set. It takes about an hour after a live set for me to kind of put my shell back on, because I'm like an open wound and that's very hard to do this every night.
RoD
: What were the most important things you discovered in your new search in Italy. What were the creative triggers this time?
LV
:
The triggers depended 100% on myself. The ultimate goal was to learn about why I exist and about what I am. It's always these questions. It's so weird to be alive...
RoD
: There's a song in which you say exactly that: "why are we alive?"
LV
:
It's kind of a recurring theme for me... It's in the song 'Feel'. In 'Being', I also say "I can't see my face, I don't know who I am,...". There are only a few themes I regurgitate every time. I don't really sing about love so much...

RoD
: In certain new songs, there's something about the way you sing that reminds me of Trent Reznor...
LV
:
Yeah, there is something of NINE INCH NAILS, but it wasn't done on purpose...
RoD
: Of course not! It's an archetype, something that hangs in the air and...
LV
:
I think it's like a kindred spirit thing, we're just similar people.
RoD
: Exactly. And probably, in your evolution, you feel the way he (Trent Reznor) was at a certain time.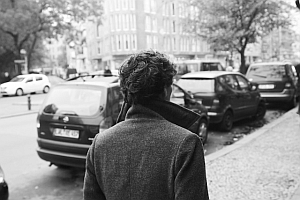 LV
:
Yeah, there's a following his footsteps kind of thing. I'm starting to realize this now. I didn't see it before. It's strange because I only saw NIN live not so long ago. And to be honest, I never really listened closely to his music. I had 'Downward Spiral' and 'The Fragile' but I was never a super fan. I had a connection with it, and now as I look at it, I notice similar themes. Like that feeling of power, that "Fuck You" thing. He also sings about his vulnerabilities too, so...
RoD
: I feel the link in two or three songs in this album... the power, the anger that has to come out.
LV
:
I think the main similarity we have is that we are our own enemy and that's the journey, to defeat yourself. I don't trust myself at times, sometimes I'm depressed and I want to fight to be happy. That's what I sense.
RoD
: Let's talk about the production. You did it with Maurizio Baggio?
LV
:
Yeah, we co-produced the album.
RoD
: How did you get in touch with him?
LV
:
He was my sound engineer on some previous tours and because he was on tour with me, we grew kind of close. On tour, I feel in a vulnerable state. You share the van, you see every side of every one. We established a nice dynamic in the relationship, so I felt comfortable with him to go in the studio and to be just me. I tend to hide lots of aspects of who I am in daily life. But he saw everything so there was nothing to hide.
RoD
: Let's talk about you cooperation with John Foxx, who is also one of my heroes...
LV
:
It's funny, because tonight, when I go to my hotel, I have to do another project with him.
RoD
: Did you meet him?
LV
:
Yes we hung out in London. He's a great guy. Super tall!
RoD
: Yeah. I did a wonderful interview with him. A very modest man, a gentleman.
LV
:
He's a total gentleman...
RoD
: You'd want to call him "Sir"...
LV
:
Yeah, he's definitely a "Sir"...
RoD
: And what about the tour with DEPECHE MODE?
LV
:
That was eye-opening, emotional and very fun! It was revelation, life-changing... For me to come from my bedroom making songs to playing with DEPECHE MODE in front of 20,000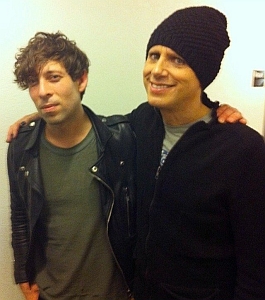 people every night, it's crazy. I watched them perform every night we toured with them. I remain very grateful and humble about the whole thing. I just couldn't believe it. It gave me more questions like "why am I alive?" Is this really happening? When it gets this big, it doesn't make sense anymore.
RoD
: Any anecdote you recall?
LV
:
Martin Gore and I shared a lot of jokes. He's hilarious, in fact. One night, I was drinking quite a bit and I mentioned that I cry a lot when I watch sad films. So it became this recurring joke like when I was saying something, he'd reply "And did you cry?" (laughs)... It's great to see that he's a real person.
RoD
: I had a question about the beginning of your career, back in 2009-2010. If I remember well, at that time, when you did your first album, a whole movement was created not only by you but also by The KVB. A mix between several genres: Postpunk, Psychedelia, Shoegaze and Electronics...
LV
:
Yeah. What do they call it? Collective consciousness? Things happen far away at the same time. I remember things got dark in the music industry at that time in terms of bands. The music became darker and it's still this way today.
RoD
: Yes, there was the ghost/ witch wave and now it's still going on, but it's more electronic, influenced by techno and house but with a central nucleus that remains very dark.
LV
:
Yeah, the foundation is the same but the experimentation around has evolved.
RoD
: I talked about this with Nick Wood, from The KVB and he said the same thing. He couldn't figure out whether it was you or him that started the movement...
LV
:
I would say it was me... (laughs) If I follow my ego, I will say it was me but who knows. I think it's more, like I said, collective consciousness. It just happened at the same time in different parts of the world.
RoD
: Let's talk about the origins. Do you remember your first memory related to buying a record or listening to a very important song?
LV
:
Yeah, I think the first cassette I ever bought was IRON MAIDEN's 'Seventh Son of a Seventh Son' (1988). I bought it because I really liked the cover.
RoD
: And the first one you chose for the content?
LV
:
After that, it was SLAYER and then maybe something like BAD RELIGION because I was getting into skateboarding. Watching skateboarding video's made me listen to punk music. BAD RELIGION had a song called 'Suffer' and "suffer" is one of my favourite words.
RoD
: And the first band in the genres that you coincide with?
LV
:
THE CURE's 'Disintegration', that's the first...
RoD
: There's something about THE CURE in 'Far', the rhythm section, etc.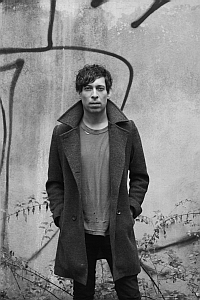 LV
:
Actually, I don't see it but I'm always open to this kind of comparisons...
RoD
: THE CURE is present everywhere, anyway...
LV
:
Yeah, I'm ok with that.
RoD
: At which moment did you decide to play music, and to compose?
LV
:
I was obsessed with music when I was a kid. Instead of watching cartoons, I was watching MTV all the time.
RoD
: At the time when it was good!... Especially the "120 Minutes" show!
LV
:
Yeah! I remember the VJ, Matt Pinfield. There was also Headbangers Ball, and Liquid Television, the animation cartoons with Beavis, Butt-head and Æon Flux.
RoD
: What about your project now? I suppose you will be touring a lot?
LV
:
Yes. We will start in April; we will tour quite a bit throughout the year.
RoD
: With which line-up?
LV
:
I've had the same line-up for three years now: it includes Matteo Salviato on bass and Matteo Vallicelli on drums. And I'm hoping to fit in a little side project, while I'm on tour...
RoD
: Like...
LV
:
I don't know, something angry, something noisy. I'm not sure. Just a solo side thing, to get other frustrations out.
RoD
: Another concept, with another name, then..
LV
:
It's just a thought right now. You're the first to hear about it. It's just an idea that hopefully will blossom.
RoD
: You live in Berlin now. What are your impressions about Berlin and Europe?
LV
:
I find it very inspiring. I feel creative when I'm there. I feel alive and I connect to it because of the history there. There's a sense of gloom and at the same time, people are trying to live and have fun. It's like going back to Cuba, where my family's from: they are poor but everyone celebrates life.
RoD
: So, maybe one of your internal struggles was coming from the fact that you were living in San Francisco, you know the problem between the sun on the one hand and your inner self. Your music was a reaction to the sunny, positive side of the world around you.
LV
:
Exactly. I tend to contrast. What's the word: I'm an antiloquist. I always want to do the opposite of whatever someone else is doing or saying. Or live the opposite in an opposite way, like if I would live on the beach, I would be dressed like a gothic guy, it's an example. (laugh)
RoD
: So, now you're in Berlin, you're going to play surf music, right? (laughs)
LV
:
Yeah, that's funny!
RoD
: OK. Thanks a lot, Luis.
LV
:
Thank you! Great! It was good, fun and very natural: I like that!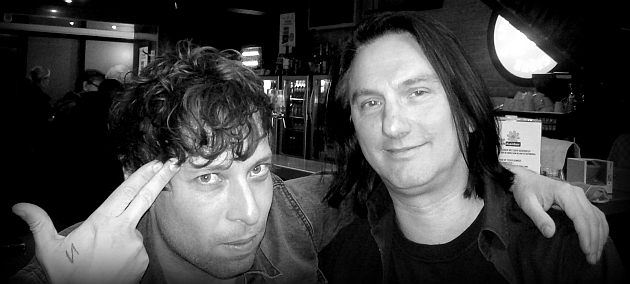 See also (all categories):