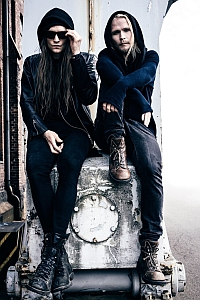 Interview with
Tommi Suomala (Vocals) and Joni Bitter (Guitar, Bass, Programming) from Rain Diary

Now it is January. Beautiful snow time. In the morning, the sun shines brightly on a blue clear sky. Snow shimmers with multi-coloured rainbow, light frost. Mysteriously standing trees, wrapped in a warm white fur coat from snow. It seems that everything stopped around, but it is misleading. We invite you to get warm with us not only with warm clothes, hot fragrant tea or mulled wine, but also listening to good music with great lyrics and beautiful melodies, and reading the recent interview, which we have taken with great Finnish dark wave band RAIN DIARY. Especially for you, all questions were answered by Tommi Suomala (vocals) and Joni Bitter (guitar, bass, and programming). Pleasant warming!
Reflections of Darkness [RoD]
: When and under what conditions was your band created?
Tommi
:
Well, there's always the constant need to write new music. You can't just turn it off. You have to get the demon out. And I think we were all in a void after our previous bands had split up, so we needed to start something new.
RoD
: What is the reason the band was named RAIN DIARY? Because in general diary is something very personal, intimate. This is something that reflects the everyday life of human, his emotions, experiences, feelings…
Joni
:
Exactly, I couldn't wear it better myself! Also, I've found out that there are people who are keeping actual diaries where they track down the rainfall. Sound's gothic and same time soothing.
RoD
: You kept everything in a diary? Did you try to write down everything that happens to you, and what do you think?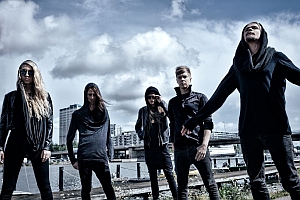 Tommi
:
I've actually never felt the urge to write down my feelings to remember them later. Days pass, life goes by. I guess it could be fun to read those entries later… or just painful.
Joni
:
Metaphorically, I feel our songs are our very own diary markings, i.e. we have poured our current emotional states and feelings into each and every song.
RoD
: Who in the band writes the lyrics? And how do you record tracks? Are you getting together in the studio and working on this?
Tommi
:
We've tried to be more open and not have any fixed roles when it comes to writing music or lyrics. If a lyrical or a musical piece fits into a certain song, it doesn't matter who wrote it.
RoD
: Your video to the song 'Shame' is down and dirty. It has a lot of passion and sex. Are you not afraid to be so frank with the public?
Tommi
:
Passions are a natural part of human life which can lead you into a downward spiral.
Joni
:
True. The song and the video are meant to reflect the shallowness that comes if one just follows cold needs.
RoD
: You play in the style of dark wave. Why did you choose this direction? And how stand things now in Finland with the bands which play this genre of music?
Tommi
:
It almost feels as if the dark side chose us. Somehow the colder, urban vibe just seems to be the very essence of this band.
Joni
:
When it comes to dark music scene, the situation in Finland is pretty bad... I call our band and the like as "a music refugees" that are blessed to find a shelter from another countries.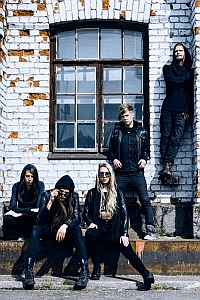 Specially, our two tours in Germany have given us a lot of strength to carry on. Finland used to be "the promise land of dark music" but has now turned its back and is favouring Finnish hip-hop/ rap scene + meaningless pop music in Finnish.
RoD
: What are your favourite music albums of all time?
Tommi
:
Radiohead - Kid A, Oasis - What's The Story (Morning Glory), Nick Cave and the Bad Seeds - Boatman's Call, Massive Attack – Mezzanine
Joni
:
Pink Floyd – Wish You Were Here, Anathema – Natural Disaster, Portishead – 3, Crystal Castles – III just to name few.
RoD
: With which music bands you would like to perform on stage or go to a concert tour together?
Tommi
:
It really doesn't matter that much. Of course it's nice if there's some sort of cohesion in musical style, but it's more important to meet new people and even get along with them.
RoD
: What do you do besides music? Or is this your main job?
Joni
:
We're all working or studying beside the music – music is currently our dearest passion. For example I run the rock bar called Bar Loose so if you ever come to Helsinki, please come and say hello!
RoD
: What kind of art do you like besides music? Are there any artists, writers and filmmakers who inspire you to creativity?
Tommi
:
If the piece of art captures something beyond what we perceive, the magic hiding in every object and every moment, it inspires me.
RoD
: What kind of books would you recommend?
Joni
:
My all-time favourite author is Milan Kundera.
RoD
: Have you ever thought, "I'm so sorry that I did not write this song"? If so, what kind of song?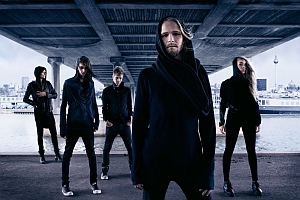 Joni
:
Not really… Probably most of our favourite songs hums and echoes in the back ground, in our sub-consciousness when we write our music. Like Newton said, we're standing on the shoulders of giants.
RoD
: How do you usually like to relax when you have free time?
Tommi
:
You know, the basic things. Meet friends, read a book or watch a film, browse the EBay for all the old Trans Formers and Star Wars figures I'm going to buy when I'm rich. Sometimes I just sit still and think nothing at all.
RoD
: Do you have life principles that you are trying to follow in your life?
Tommi
:
I just try to minimize the damage I, as a human being, inevitably cause.

Joni
:
Live it to maximum = I try to use all the time in the hand to be productive, to get things done. It can be quite a pain to others too…
RoD
: How do you feel about romance? What is the most romantic act you've ever made?
Tommi
:
I think romance is a lovely thing as long as you're not in it only because of the fear of being alone. I like those subtle everyday romantic acts, the gentle touches and spontaneous kisses.
RoD
: Tell us some songs from your last solo album, which are the most precious for you? And why?
Joni
:
'You Will Die Alone' is probably the most closes and most touchy to me. It's just so personal. Also, when Tommi sings the last chorus in 'The Lights Are Violent Here' I always get the shivers… It just cuts straight to the bone with one of my relationship break-up. Still gets me into tears.
RoD
: What are your creative, professional plans for 2016? When can we expect the release of your second album?
Tommi
:
We don't have a date set for the release yet, but it'll be out soon. After we get the second album out of our system we'll start focusing more on writing material for future releases.
RoD
: Do you plan a concert tour in the near future? And if so, where exactly you want to perform?
Joni
:
At the moment we have two short legs destined to Finland and also a short tour closing to become real in Germany. I think our biggest desire is to get to play in different countries, to meet and greet lovely people. Cause that's what music is about: Sharing emotions.
The Russian version of the article is available
http://gothic.com.ua
.