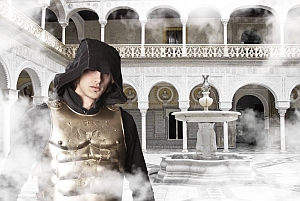 Interview with
Dave Jason (vocals, guitar, drums, programming) from Schwarzer Engel

Since the release of the debut album 'Apocalypse', SCHWARZER ENGEL is regarded as an original formation with impressive music, powerful lyrics and cool live shows. Every new record and concert just prove this fact. Not so long ago the band released the new album, entitled 'Imperium I - Im Reich Der Götter' and had a successful tour with another interesting representative of German rock music, OOMPH! Enough reasons to ask the one and only mastermind of the project Dave Jason a few questions about music, the new album, concerts, future plans and whatnot. So enjoy reading the article and don't forget to check the band's album.
Reflections of Darkness [RoD]
: It feels like with your latest release 'Imperium I - Im Reich Der Götter' you start a new chapter in the history of SCHWARZER ENGEL. The album seems to be mature and deep. What was the source of inspiration for it? And as it's only the beginning, then how many parts should we expect?
Dave
:
The inspiration for the actual album 'Imperium I - Im Reich der Götter' were myths and legends about biblical and roman Gods, that's why I tried to create the sound of the album and the artwork as monumental and epic as possible.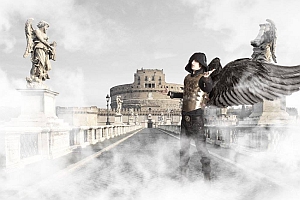 RoD
: What are your feelings after working on 'Imperium I'? Did you manage to embody all your creative ideas?
Dave
:
Yes, I'm really happy with the sound structure and the songwriting on 'Imperium I'. I put as much creativity in the album as I could.
RoD
: You are responsible for both lyrics and music of the project. Do you discuss some ideas for a song or a music part with the other (live) band members or is it only your own imperium?
Dave
:
It's mainly my own imperium. I write the songs, the music and the lyrics by my own. But for sure, I sometimes ask my producer Jan Vacik (SERIOUS BLACK, GRAVEWORM) or my brother El Friede from OOMPH! about their opinion, when I`m not sure about an instrumental or melody part of a song.
RoD
: What or who influenced you to become a musician? Do you have a music education?
Dave
:
Yes I do. I was trimmed for music by childhood. My family had a big influence on me - and when I was about 15 years old, great musicians like ZAKK WYLDE and OZZY OSBOURNE brought me to metal music.
RoD
: Your songs are dark sometimes even doom and devoted to mystical subjects. Also I've read a story about the beginning of SCHWARZER ENGEL, when you saw a dark angel in your dream and it was like an impulse for everything. So is this mysterious sphere close to you?
Dave
:
I think so - don`t know, why it`s like that. Maybe hell was full, so I returned! (laughs)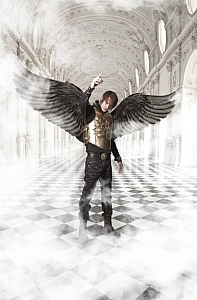 RoD
: Is there a big difference between your stage image and the way you are in everyday life?
Dave
:
You know, stage time is show time and I don't wear my armour all day long - so for sure, there is a difference.
RoD
: SCHWARZER ENGEL was formed in 2007. Could you please tell a bit about the early years of the project, the first live show?
Dave
:
I started SCHWARZER ENGEL back in 2007 by writing the songs, which were released on the debut-album 'Apokalypse'. As I wrote the songs completely by myself I didn't need to find other band members before starting with the songwriting. But I knew, that I wanted to perform the songs live sometimes, so I started scouting capable live musicians for the live shows. All musicians in the band are experts in music and in playing their instruments - I'm proud of that, because I know, that this isn't the standard in these times any more. Today a lot of musicality is compensated through good production skills. The first live show ever with SCHWARZER ENGEL was the kick-off of the European Tour with THE VISION BLEAK and AHAB in 2010.
RoD
: What do you like more, playing at big festivals or in clubs?
Dave
:
I prefer big festivals - that's also a reason, why SCHWARZER ENGEL doesn't play many shows in clubs since the beginning. I like the atmosphere of the crowd at festivals as well, as there is enough space on, in front and off stage.
RoD
: Do you have any special preparations, rituals before a concert?
Dave
:
Not really - we just give high five. (laughs)
RoD
: What is the best gift you've ever received from your fans?
Dave
:
I receive a lot of paintings - I like them - seems to me, like a lot of our fans are also artists.
RoD
: Not so long ago you were on tour in Germany with OOMPH!. What impressions do you have about it? Do you like life on tour in general?
Dave
:
I must confess, that I don't like life on tour that much. It's a lot of mental stress for me. But the tour with OOMPH! was a great experience and we had a lot of fun together.
RoD
: Are there any bands you would like to collaborate or share the stage with?
Dave
:
Yes - I would like to share the stage with RAMMSTEIN. They had a big influence on me, great band!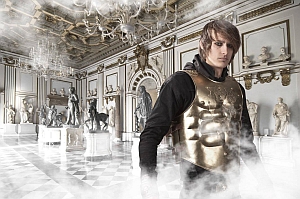 RoD
: If you had a chance to write a soundtrack for a movie, what movie it would be?
Dave
:
Would be a dark action movie. Like Constantine with Keanu Reeves.
RoD
: What music do you personally prefer to listen to?
Dave
:
Traditional music. No, just kidding – I'm mainly listening to metal and gothic music.
RoD
: Your video clips are really cool and interesting to watch. I was expecting something new for the new album. Of course, the lyrics one on 'Herrscher der Nacht' is nice, but do you have plans to make a new video?
Dave
:
Yes, I have - we also shot the material for about half of the new music video. I hope that we can shoot the remaining parts next time and start with the post production afterwards, so that we can release it soon.
RoD
: What are your plans for 2016? New songs, tour?
Dave
:
A new album. I'm planning the release of 'Imperium II' for summer / autumn 2016. Maybe there will also be a tour.
RoD
: How do you see the future of SCHWARZER ENGEL? The band in 5 or 10 years?
Dave
:
Hopefully, SCHWARZER ENGEL ruling the world in 10 years! ;-)
RoD
: Thank you very much for your time! And in closing, please say a few words to our readers.
Dave
:
Thank you for the interview and dear readers for taking time in the fast-paced world to read it. Make sure to take a listen to SCHWARZER ENGEL and our actual album 'Imperium I - Im Reich der Götter'!
See also (all categories):