Interview with
Neil Sanderson (drums) of Three Days Grace

Hard rockers THREE DAYS GRACE started out as your modern go getters that had a passion for music and a dream in their souls to do what they knew how to do best. By doing this it lead them down an unforgettable journey they shall never forget, causing numerous album sales to fly high above all the rest along with getting the chance to tour all over the world. But now is the time for them to start a whole new life, and this life starts now. Drummer Neil Sanderson spoke to me over the phone discussing with me briefly about the band's newest release and overall upcoming plans they have in store for the rest of this year leading right into the New Year.
Reflections of Darkness (RoD)
: Introduce yourself and what's it like in Germany and what are you doing over there?
Neil
:
Well my names Neil. I play in THREE DAYS GRACE and we're not actually there right now - we did a tour over there for our last record but our new record is being released over there. Our shows over there have been a different experience for us. I think the fans are more expressive than in other places, and they definitely feel like the German fans are on a much closer level with us.
RoD
: It's been about a month since your album's release, how does that make you feel?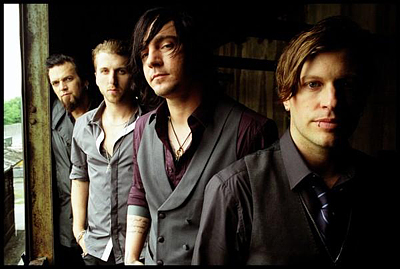 Neil
:
Well you know when you work on something for this long you put everything into it, 'Life Starts Now' was a record for us that I think as an artist you see something that affects people, and those things we talk about relates to those people so we stick to it. Everything we write about is real and its real to everybody else as well.
RoD
: What can be said that hasn't been said about it?
Neil
:
I can definitely say we went for a different approach with a record that makes you feel you're in the same room as us. We listened to a lot of modern rock and it has a formalizing sound added to it that's processed and layered out and we wanted to go the opposite direction with it. We're fans of the classic albums like Pink Floyd and Zeppelin, which is where the heaviness we tried to not have too much go on and we're just four guys in this band so there's really no point in having a lot of various instruments going on all at the same time.
RoD
: Were there any songs that didn't make the record, that you wished had?
Neil
:
No we never really wrote a lot of songs, and just keep a certain amount. We generally only write as many songs that could go on the album. It's a work in progress or deal so there are some songs that never got finished but those will likely be featured on our next record.
RoD
: What are your plans for the remainder of this year leading into next year?
Neil
:
We're going to kick off a Canadian tour with The Used, going across Canada and that will take us up until the end of the year and then next year head off to Germany and blow those guys away and then do a U.S. run. We just basically want to stay on the road and stay up on that stage and perform it's what we like to do.
RoD
: Will we be seeing you guys perform on any T.V. shows back in the U.S. anytime soon?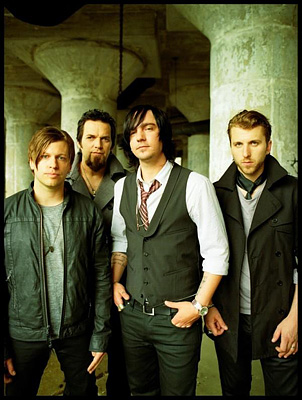 Neil
:
Probably there isn't anything booked at this time. Those are the type of things that we just get a phone call and then play. Sometimes it's kind of weird doing those things, depending on which show it is.
RoD
: Briefly discuss the concept for your latest video for 'Break'.
Neil
:
We didn't want to have a serious video concept we're tired of videos that have something going out and having kids rocking out and go crazy we wanted to have something that resembled a crazy science project. The song though really makes you realize the world around you and what to do and what to think, and how to control your life and not be controlled by others around you.
RoD
: Did you record any cover songs this time around?
Neil
:
We did a record a cover, not sure what we're going to do with it yet, it's 'Sweet with Back Side', by The Chain and I'm sure there are live versions online somewhere.
RoD
: If you had to run into yourself 10 years ago and tell yourself what you're in store for what would you say?
Neil
:
I would say try to sleep when you can I learned the hard way. Definitely the first few years of being out there we learned a lot since then and now it's just survival and being alive. I got to see the world and do what I love to do which is play music. Also people are pretty much the same no matter where you go.
RoD
: Anything else you'd like to add?
Neil
:
We'll contact us on MySpace and we receive so many messages in Germany which opened our eyes to head out there so be sure to keep contact with us on the world wide web, we're always looking forward to meeting our friends from all over the world.
{jos_sb_discuss:21}