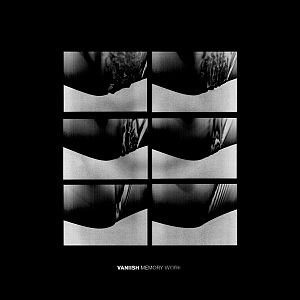 Artist: Vaniish
Title: Memory Work
Genre: Wave / Indie / Post Punk
Release Date: 6th June 2014
Label: Metropolis Records
Album Review

In the beginning was the sound. A white one, detangling from the centre, pulsating, conquering space. It feels urban but abandoned, soiled with rusty stains and dust from the ether, like a self-sustaining organism subsisting on the blemish, the contamination of silence... There are no words in the void, no language in the cracks....it grows in images...
And although the intro takes just 95 seconds, it feels like a guiding condensed reflection of what will follow on 'Memory Work', the debut output of San Francisco's VANIISH, whose staff is all but debuting. Singer and guitar player Keven Tecon & bass player Amy Rosenoff are not only the creative link to VEIL VEIL VANISH (whose first and only album 'Change In The Neon Light' is a collection of brilliant and completely underrated Wave / Indie / Post Punk anthems placed in the intersection of bands like THE CURE, PINK TURNS BLUE and some of the early 4AD residents), but Tecon is also former member of The City's most famous dark wave exports Wax Idols and the much-vaunted THE SOFT MOON.
But despite this musical past, the sounds of 'Memory Work' differ in their range of colours, feel enjoyable familiar but excitingly discrete. Where THE SOFT MOON's music deliberately denies to leave the autistic surreal landscapes of Luis Vasquez´ mind for shimmering in a constant state of mysteriousness and caginess, the songs on 'Memory Work' shake off the own gravity for breaking through the veil of blur, attracted by the light and it's melodic effect and where music of VEIL VEIL VANISH would have dived into the heaven's blue for dancing with clouds between the teeth, here we just watch it from a distance, protected by the narcotic of the own echo.
Songs like 'Observatory Time' are acoustic fever, a claustrophobic delirium filled with nervous drums, cutting guitars and vocals which sound like evaporating from a black hole, ghostly and poisoned, like lost song of CURE's 'Pornography', while 'La Foi Au Fil De Leau' breathes the most beautiful shape sadness can have. A floating under water, wrapped in memories and those moments that see you smile while crying, tightly held by the velvet arms of pain, comforting and drop-dead gorgeous. Those are the album's widely separated poles, spanning a bunch of moods and stylistics bound by a relation that is hard to spot but palpable, like a subliminal narrative, a constant cameo of surfaces and atmospheres that causes a certain kind of thumbprint, like different paintings done with the same palette.
There are great wave hymns like the title track or 'Merge', whose shimmering guitars and lifting choruses remind of some of the early CHAMELEONS´ tunes, or the brilliant 'Fragment / Fatigue', whose leaden melodic contour feels seducing but menacing, like watching a beloved memory through a blurred, blackened lens for finding new aspects. 'Succession', whose minimalist chill walks hand in hand with an emotional vulnerability chained to Tecon's timbre or 'Cold Fascination', what is as close to JOY DIVISION's acoustic existential dyspnoea as possible...
So let's boil all this down to an essence: 'Memory Work' is a brilliant album, featuring a splendid textural density scattered over eleven enjoyable songs, which is reflecting and absorbing the beams of moods and atmospheres, low-saturated and fissured, protecting and conducting a layered beauty beneath the surface, fragile like a memory...
Tracklist

01. In Images
02. Memory Work
03. Kaleidoscoped
04. Fragment Fatigue
05. Search And Replace
06. Merge
07. Succession
08. Observatory Time
09. Loss Of Sensation
10. Cold Fascination
11. La Foi Au Fil De L'Eau
Line-up

Keven Tecon - Vocals, Guitars
Amy Rosenoff - Bass
Adam Beck - Guitars, Keyboards
Nick Ott - Drums
Website

http://www.vaniish.com
Cover Picture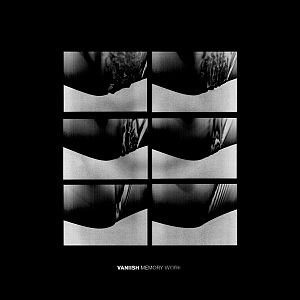 Rating

Music: 8
Sound: 8
Total: 8 / 10