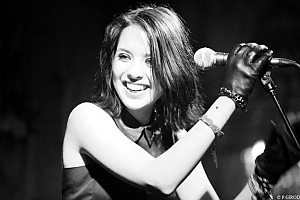 Interview with
Ys Atlov (Singer / songwriter / programmer)

Following the release of her debut EP, 'Please', the French Electro Chic new comer YS ATLOV had a little chat with Reflections Of Darkness. A great opportunity to meet a charming lady that will certainly get more and more awareness in the months and years to come.
Reflections of Darkness [RoD]
: This is your first EP, but it makes already a couple of years your project is up and running. Can you give us a bit of background and why did it take so long for a first release?
Ys
:
I make music since I'm a child, but it became more serious at the age of 13 when I began lyric singing. Then I discovered alcohol and cigarettes, and entered my first band, a French rock band called LES SHINES (currently BANG BANG) at 19. We played together for two years, it was a wonderful experience. In parallel I played in some other bands, as a singer or keyboarder/ programmer. I started my solo project in October 2012, which is now known as YS ATLOV. But even if I play music since my youth and started composing as a teenager, it was a long road to me to dare making my own songs heard and broadcast them. Step by step it got easier, mostly thanks to the music school in which I was studying, and I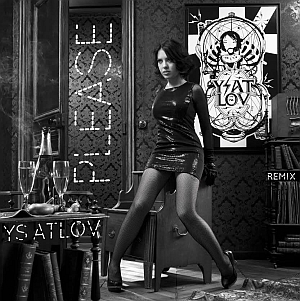 had the luck to meet Mat and Golem XIII who made me this fabulous proposal of producing the 'Please' EP. Broadly speaking, that may be the reasons for this late first release.
RoD
: Common question... What are your main influences and how would you define your style?
Ys
:
I'm first of all a Rock music lover. I grew up with artists like SCORPIONS, QUEEN, AC/DC and some Californian Rock bands like TOTO and STEELY DAN inspired me a lot as a teenager and are crucial to me. But I also listened to a lot of Disco, Funk and Soul music, and of course to New-Wave. It's never easy to define ourselves, but I often say that I play Electro Pop or Disco-wave music, because these terms reflect quite well my influences: I really put forward the fact that my songs sound "pop", because of the melodies and arrangements, and I think there is also something dancy and binary you can find in the disco music. That's how I perceive my music, but I'm sure anyone can draw parallels with other music style depending on his musical background.
RoD
: In the Synth Pop / Electro scene, it's quite rare to have a solo woman handling all musical aspects (production, composition, arrangements...) instead of just being the girl front of stage with a musical mastermind behind. Is it hard to gain musical credibility for a solo lady?
Ys
:
A hot topic! I would lie if I said it is easy. The world of music is unfortunately still filled with some sexist prejudices, but that also exist in the professional world more generally. Even without being a macho, a lot of people (and even girls) associate composition and music production to men. I could tell you many personal anecdotes to illustrate it. I hope mentalities will change with the rise of women in the field of music, but it will surely takes a long time, and especially in France which has a quite deeply rooted Latin culture.
RoD
: To sum up the cast around you, we have the cult Akiza team handling the visual of your EP and merchandising, two famous DJ's producing and managing, the M-Tronic label for the distribution, ZeN from WAITING FOR WORDS touring with you on keyboards and People Theatre providing a remix and the mastering... How does it feel to be supported by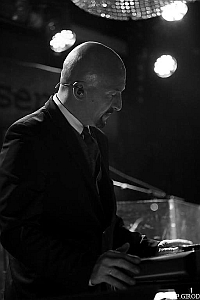 such a talented "A" Team / 4-star League supporting you?
Ys
:
Artists are so hard to bear in the everyday life that it's a nightmare… Just kidding. It is of course a big honour to be surrounded by these high-flying people. Everyone brings his own work and universe, and each of these colours the whole project in a new way. At first, I was alone doing the musical aspect and now all those artists work together in order to create around the music. I find the idea of collaborating very exciting and full of surprises.
RoD
: The photographs are by the famous Frédéric Fontenoy. He is known for his, let's say, very, very sensual and erotic work, sometimes very provocative. How did you come to work with him, and how did you manage to have him approaching his model (you) differently than usual... in other words, not appearing as a sexual object?
Ys
:
I met Frédéric Fontenoy thanks to Akiza, Mat and Golem, who talked to him about the project. It was a real honour and pleasure to work with him, as he maybe one of the rare photographers not to be obnoxious to his models, far from it! I discovered a really nice and complex man. I don't perceive models in his usual works as sexual objects. But I admit that I was a bit afraid of his reaction to take such a "dressed" picture. Fortunately, Frédéric accepted, and above all, I hope he's proud of the result!
RoD
: There are two great songs on the vinyl and digital ('You can't fool me' and 'How My God How Did I Get There') but they don't appear on the CD? Why that choice?
Ys
:
We wanted to make the vinyl version singular. And I think it was also a dream of Mat and Golem XIII to make a real "extended play" for the vinyl edition, as they are ardent lovers of this format! But as we don't do any segregation, we didn't forget those who don't own record players (anymore): those two songs will be available in the digital edition of 'Please' on Bandcamp, as well as an exclusive extended dance mix of 'The Eastender'.
RoD
: Your first concerts were based in Paris. Do you plan touring elsewhere and abroad?
Ys
:
Yes I do! Touring abroad is one of my dreams. I have contacts with some artists in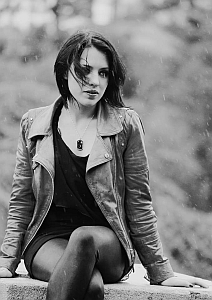 several European countries, and we already talked about playing together. But I would also love to play in other French cities, for festivals or just gigs. Let's see what the future will bring.
RoD
: It makes ten years that we see year after year incredibly talented artists from France (FORETASTE, OWLLE, CHRISTINE AND THE QUEENS, PEOLPE THEATRE, yourself and of course the overly active WAITING FOR WORDS) but Germany, considered as the homeland for this music, seems totally hermetic to them. None of them ever perform at the Amphi Festival, WGT or other. And indie medias rarely talk about them. Is it frustrating? Can you explain that?
Ys
:
It's a very hard question you're asking me. But I think each case is specific. For instance, CHRISTINE AND THE QUEENS is a well-known artist in France, and even though her music is qualified of Electro Pop, she is not related neither to the Synth Pop nor to the dark scene. I think her music has some mainstream aspects I really appreciate, and her success is also due to her reflections about art in general and more pragmatically to her bilingual lyrics (English and French, as we have a strong legislation about the use of the French language on the radios and in the media). In this case, being already a reputed artist in France can help crossing the Rhine. In my opinion, Germany already has plenty of good artists, enough to be self-sufficient. Our goal as French artists may not be to conquer Germany by any mean, but to make our music heard anywhere we can, without being fatalistic. Musical habits can also be taught.
RoD
: There are a lot of tracks available on your Soundcloud page. Does it mean that your debut album is almost ready?
Ys
:
They are plenty more where they came from! Some of the songs which are on my Soundcloud account are early works that I would like to rearrange. In parallel, I work on new songs, but I also want to keep some surprises. That's my personal way for creating suspense…
RoD
: 'Back To Yesterday' and 'All The Sad Parties' are the songs that seduced me instantly with some infectious melodies. They clearly have a strong commercial potential. Is it planned to release them as future single?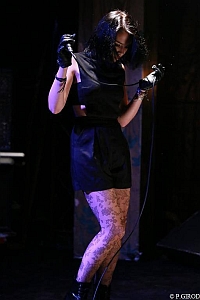 Ys
:
For now, we are still focusing on the 'Please' EP, especially on the vinyl edition and the digital release. And there's a lot to do!
RoD
: You seem to enjoy making covers (Klaus Nomi's 'Total Eclypse', New Order's 'True Faith' or the surprising choice of Lenny Kravitz' 'The Chamber') live. Any chance to have some studio version one day?
Ys
:
Now that you know a bit more about my music tastes, I guess that you're less surprised by the choice of a Lenny Kravitz song. Live covers are my way to give a little more during the shows, and to interpret songs I like and share it with people. That's why I would really like making a studio version of one of them, but right now I mostly focus on writing my own songs.
RoD
: As mentioned above, ZeN from WAITING FOR WORDS is handling keyboards since a couple of gigs (he also remixed 'Lost Spaces' a year ago or so). How is it working with him and is it challenging to have the leader of one of the most well-known band of this scene with such a huge experience, being your "live musician"?
Ys
:
When Zen accepted to play with me as a guest keyboard, I first didn't know what would come out from this collaboration, each of us having his own background. But he's someone who has many qualities, such as knowing very much how to make people feel at ease. In addition, he's also very humble and didn't come to play as "WAITING FOR WORDS leader"; he really respected the identity of the project, and I really appreciated it. Even though Zen plays as a guest, I'm sure that we'll keep on having good artistic relationships in the future!
RoD
: What are your short term plans?
Ys
:
I would like to play new gigs outside from Paris, and in festivals. But I also want to focus on the composition and try new ways to comprehend the live experience.
RoD
: I've seen that you were also DJ-ing and you did a remix of NITZER EBB's 'Let Your Body Learn'. Your producers are DJ's, Peter and ZeN are also DJ and remixers... as well, as guys from DE/VISION or many other acts. Has it become a "must be" thing to be all of three (Musician, DJ, Remixer)?
Ys
:
Well, I'm not well placed to know the motivations of other artists who have those three activities and I can only talk about mine. I don't think it's a "must be", as there are no external pressures upon musicians to do so, and it's not crucial for their career. But I think that it comes quite naturally for some of them to diversify their music-related activities, just like actors becoming directors, or producers...
Special thanks to Ys Atlov for answering our questions, and to her management (M@T) and ZeN to have facilitated the interview
'Please' EP is available Digital:
http://ysatlov.bandcamp.com/
'Please' EP is available CD, Vinyl:
http://www.akizashop.net/akiza_135_StrongYsAtlovStrong.htm
Ys Atlov Facebook page:
https://www.facebook.com/ysatlov.official
Ys Atlov Soundcloud page:
https://soundcloud.com/ysabelle
Photography by:
Promo Picture: Celine Drogat
Reservoir Live Pictures: Pierre Girod
'Please' front cover: Frédéric Fontenoy