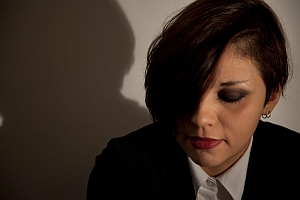 Interview with
Simona Ferrucci (vocals, guitar and songwriting) from WINTER SEVERITY INDEX

Italian cold-wave/ post-punk band WINTER SEVERITY INDEX continue their ascendancy into 2015. Characterised by icy drum patterns, swirling synths and guitars, and the unmistakable voice of Simona Ferrucci, we caught up with the singer and asked her about the future, the past, and those bits in between...
Reflections of Darkness [RoD]
: To get things started can you tell us where you are and what you're doing?
Simona
:
I'm in my house in Rome, sitting on the sofa in my living room, a sort of WSI headquarters indeed, because we usually perform our rehearsal right here.
RoD
: Your album 'Slanting Ray' made a real impact in 2014. Are you justifiably proud of it? Is there anything you'd change on that record if you could?
Simona
:
I'm really happy about the feedback we received for our last work, but according to my personal attitude I always look at the next step, as I'm obviously evolving as a person. The best is always yet to come. In this sense, I wouldn't change a single thing in my past record, I consider it as a photograph of what I was in that period.
RoD
: Which is your favourite song from the album? And which was the most difficult to complete?
Simona
:
My favourite track is 'Compulsion'. I really love the sound explosion in the last part. There were no particular difficulties regarding a single track, there were lots of doubts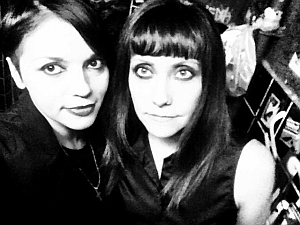 about all the LP, instead. In the beginning I'm always not satisfied, I always feel something has been missed during the process. Alessandra helped me a lot in this sense, pushing me to the right emotional distance from the songs we recorded. I must admit I'm always very critical about my work, maybe too much. But it's my nature.
RoD
: Are you working on a follow up to 'Slanting Ray'? Is there anything you can tell us about the writing process that may surprise us?
Simona
:
Of course, yes, we are working on new stuff. We would like to develop something new from the sound point of view, but when you are in the middle of a creation you still can't imagine how things will take form, it's unpredictable in many ways. I don't know if there are some surprising aspects in my way of writing, I don't think so. I always start from a drum pattern and make a simple song structure, then all the instruments follow back and modify the original outline.
RoD
: When you write a song, how do you start? Do ideas come to you randomly, or do you sit down to write in a more disciplined way?
Simona
:
I usually start in a very disciplined way but, as I said, things are nicely unpredictable when you play. You can fall in love with a riff or a particular sound and feel the necessity to change all the structure you previously recorded in order to underline it.
RoD
: Your lyrics have real density and depth to them. What influences you lyrically? What moves you the most, and what angers you?
Simona
:
I can't precisely say how much my favourite books have influenced my lyrics, as I try to be very direct and spontaneous writing them. Lots of aspects of my life experience are my first source of inspiration, I always talk about something I deeply felt, no matter what. I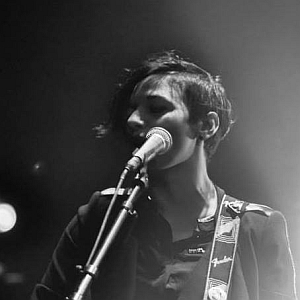 can't analyse too much my style, maybe I have one, but I really don't think about it when I write. I only empathize with a hypothetical listener and try to be as more effective as I can in communicating feelings and thoughts.
RoD
: Your live show is an incredibly immersive experience. Does it frustrate you if your concentration is broken by someone in the audience? What makes a good live show for you?
Simona
:
When I play nobody in the audience can break my concentration. I'm totally absorbed by music. It's a sort of trance. I'm always very static and listen to what happens from the sound point of view. The only thing that can be really frustrating is a bad sound system or a bad sound engineer.
RoD
: Will we see WINTER SEVERITY INDEX playing shows in a number of countries this year? Is there anywhere in particular you most want to play, country or venue?
Simona
:
We already played in may venues in the last year: in Italy Brescia, Modena, Bologna, Prato, Pesaro, Rome of course, Nola, Campobasso, in Europe Brussels, Hilden for the Gotham Festival, Wien, Paris, Rennes, Angoulême for La Nuit Phantasma Gothique, Marseille, Leeds in the UK... The next dates will be Salerno, Cologne, Berlin, Madrid, Detmold for the Owls and Bats Festival, Reading for the Sacrosanct Festival and more as yet to come. We would like to play really everywhere, in fact we found friends and good an atmosphere to remember forever in every city we went.
RoD
: As there currently seems to be an endless stream of quality bands emerging from Italy, is 2015 a good year to be Italian?
Simona
:
Unfortunately it's never a good year to be Italian... despite the great quality of our bands and the creativity of lots of young people the situation is getting worse and worse for musicians and culture in general. The lack of suitable places to perform, the lack of money and the growing unemployment influence the great amount of difficulties we have to face. Being a musician in Italy today is really hard, especially if you have to cope with a bad economic situation, as most of us. The general loss of interest for cultural activities is a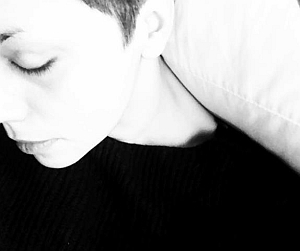 spreading phenomenon we sadly can see everywhere, but in Italy this common decadence is associated with a real political and economic catastrophe. We still can't figure what will happen in the following years, but I'm really pessimistic about it. All we musicians are a sort of crazy heroes.
RoD
: And is there one Italian band in particular you would recommend right now?
Simona
:
Lots of bands, indeed. Italy has always been a great country for New Wave, since the '80's. Nobody seems to know it, but we had and still have such amazing bands! I suggest to any enthusiastic listener to make a little research about it. I can't make an infinite list in this interview. I just want to underline that there isn't a sudden explosion of talented wave bands right now, we always have them! Even Italians don't know about it, for our general and stupid tendency to appreciate only what comes from abroad...The only difference between the actual bands and the ones from the past is the possibility to be discovered by more communication means.
RoD
: If you could put together a super-group, who would be in it? Alive or dead. Two vocalists allowed.
Simona
:
To be honest I don't like the idea of a super-group: imperfection is what makes a project special, especially if we talk about post-punk and new wave projects, in which experimental issues are fundamental. But I must admit that the super-group was a reality in the past! They were Cocteau Twins! Robin Guthrie, Simon Raymonde and Elizabeth Frazer, more than being three genius musicians, were just PERFECT together. I could also mention some musician I really love, but I can't be so sure they would have made great music if they had played in the same band. I will mention only the guitar player, I don't want to bother anyone with a long list: Vini Reilly, Johnny Marr, Andy Summers, The Edge, Tony Mc Guinness from Sad Lovers and Giants, Thurston Moore.
RoD
: Who would you say has most influenced the overall sound of WINTER SEVERITY INDEX?
Simona
:
I really don't know it for certain. We love the same bands and we listen to new wave and post punk since we were teenagers but I can't say how much we took from an artist or another. We love Joy Division, Cocteau Twins, Dead Can Dance, The Danse Society, The Chameleons, Sad Lovers and Giants, Asylum Party, For Against, the first records by U2, The Cure... and many more.
RoD
: What are your ambitions and aims for 2015?
Simona
:
We will record our second LP. This will be our main intent.
RoD
: Thank you for your time Simona. All the best to you from Reflections of Darkness.
Simona
:
Thanks so much to you Stephen.