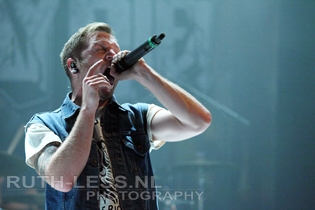 Paard van Troje, The Hague, The Netherlands
3rd November 2012
Impericon Impericon Never Say Die Tour: We Came As Romans, Bless The Fall, Stick To Your Guns, For The Fallen Dreams, Obey The Brave, At The Skylines, The Browning, At Dawn We Rage

This year's edition of Impericon Impericon Never Say Die! Tour takes place at the Paard van Troje in The Hague and as usual, they've put together a line-up of hardcore, metal and metalcore. Earlier editions of this tour featured big names such as COMEBACK KID, PARKWAY DRIVE and SUICIDE SILENCE. This year it is up to WE CAME AS ROMANS, BLESS THE FALL, STICK TO YOUR GUNS and five other bands to show the Dutch audience how it's done. I knew the concert wasn't sold out, but I was a bit surprised that only the floor level of the hall was moderately filled when I arrived. Then again, the first band started early at 4:30 PM, so perhaps more people will come in during the evening.



At Dawn We Rage

AT DAWN WE RAGE is a collective started in late 2010 by a group of friends based out of Phoenix, AZ and Los Angeles, CA. The ADWR production and live side consist of Stormy Logan (LIGHTSOVERLA) and Travis Seekrits (EMERGEINSEA). In a short amount of time they have released remix after remix of quality Electronica/ Dubstep, all while currently working on a number of originals that will be released via their own label by the same name. Taking their live shows to the next level ADWR has added live drums and an audio/visual element to their shows setting them apart from the normal electronic musician. www.atdawnwerage.com / www.myspace.com/atdawnwerage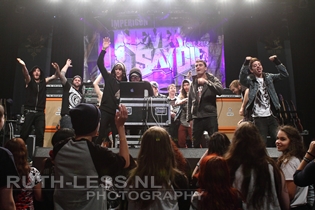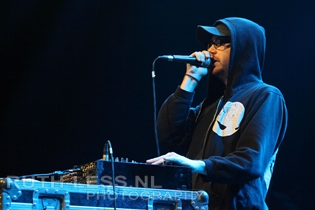 Music & Performance
Although I was somewhat surprised by this dubstep artist on the line-up, but of course there's nothing wrong with experimenting a little. Besides, the combination of dubstep and metalcore has proven to be quite successful (for example on KORN's latest album). In this case though, we had a hooded guy on stage focused on his laptop and hardly communicating with the audience. The electronic/dubstep music produced pretty ok and danceable, but more suitable as an intro to the evening than an actual act in the line-up. At a certain point, the musicians of tonight's show entered the stage to enthuse the audience. Front man Kyle Pavone of WE CAME AS ROMANS took up his role as an MC and tried to get the audience going - everybody clap, everybody jump - you know the drill. I looked around at the very young audience with neat hair and make-up wondering; am I at the wrong place? Is this some kind of kids party? I thought I signed up for an evening of blazing guitars and angry tattooed men? After about 20 minutes of this I'm confused and decide to go get a beer and wait for the next band. Overall, no bad music at all, but just not really fitting in the program in my opinion. Although I do think that adding a live drummer, as described in their bio, would've added way more to this act.

Rating
Music: 6
Performance: 6
Sound: 7
Light: 5
Total: 6 / 10


The Browning

THE BROWNING is a five-piece Metal/ Electronica band comprised of veterans from the Dallas, Texas and Kansas City, Missouri music scenes. In what could be described as nothing short of "adventurous", THE BROWNING's music takes influences from all across the metal spectrum and heavily fuses them with hard style, trance and other areas of electronic music in a way that most metal acts would not dare attempt. The band pushes boundaries and pushes buttons. THE BROWNING is Jonny McBee (Vocals/Electronics), Noah Robertson (Drums), Jesse Glidewell (Bass), Collin Woroniak (Guitar) and Drew Ellis (Guitar). www.facebook.com/TheBrowningOfficial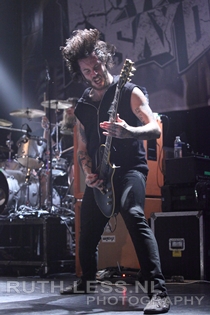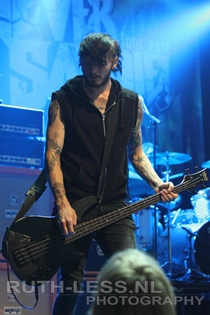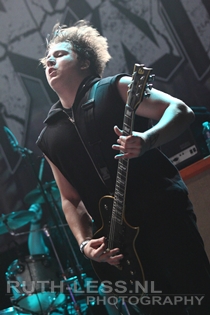 Music & Performance
When the men of THE BROWNING enter the stage, I am relieved to finally see and hear some proper bass drums and guitars. The guys on stage seem quite experienced as they start their gig and I wonder what they're doing second in the total line up. Despite the modestly filled hall, the band enthusiastically takes off. THE BROWNING distinguishes themselves from other metal(core)bands by their use of electronic influences. I am not sure if I'm convinced by their sound though. This may have somewhat to do with the lack of balance in sound this evening. And the fact that KORN can get away with the electronic/metalcore combination doesn't mean anyone can… After a few songs and more than one session of synchronous head banging I am ready for the next band in line. Tonight's schedule is tight, with hardly any longer breaks and most bands only playing a short set.

Rating
Music: 6
Performance: 7
Sound: 6
Light: 5
Total: 6 / 10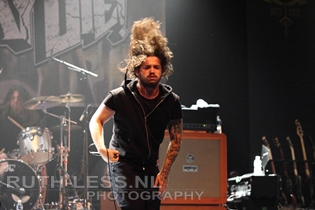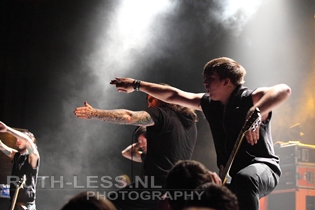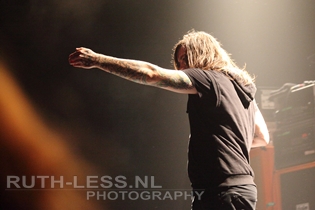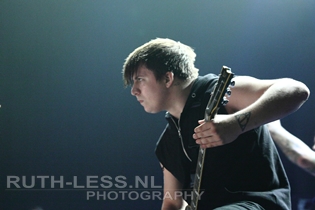 At The Skylines

Combining soaring melodies, earth-shattering breakdowns, passionate screams, heartfelt and catchy phrasing and blazingly provocative dynamics, AT THE SKYLINES have hit upon every bright spot of aggressive rock music across a wide spectrum stretching from LINKIN PARK to A DAY TO REMEMBER. On their Roadrunner debut, 'The Secrets to Life', AT THE SKYLINES craft driving anthems interlaced with unique programming and atmospherics. AT THE SKYLINES is Chris Shelley (Vocals), Mark Barela (Vocals), Shawn Yates (Guitar), Billy Barber (Guitar), Lucas Canziani (Bass) and David Angle (Drums). www.attheskylines.com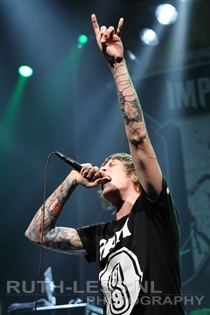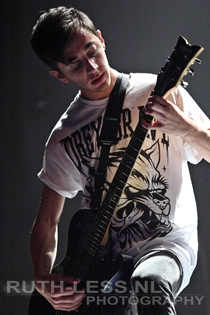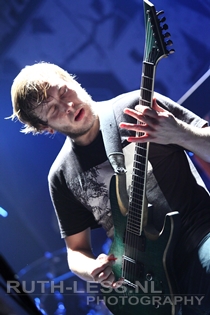 Music & Performance
As AT THE SKYLINES enters the stage, I wonder whether these boys are old enough to legally have that many tattoos. To my surprise though, their sound is quite mature and their performance convincing and full of confidence. AT THE SKYLINES produces relatively accessible rock/metal with a dynamic sound. Singer Chris combines screams, grunts and clean vocals, although it is a pity that his effort to pull out some high screams seems quite forced which by the end of the gig resulted in husky vocals. The band has a tough job getting the audience going, but nevertheless they try to get the crowd moving and initiate some circle pits. As the first people get moving, the pretty girls in front of the stage don't really seem to be that fond of the situation and I wonder why they bought a ticket for this concert at all? The overall sound of AT THE SKYLINES was unfortunately absolutely horribly poor, and did not do right to their music.

Rating
Music: 7
Performance: 7
Sound: 5
Light: 6
Total: 6.3 / 10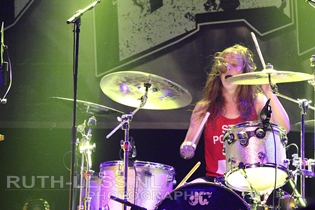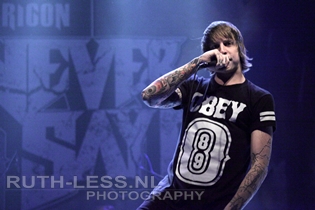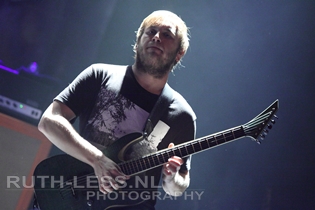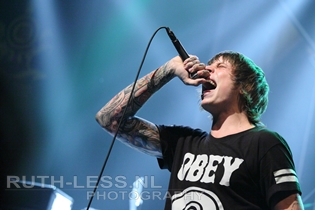 Obey The Brave

OBEY THE BRAVE are a new Canadian metal and hardcore band featuring ex-members of Despised Icon and Blind Witness. Originating from Montreal and Ottawa, the band took shape during 2011 and was officially announced on January 17th, 2012. Fresh out of the studio, the band's debut full length album 'Young Blood' showcases raw energy paired with a distinct sense of melody. Fuelled by passion and a strong DIY ethic, OBEY THE BRAVE managed to confirm 2 dozen Eastern Canadian dates and gain over 14,000 Facebook fans in its first 2 weeks of existence, all without releasing a single song. Armed with 2 recently completed music videos and a few more tricks up its sleeve, the OTB army is gearing up for a killer year! OBEY THE BRAVE is Alex Erian (Vocals), Miguel Lepage (Bass), John Campbell (Guitar), Greg Wood (Guitar) and Stevie Morotti (Drums). www.obeythebrave.com / www.facebook.com/obeythebrave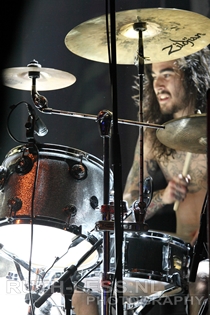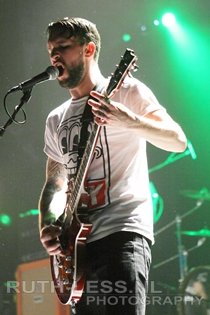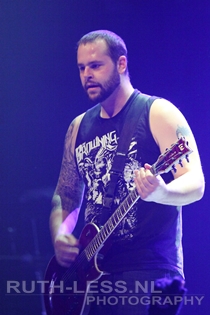 Music & Performance
OBEY THE BRAVE's first impression is angry and old school, they remind me somewhat of BIOHAZARD, but they also have the much appreciated dynamics in their sound like their colleagues of PARKWAY DRIVE. They don't really communicate that much with the audience during their gig, they just put up their show – fast, loud, angry and in your face. Unfortunately again, sound is not very balanced and at times vocals but also guitars can hardly be heard. To my surprise, as I'm starting to enjoy this evening, the audience seems not very interested.

Rating
Music: 8
Performance: 8
Sound: 6
Light: 5
Total: 6.8 / 10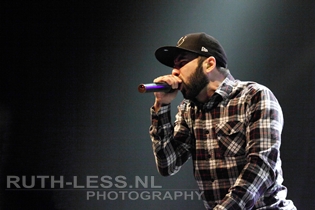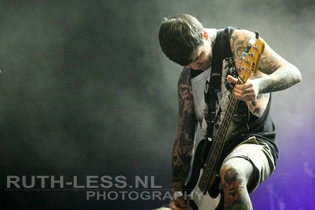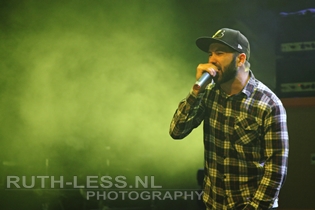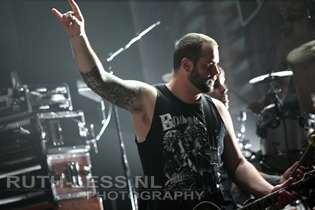 For The Fallen Dreams

FOR THE FALLEN DREAMS formed in late 2003, these young men show incredible promise through songs that showcase poignant and powerful writing, both lyrically and musically while still staying in touch with their hardcore/ metal roots. FOR THE FALLEN DREAMS showcase a variety of ranges while shifting back and forth between hard-hitting metal riffs and melodic guitar lines, brutally honest lyrics about life, relationships, and struggle. FOR THE FALLEN DREAMS is Dylan Richter (Vocals), Jim Hocking (Guitar), Kalan Blehm (Guitar), Brandon Stastny (Bass) and Dylan Shippey (Drums). www.facebook.com/forthefallendreams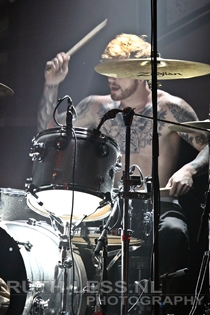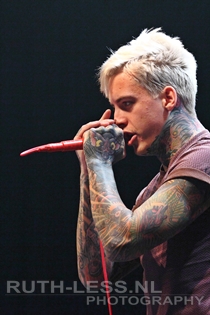 Music & Performance
As FOR THE FALLEN DREAMS enters the stage and kicks off with their first song, it becomes clear that playtime @ Impericon Never Say Die tour is over! Although the Paard van Troje is still only moderately filled, people are starting to crowd up in front of the stage. Front man Dylan addresses the audience and finally really succeeds into getting them moving. The first brave ones start stage diving and we have a modest pit going. FOR THE FALLEN DREAMS treats us to a varied set of hardcore metal with some very proper melodic guitar lines. It is a pity that the sound this evening is again so bad. Vocals can hardly be heard at times (especially during the last couple of songs) and guitars sound off and on quite awful. Perhaps this has something to do with the unbelievable tight schedule the bands have to stick to this evening? It all seems like they want to be done with it and go home.

Rating
Music: 8
Performance: 8
Sound: 5
Light: 6
Total: 6.8 / 10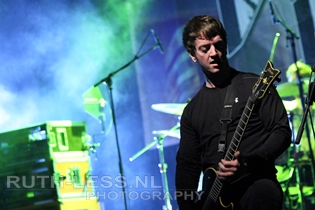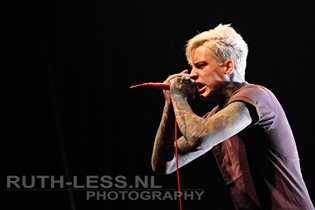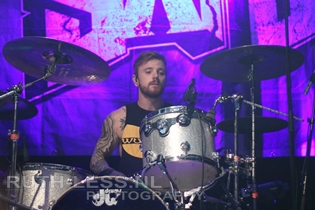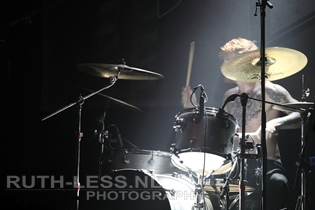 Stick To Your Guns

After four full-length albums, a number of worldwide tours and legions of diehard followers, STICK TO YOUR GUNS have come full circle and in 2012 have delivered the most important effort of their already stellar career. The much anticipated new album, 'Diamond', encompasses what STYG is all about and sees their songwriting develop and mature to ultimately craft their definitive release, which ultimately delivers a message of inspiration that anyone can relate to. STICK TO YOUR GUNS is Jesse Barnett (Vocals), Chris Rawson (Guitar), Josh James (Guitar), Andrew Rose (Bass) and George Schmitz (Drums). www.facebook.com/STYGoc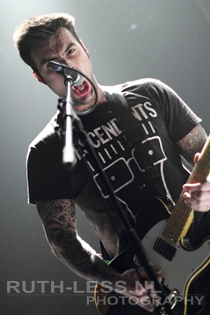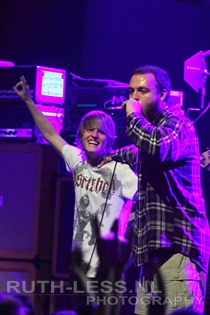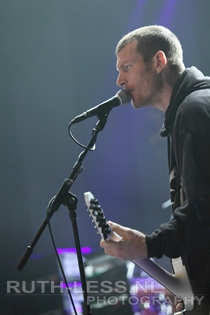 Music & Performance
STICK TO YOUR GUNS is clearly one of the bands this evening that the audience came to see, judging by the loud applause as the band enters the stage. As they take off the crowd starts moving, jumping, head banging and a rather consistent stream of people start climbing the stage to jump off. There seemed to be some incidents with people stage diving. After a couple of songs front man Jesse asks who in the audience has never stage dived before. A cute kid enters the stage and after some encouragement of both band and audience he takes the plunge. STICK TO YOUR GUNS clearly enjoys themselves on stage as they rage on, Jesse vocally enforced by guitarist Josh. Although front man Jesse has a tendency to preach a little between songs, this doesn't really bother me much. Sound and light are again quite poor, but the atmosphere and music seems to be getting better every band.

Setlist (incomplete)
Such pain
We still believe

Rating
Music: 8
Performance: 8
Sound: 6
Light: 5
Total: 6.8 / 10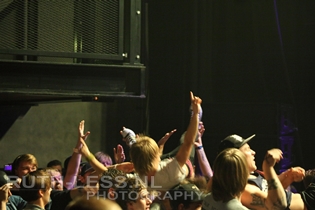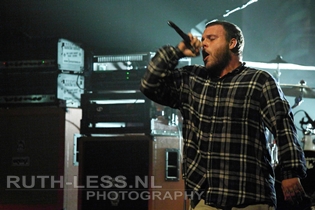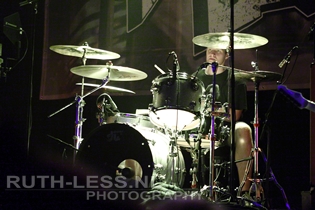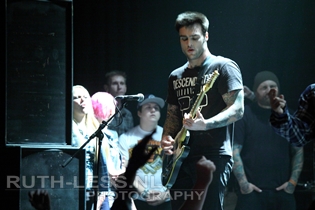 Bless The Fall

BLESS THE FALL return to Europe for the second time this year in support of 'Awakening', their most successful record to date. Impericon Impericon Never Say Die! will see the band continue to enhance their killer live show that earlier this year saw the band receive a 5K! live review from Kerrang where they were described as "One of the most explosive live bands on the planet". BLESS THE FALL is Beau Bokan (Lead Vocals), Eric Lambert (Guitar, Vocals), Jared Warth (Bass, Vocals), Matt Traynor (Drums) and Elliott Gruenberg (Guitar). www.blessthefallmusic.com / www.facebook.com/blessthefall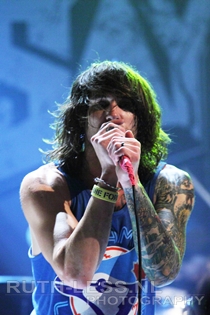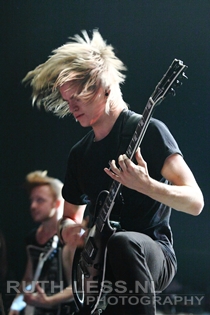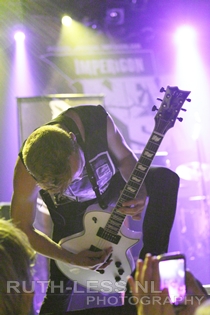 Music & Performance
Before BLESS THE FALL starts their show, one of the organizers announces that stage diving is no longer allowed because there had been some incidents. It seems to me that the crowd unfortunately consists of two groups of people with different expectations of this evening. The pretty fans sticking in front of the stage to touch the tattooed bad boy singers and the crowd that actually came here to enjoy the music and experience a steaming night of loud metal(core) music. No surprise things go wrong like this. The venue perhaps could've been better prepared for this by arranging a corridor in front of the stage and some more security. Back to BLESS THE FALL. As one of the headliners of this edition of Impericon Never Say Die! Tour, they have some expectations to meet. Front man Beau from the start really connects with the audience (yes, also the screaming girls in front). The crowd is quite enthusiastic, but the no-stage-diving announcement was clearly a step back in the atmosphere.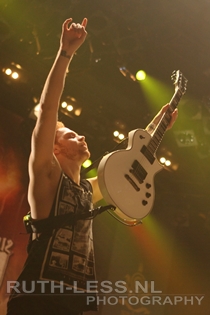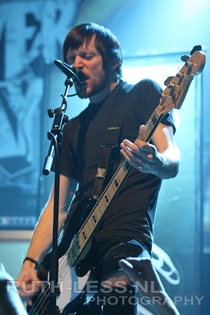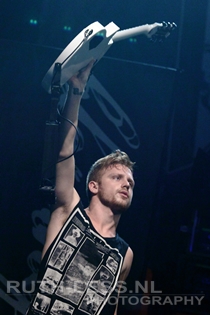 BLESS THE FALL explodes with a burst of energy which makes it even harder for the audience to keep it down. The band is dynamic, energetic and puts up a convincing show. Besides the (somewhat nasal) vocals of front man Beau, it should specifically be noted that bass player Jared has by far one of the most wicked screams that I've ever heard! About halfway their show, Beau clearly irritated pulls someone on stage by the collar and drags him to the back. Everybody including his fellow band members seemed to be caught by surprise as they continue to play. I wonder what happened there but afterwards Beau does not refer to it as he gets back on stage and continues the show. None of the bands tonight treats us to an encore, and the audience also doesn't really cheer for it either.

Rating
Music: 8
Performance: 8
Sound: 6
Light: 7
Total: 7.3 / 10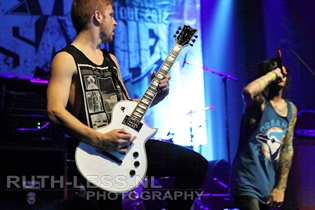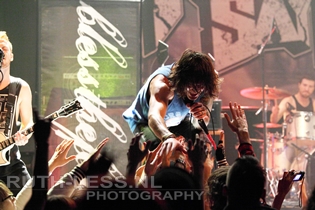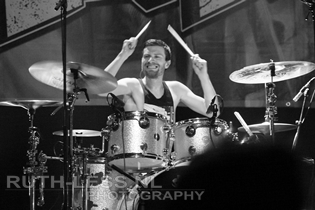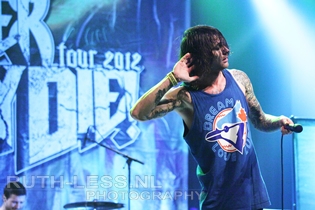 We Came As Romans

Bringing their enormous blend of intricate guitar riffs, melodic breakdowns, and the flawless inter-twining dual vocals of David Stephens and Kyle Pavone - Michigan based noise masters WE CAME AS ROMANS are thrilled to be headlining this year's Impericon Impericon Never Say Die! Tour! WE CAME AS ROMANS always known for their relentless commitment to non-stop touring, have already toured in Australia, Japan, Philippines, Europe/UK, Canada and the US this year. Joshua Moore (We Came As Romans): "Our first time in Europe was two years ago, opening the Impericon Never Say Die tour. To think that our European fans have been so supportive over these past two years to have us back and now headlining, is an amazing feeling. We can't wait to return and have a great time with all of you, sharing our second Impericon Impericon Never Say Die Tour experience!" WE CAME AS ROMANS is Dave Stephens (Vocals), Kyle Pavone (Vocals/Keys), Joshua Moore (Guitar), Lou Cotton (Guitar), Andy Glass (Bass) and Eric Choi (Drums). www.wecameasromans.com / www.facebook.com/wecameasromans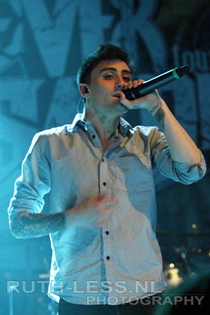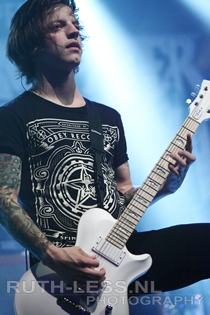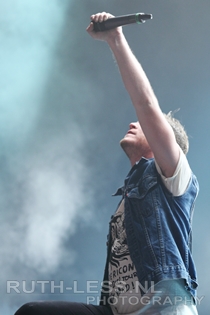 Music & Performance
As I noted earlier, tonight's schedule is very tight and as none of the bands adds an encore, headliner and last band WE CAME AS ROMANS starts about 20 mins earlier on schedule. I have never seen this before. Tonight's show is the last one in the Impericon Never Say Die! Tour, and I can imagine that this is not really the best closing gig the bands had imagined to end their tour with. A half filled venue and a crowd that is not allowed to stage dive. I've seen differently a couple of years ago at the Impericon Never Say Die! edition in a crowded 013 venue. WE CAME AS ROMANS was also part of this edition and now they're back as a headliner. I cannot believe that the overall sound tonight is this bad, making it much harder to really enjoy the show.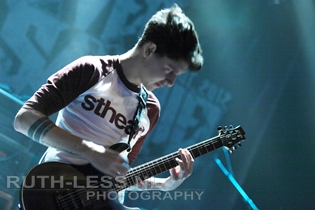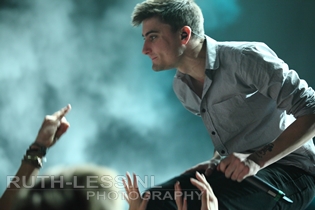 WE CAME AS ROMANS front men Dave and Kyle are a strong team on stage. Kyle's vocals are unfortunately not very convincing and the poor sound doesn't help with that. Dave thanks the crowd numerous times for being here tonight, although it is clear that the attendance of this last show in the tour is a bit of a disappointment. WE CAME AS ROMANS definitely puts up a tight and energetic show, but to be honest I'm not completely convinced that these guys are ready to headline a big tour like this…

Rating
Music: 7
Performance: 8
Sound: 6
Light: 6
Total: 6.8 / 10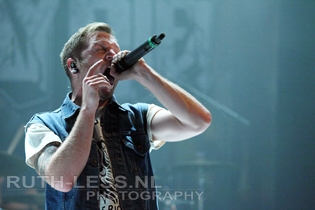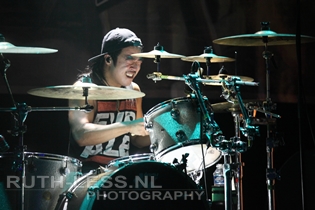 All pics by Ruth Mampuys (www.ruth-less.nl)