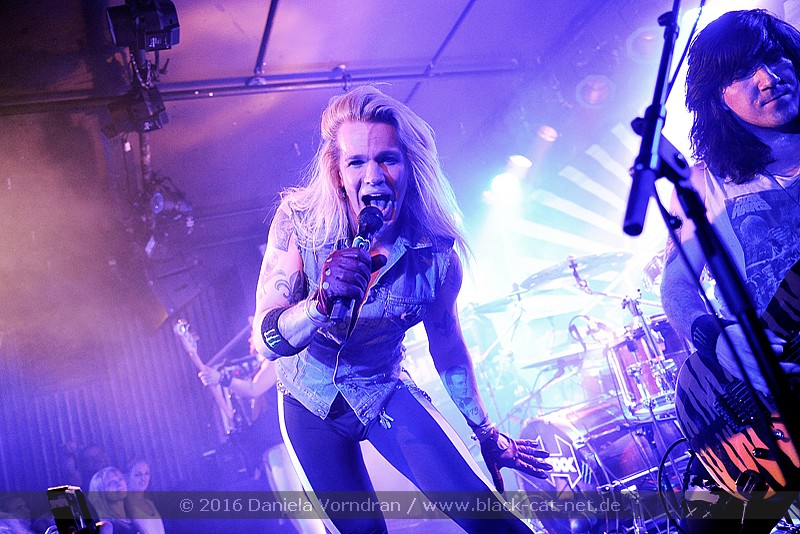 Musik & Frieden, Berlin, Germany
28th March 2016
Reckless Love & Santa Cruz

The Finnish 80s Rock band finally came back to Germany! The band started their career with the name RECKLESS LIFE, under which they initially played covers of GUNS N' ROSES. Having had no success with this approach, they began to write their own songs, and won the Kuopio Band Competition in 2004. In July 2009, RECKLESS LOVE released their first single, 'One More Time'. On 20th February 2010 the third single and second music video, 'Romance', was released. Four days later the debut album, 'Reckless Love', was out.
The band released their follow-up album, 'Animal Attraction', on October 5th, 2011. The "Animal Attraction Tour" kicked off on October 7, 2011 including a four-night residency in London. As of the 26th April, 2013, the first single from the third album 'Spirit', 'Night on Fire' was released, along with the music video to support the song. The album was finally released on 2nd September 2013, with a second single and a related video 'So Happy I Could Die' preceding it on 25th August 2013. The band then embarked on a nine-date headlining UK tour in October 2013.
RECKLESS LOVE were supported by SANTA CRUZ from Finland. The Finnish hard-rock phenomenon SANTA CRUZ was formed in the year 2007, inspired by such greats as SKID ROW and GUNS N' ROSES. The sound of SANTA CRUZ is getting its wings, as they blend their influence of the 80´s and early 90´s Hard Rock sound with elements of modern Rock and Metal and put it in their own special blender. What you get is pure adrenaline and attitude in the form of honest Rock ´n´ Roll, not to mention the virtuoso level of musicianship, especially in the flashy guitar work of Archie & Johnny.
Please enjoy our pictures from the concert.
Santa Cruz

http://www.santacruzbandofficial.com
/
https://www.facebook.com/santacruzband
Reckless Love

http://www.recklesslove.com
/
https://www.facebook.com/RecklessLove
All pictures by Daniela Vorndran (
http://www.vorndranphotography.com
/
http://www.facebook.com/blackcatnet
)