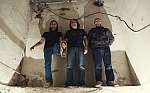 Mental Architects is a math-rock/noise/pop trio from Sofia, Bulgaria which tries to break away from the lack of tradition in rock music indigenous to our area with a style of "Joie de Vivre" instrumental rock close to the sound of ASIWYFA and Fang Island. After a first EP, entitled "Patience, communication, understanding, go !" out in 2011 (and produced by Chris Common from These Arms Are Snakes), the band has just released its debut full-length album, "Celebrations", producted and engineered by Aaron Harris (ex-Isis) and mastered by James Plotkin (Khanate).
This awesome record, out right now through Bandcamp and soon on the Domino Media Group store (Eepocampe, Feuerzeug, Thot), includes notable guest appearances by Joseph Andreoli of math-rock bigwigs Giraffes? Giraffes! and Bryant Clifford Meyer of Isis/Red Sparowes. By the way, Mental Architects has also filmed two music videos for the tracks "
Launch the avalanche
" and "
When sound turns into a person, he becomes one of us
" (by the talented Mark Ludgate).
Source: Press Release