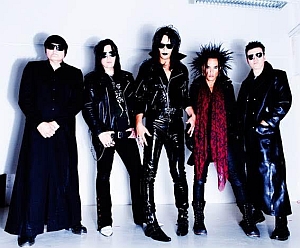 The Helsinki vampires, THE 69 EYES, secretly returned to the studio to record a new biting opus for the hungy masses with producer JohnnyLee Michaels, who already was responsible for the recordings of 'Blessed Be' and 'Paris Kills'. Vocalist Jyrki 69 reveals:
"Dear Helsinki vampires loyalists, how's your summer been? I've been thinking of you a lot lately. Especially in the nights...- in the studio. You see, we are currently in the studio recording our new album here in Helsinki. It's coming out really good, feels like a record I've always wanted us to do. A bit hard to explain but you will hear it soon! If you happened to like those albums,we've made earlier with Johnny, you will love this new one, too. The first single will come out later on this year and the album in early 2016. August moon - where are you...?"
Only a few months ago, THE 69 EYES released 'The Best Of Helsinki Vampires', a full best-of collection, spanning a quarter of a century of band history, featuring 28 tracks in total. Additionally, THE 69 EYES re-released 'Devils' (2004), 'Angels' (2007) as well as 'Paris Kills' (2002) as a special edition. Each re-release includes the original album track listing plus three bonus tracks.
THE 69 EYES live 2015:
29.08. FIN Naantali - Vanha Salakuljettaja
Source: Press Release