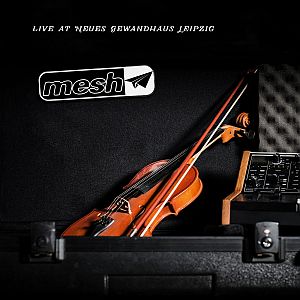 It was a memorable event when MESH received standing ovations from 1.900 attendees at their sold-out concert in Gewandhaus Leipzig, Germany, in October 2015. Together with a 65-person classical orchestra, the Brits had performed under the heading "Gothic Meets Classic" and managed to convince even the most sceptical of minds. Not only were the quartet's melancholic compositions a perfect fit for the orchestral arrangements; thanks to the fantastic work of classical producer and pianist Conrad Oleak, the evening remained unforgettable amongst those in the audience. Also, Mark Hockings proved once again that he is one of the best live vocalists the scene has.
The five tracks were recorded in superb audio quality by sound engineer Jacky Lehmann (Saxon, Schiller) whereas Conrad Oleak was responsible for mix and mastering, not to forget the 5.1 surround sound of the audio DVD of the limited edition. Under his aegis, MESH also recorded three additional tracks in his studio ('There Must be A Way', 'Can You Mend Hearts', 'Before The World Ends'), using a smaller ensemble with piano, thus being able to offer us a full CD of high quality classical recordings.
Dependent does justice to this sonic opulence by releasing it on CD, limited edition 180 gram vinyl with gatefold cover and in a lush box set named "Großer Saal"-Edition. The latter includes CD, audio DVD with 5.1 mix and vinyl plus a 48-page hardcover artbook (30x30 cm), a softcover book including the sheet music and a hand-signed and numbered certificate of authenticity.
Check out a first song! Mesh - Just Leave Us Alone [taken from "live at Neues Gewandhaus Leipzig" 2017]:
"Live at Neues Gewandhaus Leipzig" is due out on November 24, 2017.
Tracklist
01. Just Leave Us Alone (live)
02. Only Better (live)
03. Save Everyone (live)
04. You Couldn't See This Coming (live)
05. Taken For Granted (live)
06. Can You Mend Hearts?
07. There Must Be A Way
08. Before This World Ends
Source: Dependent