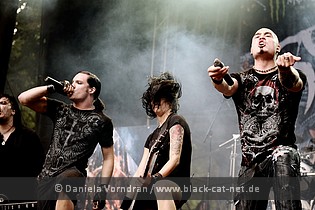 Swedish modern rock / metal superstars SONIC SYNDICATE just issued the following update:

The band is currently on tour across Europe on part one of their We Rule The World Tour and 2011 is coming faster then the speed of sound so we figured why not get the party started and release a few upcoming shows in 2011.

February 5th, 2011 the band will be playing at Bistro Star in Avesta, Sweden.
March 10th, 2011 at John Dee in Oslo, Norway.
March 11th , 2011 in Borlänge, Sweden at S2 (Club Black City)


Other news...
On December 17th we'll be releasing the first summer festival of the year which happens to be in Germany.
Also, Sonic Syndicate is now a part of iTunes Ping so jump on over and follow the band today as they share their favorite music, videos, day by day life stories and more.
Open your iTunes, click Ping and search SONIC SYNDICATE!
Source: Newsletter