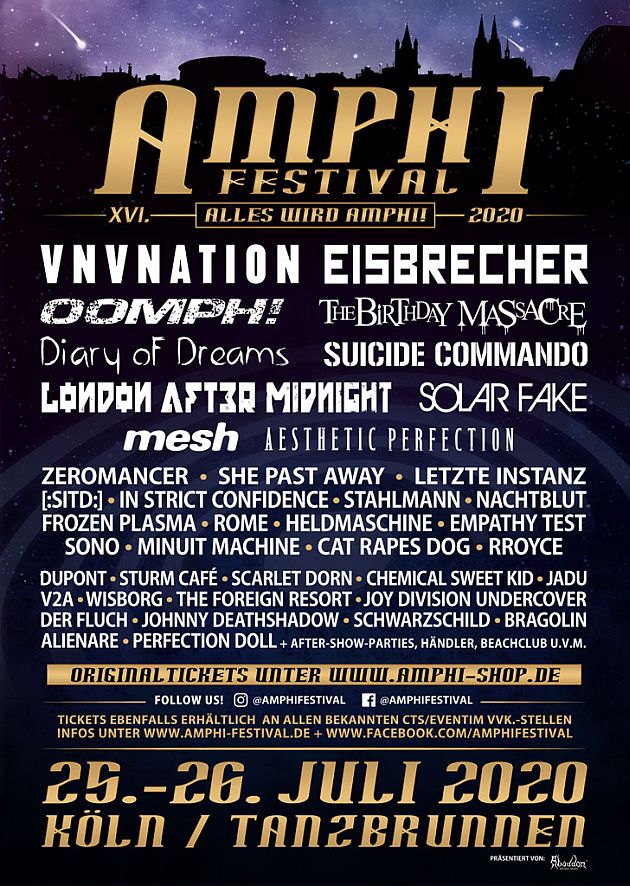 It is done! Today we're proudly ready to give away the final four names, which are to complete the 2020 Amphi line-up. As you might have noticed, already a considerable amount of bands of the current billing play at Amphi for the first time. It appears we continued on that all the way through. To equal parts the final set of four brings highly requested favourite combine d with fresh impulses. Goth Rock meets Ruhr area Electro and uniformed Dark Pop a war boy style wasteland steamroller! Please welcome:
LONDON AFTER MIDNIGHT + [:SITD:] + JADU + V2A
Original Amphi Festival tickets and "Amphi/ E-tropolis 2020" combi-tickets are exclusively available at Amphi Shop, www.amphi-shop.de! In addition to the pre-selling at the Amphi Shop, Amphi Festival tickets are also available at all CTS/EVENTIM box-offices, via www.eventim.de and as PRINT@HOME edition. Additional festival information is as always to be found at www.amphi-festival.de or www.facebook.com/amphifestival. Also feel free to join us at www.instagram.com/amphifestival!
XVI. AMPHI FESTIVAL 2020 - 25. & 26.07.2020 - COLOGNE | TANZBRUNNEN
VNV NATION + EISBRECHER + OOMPH! + THE BIRTHDAY MASSACRE + DIARY OF DREAMS + SUICIDE COMMANDO + LONDON AFTER MIDNIGHT + SOLAR FAKE + MESH + AESTHETIC PERFECTION + ZEROMANCER + SHE PAST AWAY + LETZTE INSTANZ + [:SITD:] + IN STRICT CONFIDENCE + STAHLMANN + NACHTBLUT + FROZEN PLASMA + ROME + HELDMASCHINE + EMPATHY TEST + SONO + MINUIT MACHINE + CAT RAPES DOG + RROYCE + DUPONT + STURM CAFÉ + SCARLET DORN + CHEMICAL SWEET KID + JADU + V2A + WISBORG + THE FOREIGN RESORT + JOY DIVISION UNDERCOVER + DER FLUCH + JOHNNY DEATHSHADOW + SCHWARZSCHILD + BRAGOLIN ALIENARE + PERFECTION DOLL + supporting programme!
Source: Press Release