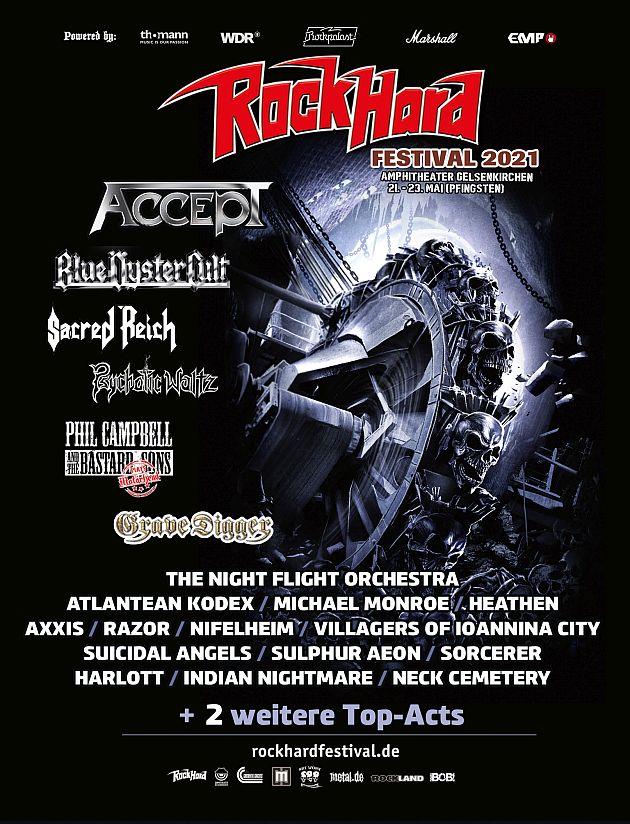 ROCK HARD FESTIVAL 2021 - Pentecost weekend (Friday, May 21 to Sunday, May 23) - Total steel!
Germany's number one steel smithy is coming back to the area! "ACCEPT are simply live guarantors and now even bring a new album with them. That is exactly the kind of music our fans like", comments Rock Hard publisher Holger Stratmann about the commitment of the German-American figurehead with roots in the nearby Bergisches Land. The evergreens of the scene also include the songs by MOTÖRHEAD, whose guitarist Phil Campbell will play live in Germany for the first time after the death of Lemmy Kilmister.
The side trips to Europe of the mystical BLUE ÖYSTER CULT, which are generally regarded as role models by GHOST & others, are not less rare. At the same time, the festival offers two more public favourites, SACRED REICH and GRAVE DIGGER, with the Gladbeck Scotland- historians wanting to upgrade their home game with a rich bagpipe army. Stratmann: "The Corona-related relocation of the festival has meant that the program has become even better. Bands and fans are motivated to the tips of their hair. Now it just has to take place!" Compared to 2020, two bands slipped from billing (ALCEST, INSOMNIUM), but Prog legends PSYCHOTIC WALTZ just got the 2021 appointment right. The live premiere of her new album 'The God-Shaped Void' has also been victim of the virus so far.
THE NIGHT FLIGHT ORCHESTRA and Punk'n'Roll legend MICHAEL MONROE are known for their party atmosphere. The VILLAGERS OF IOANNINA CITY are the hottest thing on the Stoner underground. The Melodic-Ruhr-Metallers AXXIS are finally experiencing their home game premiere! The Bavarian Epic Metallers ATLANTEAN KODEX are currently THE cult band of the underground. Also, on board are the San Francisco heroes HEATHEN, the Greeks SUICIDAL ANGELS, the Canadian primal Thrashers RAZOR, the Swedish old school Black Metal NIFELHEIM and the Death squadron SULPHUR AEON. SORCERER celebrate their new Doom work at their favourite festival at their own request, while NECK CEMETERY, INDIAN NIGHTMARE and HARLOTT also take on the heating role. And, and, and... So, as always, a handpicked music program from the Rock Hard editors, for which a short trip to the beautiful Ruhr area is always worthwhile!
The pre-sale continues unabated after the 2020 outage, the tickets remain valid. The latest information on the topic can be found on the festival's website. The 3-day tickets cost 97.90 euros including all fees (ticket + camping: 123.80 euros). Ticket link:
http://shop.rockhard.de/rock-hard/rock-hard-festival.html
. Current information, videos and interviews of the bands involved as well as impressions of the site can be found on the festival pages:
www.rockhardfestival.de
/ www.facebook.com/rockhardfestival.
Currently confirmed:
Accept, Blue Öyster Cult, Sacred Reich, Phil Campbell And The Bastard Sons Play Motörhead, Psychotic Waltz, Grave Digger, The Night Flight Orchestra, Atlantean Kodex, Michael Monroe, Heathen, Axxis, Razor, Nifelheim, Villagers Of Ioannina City, Suicidal Angels, Sulphur Aeon, Sorcerer, Harlott, Indian Nightmare, Neck Cemetery + 2 more highlights
Source: Press Release