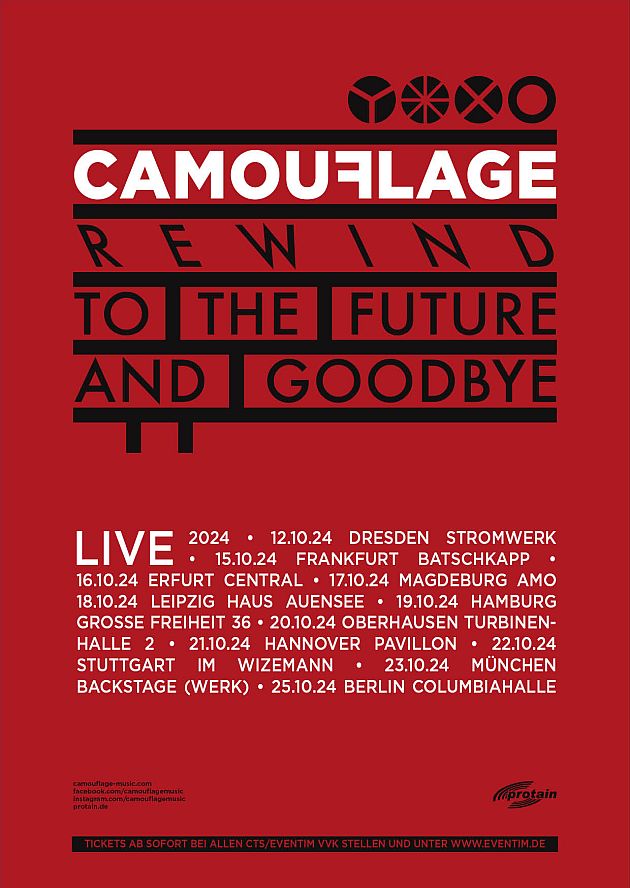 This message has reached us from CAMOUFLAGE:

"Dear camouflage fans, the new year begins with mixed feelings.

After intensive discussions among ourselves and an in-depth analysis of the post-pandemic live market, we have decided to postpone our planned tour to autumn 2024. Our long band break since 2016 originally prompted us to want to celebrate 40 years of CAMOUFLAGE, 40 years of music, videos, pictures and memories with you and our entire crew. But while we talked about it in detail, we realized that for a tour that is not only beautiful, but also successful and exciting, it definitely needs some new songs and new content of all kinds, and not only memories and archive material. And we wouldn't be CAMOUFLAGE if we didn't accept this challenge.


So, we're actually going to be in the studio together in a few weeks, and with a little inspiration and a little bit of luck, we'll have the tools to reboot CAMOUFLAGE by the end of this year. And only then, from our point of view, does it really make sense to play a tour, because only then can the past, the present and the future mix into a homogeneous concept and give you and us the fun that we all expect from this tour.

So please don't be mad at us, we're working on new material for now. Tickets that have already been purchased remain valid, of course, or can, if necessary, be given back at the respective advance booking office where they were purchased. Below you will find the new dates of the Germany Tour.

We look forward to autumn 2024,
CAMOUFLAGE"

German Tour Dates
12.10.24 – Dresden, Stromwerk
15.10.24 – Frankfurt, Batschkapp
16.10.24 – Erfurt, Central
17.10.24 – Magdeburg, AMO
18.10.24 – Leipzig, Haus Auensee
19.10.24 – Hamburg, Große Freiheit 36
20.10.24 – Oberhausen, Turbinenhalle 2
21.10.24 – Hanover, Pavillon
22.10.24 – Stuttgart, Im Wizemann
23.10.24 – Munich, Backstage (Werk)
25.10.24 – Berlin, Columbiahalle

Source: Press Release