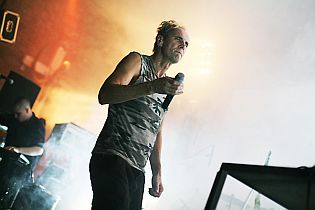 Backstage Halle, Munich, Germany
11th September 2011
Front Line Assembly & support: Digital Factor

Canadian Industrial music project FRONT LINE ASSEMBLY (FLA) exists already since 1986. The band was founded by Bill Leeb when he left SKINNY PUPPY. Their single 'Mindphaser' was distinguished by MTV as 'Independent-Video of the Year 1992'.


Last year, their latest album 'Improvised Electronic Device' was released, which reached the US-American Billboard-Charts. The song 'Angriff' coming from this album was also published as free MP3-Download. In autumn, after their present tour through America FLA will also start an European tour and play on the 11th of September 2011 in the Backstage in Munich. Support will be German band DIGITAL FACTOR.

Additional Concert Info
Doors open: 7:30 PM
Starts: 8:30 PM
Ticket fee: 22.70 EUR + Charges (Presale)
Tickets can be bought online at http://www.eventim.de
More Information at http://www.myspace.com/thefrontlineassembly