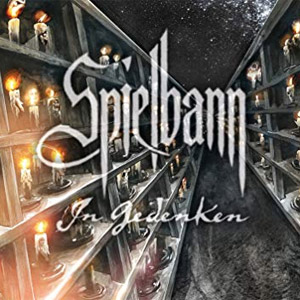 "Dust they are and yet they cannot part." It is with words like these that SPIELBANN guide into their realms. They go well with the heavy and brooding sounds unleashed by this newcomer extraordinaire: The Gothic Rock ensemble tells tales of tragic intensity, studies-become-music of the human character - instantly enthralling the listeners. SPIELBANN, this much is clear, is more than a band. Five individual characters, all their hearts dedicated to the spirit of Gothic and Dark Rock, came together to free the dark scene's music of its all too often suffocating corset. Thus, they create something unique within the realms of music – "In Gedenken" being the quintet's first milestone.
That is notably due to the vocal performance which is about to set new standards in the Gothic movement: Seb Storm and his female counterpart Nic Frost are voices that could not blend in better with one another. For the first time since the days of L'ÂME IMMORTELLE they have formed a classic duo behind the microphones. What the singers can rely on is an exceptional performance by the other SPIELBANN members, creating a dense wall of sound of thundering riffs, electronic and orchestral dominance as well as powering grooves.
Qualities like these do not remain unnoticed for long. In the context of his unparalleled "MäzenatenTumult" campaign (in which SPIELBANN belonged to the winning bands) founder and Gothic icon Asp became acquainted with the band and immediately recognized their colossal potential. He quickly realized that this band was not to be withheld from the public any longer! Thus, the band and the eternally inspired artist plunged into this adventure that has now become the debut "In Gedenken". In close camaraderie with SPIELBANN Asp burned for this album, fought for it and poured his heart, his unleashed creativity as well as his experience as a true "master of Gothic Novel Rock" into these tracks. The result is a thorough work of art, brimful with emotional depth and the unique sound of a world between life and death. A world perambulated by restless spirits, filled with the cries of the bereaved. They all are trapped in their destinies, in their wishes and passions. Within the songs, culprits and victims contemplate their deed, within the songs we are about to witness gruesome events and human tragedies. Brought to life by the charismatic, changing, interacting or dueling voices of Seb Storm and Nic Frost, it is all but difficult to dive into the fathomless deep of "In Gedenken". What's more: Alongside Asp the band was able to get hold of yet another grandmaster of all things morbid: Artwork designer Timo Würz (MARVEL, George Lucas, Disney, FESTA) has refined the album with his visual nightmares.
All these dark fruits of passionate collaboration make "In Gedenken" a very special work of Dark Rock music. Still, this is only the beginning. Be prepared: There are a lot of stories yet to be told.
Tour (Special Guest of ASP):
16.10.15 Bremen, Aladin
17.10.15 Herford, X
18.10.15 Hamburg, Markthalle
21.10.15 Memmingen, Kaminwerk
22.10.15 Wien, Arena
23.10.15 München, Backstage
24.10.15 Heidelberg, Halle02
28.10.15 Oberhausen, Turbinenhalle
29.10.15 Berlin, Huxley neue Welt
30.10.15 Dresden, Alter Schlachthof
31.10.15 Erfurt, Stadtgarten
Website:
http://www.spielbann.de
/
https://www.facebook.com/Spielbann
Source: Press Release