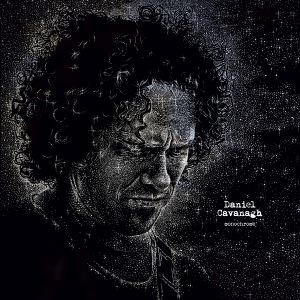 Riding the waves of his success with ANATHEMA's latest album 'The Optimist', which includes a worldwide headline tour, multiple summer music festivals and an "Album of the Year" nomination for the 2017 Progressive Music Awards, the band's driving force, Daniel Cavanagh releases his new solo album, 'Monochrome'. 'Monochrome' is a deeply reflective and personal offering, inspired by internal feelings of love and loss, Daniel Cavanagh explains
"The album has a late night, candlelit feeling, evoking the light of dusk as the summer sun sinks below the horizon, setting the scene for thoughts and meditations that many people will relate to."
Elaborating further on the album and songs he continues
"A lot of this material could easily have made it on to the last Anathema album or any future album; that's how highly the band rate it. There are several highlights: 'The Exorcist' and 'The Silent Flight of the Raven Winged Hours' are among some of my best works of the last decade. Taking them from the band was not an easy decision but I am glad; they're so personal as to not need more input."
'Monochrome', whilst written & performed by multi-instrumentalist, Daniel Cavanagh, does feature guest performers - Anneke Van Giersbergen - ex-vocalist for THE GATHERING, who has since sung with DEVIN TOWNSEND, ÁRSTÍÐIR, ANATHEMA and ARJEN LUCASSEN appears on 3 songs - 'This Music', 'Soho' and 'Oceans Of Time'. The album also sees the exceptionally talented Anna Phoebe providing violin on 'Soho', the Poe inspired 'The Silent Flight Of The Raven Winged Hours' and 'Dawn'. Recorded at Grammy Award-winning Parr Street Studios, engineered by Andrea Wright, mastered by ANATHEMA's Daniel Cardoso, and with artwork by illustrator Danny Branscombe https://www.dannybranscombe.com ).
Daniel introduces the first song from the album to be premiered fans
"'The Exorcist' was considered so good by ANATHEMA that the rest of the band would have made this the centerpiece of an ANATHEMA album, taking it from the band was not an easy decision but I am glad I did!".
Daniel Cavanagh - The Exorcist (from Monochrome)
Ttracklist

01. The Exorcist [06:43]
02. This Music [04:50]
03. Soho [07:39]
04. The Silent Flight Of The Raven Winged Hours [09:03]
05. Dawn [02:42]
06. Oceans Of Time [08:14]
07. Some Dreams Come True [08:34]
Monochrome will be released on CD / LP and digitally with digital pre-orders receiving the track "The Exorcist" as an instant download – pre-order: http://smarturl.it/DC_MONOCHROME
ANATHEMA Tour Dates 2017

18.10. Z7 - Pratteln (Ch)
19.10. Longhorn - Stuttgart
20.10. Backstage Werk - Munich
21.10. Simm City - Vienna (At)
29.10. Batschkapp - Frankfurt
31.10. Astra Kulturhaus - Berlin
01.11. Uebel & Gefährlich - Hamburg
15.11. Hsd Gewerkschaftshaus - Erfurt
16.11. Live Music Hall - Köln
Guest: ALCEST
Tickets:
Eventim
/
Ticketmaster
Source: Press Release