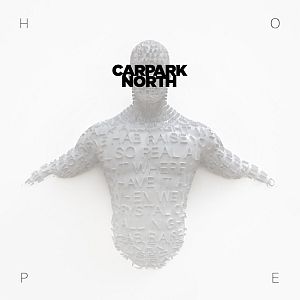 Artist: Carpark North
Releases: 'Heroes' (Carpark North & Samu Haber - Title song Ice Hockey World Championship), 'When We Were Kids' (Single), 'Hope' (Album)
Release: 23rd March 2018 (Ice Hockey Song), 20th April 2018 (Single), 1st June 2018 (Album)
Label: Kobalt
This award-winning Danish rock band is known for its signature blend of rock and electronic sound, catchy choruses and energetic live shows complete with a strong visual expressiveness. At the end of the 90s, the band's demo - recorded in their home studio - became the best-selling demo in Danish music history. As a result, their debut album took the nation by storm and climbed to the top of the album, single and radio charts. From the beginning, the band has followed a strict do-it-yourself ethos when it comes to music videos, visual live effects, illustrations, graphics, and song writing.
In their 15 plus-year career, they have grown into an international touring act with appearances worldwide, including support for 30 SECONDS TO MARS (US), SUNRISE AVENUE (FI) and MOBY (US). The band has appeared at many major festivals in Europe including Rock am Ring (D) and Ruis Rock (FI) and the Moonsoon Festival (Vietnam). They also headline up to over 20 Danish festivals each year. Most recently, in November 2017, the band embarked on its own headliner tour in three arenas in Denmark.
The band has also contributed songs for the Fifa 2008 video game and the TV series Lego Nexo Knights. They have also just released the official title song for the Ice Hockey World Championship, which will take place in Denmark in May 2018. Samu Haber (SUNRISE AVENUE and "The Voice of Germany") is also a contributor to this song.
Following the success of their first four albums, 'Carpark North' (2003), 'All Things To All People' (2005), 'Grateful' (2008), the international album 'Lost' (2009), the Live / Greatest Hits album 'Best Days'(2010) and 'Phoenix' (2015) the band is back with their new studio album 'Hope' (1st June). The first official single, 'When We Were Kids', will be released on 20th April.
Heroes' with Samu Haber - Lyric Clip:
Live Dates

28.09. Hamburg, Uebel & Gefährlich
29.09. Berlin, Privatclub
30.09. Leipzig, Moritzbastei
01.10. Stuttgart, Wizemann Club
02.10. CH-Zurich, Exil
04.10. Nuremberg, Z-Bau
05.10. A-Vienna, Chelsea
06.10. Munich, Backstage Halle
07.10. Frankfurt, Zoom
09.10. Cologne, Club Bahnhof Ehrenfeld
10.10. Bochum, Rotunde
Tickets:
Eventim
Source: Press Release