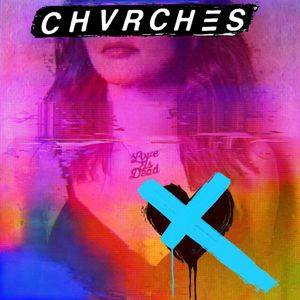 "Ask me no questions, I will tell you no lies, careful what you wish for. We're looking for angels in the darkest of skies... I'm not asking for a miracle," sings Lauren Mayberry in the track 'Miracle', released by the Scottish Electro-Pop trio on April 11, and - after 'Get Out', 'My Enemy' feat. Matt Berninger and 'Never Say Die' - already the fourth release from the upcoming CHVRCHES studio album 'Love Is Dead', which will be released on May 25.
The track was produced by none other than Steve Mac, who already sat behind the controls for ED SHEERAN's mega hit 'Shape Of You': "'Miracle' is the only song on the album that was not written or recorded in the States," the band said about the fruitful collaboration. "Instead, it was created in London with Steve Mac, who is a great songwriter, and has an incredible gut feeling and an absolutely unique feel for tunes. Working with him has been extremely smooth and uncomplicated. He takes time for all the suggestions and encourages you to leave your safe comfort zone to try new ways."
CHVRCHES are Lauren Mayberry, Iain Cook & Martin Doherty. With 'Love Is Dead', the Scottish Electro-Pop trio releases its third studio album, with which the band connects to its Top 10 debut, 'The Bones Of What You Believe' (2013), and the acclaimed Top 5 sequel, 'Every Open Eye' (2015). For the first time in their career, CHVRCHE opens to outward influences, as the trio demonstrated with collaboration with dual Grammy winner Greg Kurstin, who co-produced nine tracks, and Brit Award winner Steve Mac. On 'Love Is Dead', CHVRCHES walk on a tightrope between euphoria and bittersweet melancholy, covering many different topics, but most of all, growing up "knowing that there are great things in the world, but also terrible, and that one not without the other," says Mayberry.
Throughout its history, CHVRCHES have played countless shows around the world at the top of the world's most prestigious festivals. The band recently announced their first US show, which will feature the trio on June 3 as one of the headliners at the Govenors Ball Festival in New York City. CHVRCHES will also be appearing at the TRNSMT Festival in their hometown of Glasgow on July 8, and at London's Citadel Festival on July 15, as well as at other international festivals. But also in Germany you can experience the trio live: at the Hurricane & Southside Festival (22 - 24 June 2018).
More Info: www.chvrch.es/ www.facebook.com/CHVRCHES / www.twitter.com/CHVRCHES / www.instagram.com/chvrches
Source: Press Release