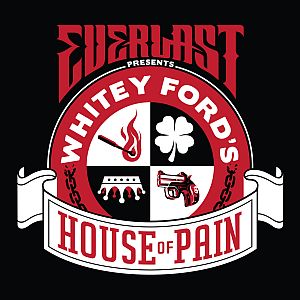 He is one of the few Old-School legends who managed to reinvent himself several times: EVERLAST, the Working Class Hero from the San Fernando Valley, who wrote first Rap-history with THE HOUSE OF PAIN ('Jump Around') and later as a solo artist crossover world hits on the guitar. 'Whitey Ford's House Of Pain' is the first EVERLAST album after eight years and circulates the three career decades of Erik Francis Schrody not only in the title, but also musically. Guest contributions come from Aloe Blacc and Slug (Atmosphere). In September, EVERLAST will also play some mode live shows in Frankfurt, Hamburg, Berlin, Munich and Cologne.
After a long creative break and finding phase, the first single, 'The Culling', announces his seventh solo album. The apocalypse rap, which Schrody sees in a row with his stand-out songs 'Black Jesus' and 'What It's Like', outlines a fearsome utopia. The track resembles a raging reckoning with lying politicians, the corrupt elite and warns enlighteningly against the threat to our liberal order: "Living on your knees is much worse than dying" - that is his empowering credo.
Over the course of his career, EVERLAST has resisted labels and music genres, and has also well done on 'Whitey Ford's House of Pain'. In the years of his abstinence, no one could fill his Blues-footsteps as a Rap songwriter. In some songs, he processes the cystic fibrosis disease of his eight-year-old daughter, transforms the tragedy into poignant art, and scoops up new courage. His next goal is to put the album on the road. Not only in the US, but especially in Europe, where EVERLAST is even better known.
German Tour Dates

11.09.2018 – Frankfurt, Batschkapp
12.09.2018 – Hamburg, Uebel & Gefährlich
16.09.2018 – Berlin, Columbia Theater
23.09.2018 – Munich, Backstage Werk
25.09.2018 – Cologne, Die Kantine
Source: Press Release