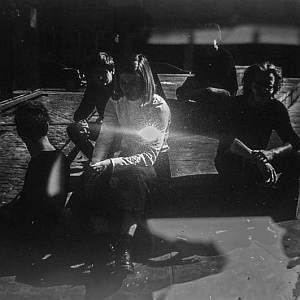 The Post-Punk quintet WHISPERING SONS from Brussels announce their long awaited debut album, 'Image'. The record was produced by Micha Volders and mixed by Bert Libeert. And it is the band's first release since their 2015 EP, 'Endless Party'. 'Image' will be released on 19th October 2018 on the small Hamburg based label SMILE Records in the distribution of Soulfood / Believe Digital.
With 'Image', WHISPERING SONS leave their past behind and make a big leap forward. The band has entrusted themselves to producers Micha Volders (Meteor Musik, El Guapo Stuntteam & "overall synthesizer wizard") and Bert Vliegen (Teen Creeps, Sophia) and used the 10-day stay in the studio as a chance to expand their sound and acoustic drums as well as to enrich a new sound aesthetics. The songs create an atmosphere that is both ominous and urgent and that captures the live intensity of WHISPERING SONS. The new songs have been written in a long-running process since 2016, after all members of the band moved to Brussels together. Between extensive tours, the band has to translate their newly gained experiences and perspectives into the new songs of the album. Influenced by the dynamics of the city of Brussels, the new songs reveal above all a sense of alienation and distancing.
'Image' describes a rather motionless state in which observing is above action, reflecting the artificiality of things while trying to capture ideals. The whole thing is supported by the artwork of Flor Maesen. In 2016, the band was awarded the Humo's Rock Rally Prize - one of the most important Belgian music contests for newcomers. Past winners included bands like DEUS. After that, WHISPERING SONS spent most of their time touring extensively through Europe, earning the reputation of being an outstanding and very intense live band. Immediately after the release, WHISPERING SONS will present their new songs on October 20 at their Release Show & Party in Ancienne Belgique and start their European tour from there.
Pre-order the album here

Whispering Sons Releases

EP Endless Party (2015, Wool E-Tapes, 2016 Minimal Maximal)
7" Performance/Strange Identities (2016)
7" White Noise (2017)
CD Image (10/2018)
'Image' Tracklist

01. Stalemate
02. Got A Light
03. Alone
04. Skin
05. No Time
06. Fragments
07. Hollow
08. Waste
09. Dense
10. No Image
Check out the 'Waste' single

Upcoming Tour Dates

2018 09 01 Rock Monsieur - Hamont, Belgium
2018 09 07 Nocturnal Cultural Night - Deutzen, Germany
2018 09 08 Orangehouse - Munich, Germany
2018 10 10 La [2] De Apolo (support The Soft Moon) - Barcelona, Spain
2018 10 11 Sala Copérnico (support The Soft Moon) - Madrid, Spain
2018 10 12 RCA Club (support The Soft Moon) - Lisbon, Portugal
2018 10 13 Hard Club (support The Soft Moon) - Porto, Portugal
2018 10 20 Ancienne Belgique RELEASE SHOW - Brussels, Belgium
2018 10 24 De Kreun (support Gang of Four) - Kortrijk, Belgium
2018 10 25 Paard van Troje (support Gang of Four) - Den Haag, Netherlands
2018 10 31 Sugarfactory - Amsterdam, Netherlands
2018 10 02 Bi Nuu - Berlin, Germany
2018 11 03 Kulturbahnhof - Bochum, Germany
2018 11 09 Gebäude 9 - Cologne, Germany
2018 11 24 Padiglione 14 - Turin, Italy
2018 11 27 Dürer Kert - Budapest, Hungary
2018 11 29 Meetfactory - Prague, Czech Republic
2018 12 08 Kuub - Turnhout, Belgium
2018 12 14 De Centrale - Gent, Belgium
2019 01 18 LUX - Hannover, Germany
2019 01 19 Das Bett - Frankfurt, Germany
2019 01 26 Moritzbastei - Leipzig, Germany
2019 02 02 Muziekodroom - Hasselt, Belgium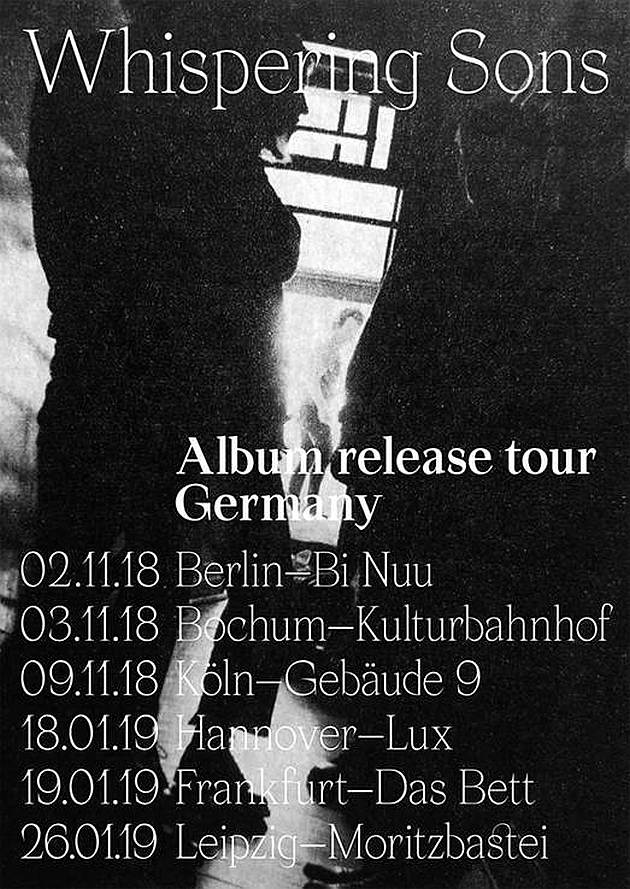 Source: Press Release
Marcel Lüke