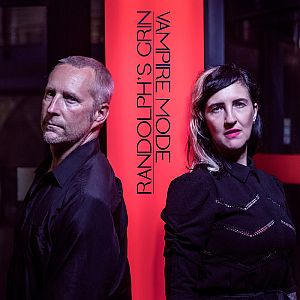 THE GRIN IS BACK! RANDOLPH'S GRIN return with their first single, 'Vampire', of their Halloween themed EP, 'Vampire Mode'. After their successful European summer tour, the band finished up with the recording of five new tracks at the Hamburg, Germany based Chameleon Studios, once again with Chris Harms and Benny Lawrenz. The first track of the E.P., 'Vampire', will be appropriately released on Halloween 2018 - the 31st of October - followed by the full E.P. on the 16th of November.
Singer Adelheid "Heidi" Winkler's family, originally from Salzburg, Austria, immigrate to the United States early in Heidi's live. Heidi grows up bilingual in Detroit, Michigan, where she meets the young and eager Robert Andrew Bowman, who plans to start his own band after he has left several industrial and electronic bands of the Detroit music scene. The two hit it off musically instantly and RANDOLPH'S GRIN is born. The band release their debut album, 'Melt', in 1997 on Metropolis Records and the Germany based label Out Of Line catches interest and releases the single 'Indulgence'.
After the release of their E.P. 'Details', the band goes on a hiatus, during which Robert moves to Los Angeles to follow his career as producer and songwriter while Heidi moves back to Salzburg. In 2015 - the two decide to reunite and release their first music in almost 15 years. 'Dragon Road', mixed and produced by John Fryer (Nine Inch Nails, Depeche Mode), gets released as download only, worldwide via 2808/ Rough Trade. The band tours Europe together with German NDH band UNZUCHT and UK based alternative band DARKHAUS.
In 2017 the album 'Intent', produced by Chris Harms & Benny Lawrenz (Lord Of The Lost) which is named as the "surprise album of the year" and featured in the top albums of the year list of the German Sonic Seducer Magazin, gets released and is followed with an extensive touring summer 2018 in Europe again which sees the band co-headline the Finnish Lumous-Festival and headline the Estonian Pandeviere Festival as well as a show on the German Wave Gotik Treffen, Europe's biggest Gothic and electronic music festival. Hard hitting beats, hip shaking melodies and lyrics that go straight into goose bumps territory, show a band in the form of their life.
Tracklist

01. Vampire
02. Witch
03. Zombie
04. Frankenstein
05. Ghost
Source: Press Release