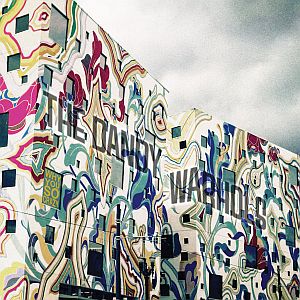 New video 'Motor City Steel' now! Courtney Taylor-Taylor explains the origin of the song as follows:
"'Motor City Steel' is a true story. I lived in a small SW Washington town from 2006 - 2014 and found this to be a fairly common occurrence. The guys generally get online to check out fishing gear, truck parts, and compound bows etc. whereas more and more the gals check out New York, Paris, Hollywood and the like. I changed the names for the song, but when "Rikki" finally did come back, it was well over a year later. They are married now and have two kids."
THE DANDY WARHOLS celebrate their 25th anniversary with a new album called 'Why So Crazy' which will be released on 25 January. There is also a video for the song 'Be Alright' with Jessica Paré, whom should know most of the series 'Mad Men'. It was filmed with a 360° camera in its own band headquarters "Odditorium" and shows, among other things, the own bar, which is led by Taylor-Taylor. He himself has a deep passion for wines, which also plays a major role in the video. It is directed by himself, the idea and concept come from Kevin Moyer who also collaborated with artists such as ELLIOTT SMITH, MODEST MOUSE, DANIEL JOHNSTON, PEARL JAM, PORTUGAL THE MAN, and WILLIE NELSON.
"The weirdest thing about it being our 25th anniversary is it doesn't feel like 25 years. Feels like about six. Or five,"
Courtney Taylor-Taylor.
"Back in 2002, the Dandy Warhols bought a ten thousand square foot building in what was then industrial NW Portland and created The Odditorium, a place that soon became their band headquarters, recording studio, and hang out for them and all their friends and fellow artists,"
says Moyer.
"I've been there many times and it is such a cool and ethereal place, full of psychedelia and gothic touches and auras, that it just makes your head spin trying to take all of it in as you walk through the unique rock n roll space. So what better way than to use a head spinning media format to take the viewer on a magical journey through THE DANDY WARHOLS own space and sound, with the new single 'Be Alright' making things exactly that along the way."
"We've always been driven to create art with emotional clarity,"
says Taylor-Taylor.
"That's what the world needs more than ever right now. I've never felt so strongly that people are losing their minds, and it's more of them than ever before. Local politics, international politics, news programs, sitcoms, and our president all feel like the heat got turned up. It doesn't feel like a natural progression of insanity, it just happened. Most people are behaving in a manner that can only be described as batshit crazy."
In 2019 the band will be touring Europe. In Germany, they will perform on 27 January in Berlin in the Festsaal Kreuzberg. Keyboarder Zia McCabe worries a bit about the setlist:
"Oh man, how are we going to fit something from each album into our set? Don't worry, we'll figure it out and it will be legendary. Get ready for a massive concussion of rock and roll that's been a quarter of a century in the making."
Source: Press Release