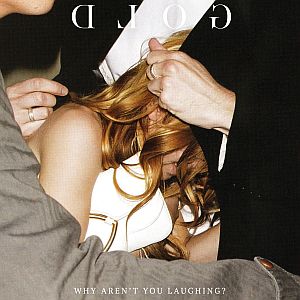 GOLD returns with their fourth - and finest - album, 'Why Aren't You Laughing?', due out via Artoffact Records on April 5, 2019. The Dutch ensemble marries hypnotic Gothic vibes with soulful Heavy Rock, overlaid with atmospheric, often dream-like vocals. The multi-faceted album is complex in its construction, but by enlisting producer Jaime Gomez Arellano (PARADISE LOST, GRAVE PLEASURES), each element is given ample room to breathe - and indeed shine.
GOLD released its debut record, 'Interbellum', in 2012 on Germany's cult label Ván Records. 'No Image' followed in 2015 released by Ván in Europe and Profound Lore in the USA, and in 2017 GOLD released its most well-received record to date, the brooding and hypnotic 'Optimist'. The latter was unanimously praised as a tour de force in songwriting, atmosphere, and existential innuendo. On each record, the song craft has deepened and widened as Milena Eva's poetic lyrics and delivery have connected strongly to the depths of the soul. The band as a unit - rounded out by Thomas Sciarone, Kamiel Top and Jaka Bolič on guitars, Tim Meijer on bass, and Igor Wouters on drums - are primal and whirling; full of life, and yet a memento mori.
GOLD wonderfully blends the confidence of Post-Metal with the fragility of Goth Rock - with electrifying results. Recalling the experimentalism of GODSPEED YOU! BLACK EMPEROR, the dark and sweet beauty of Kristin Hersh and Throwing Muses, but firmly rooted in a powerful, yet artsy Rock vibe, GOLD have tapped into something truly unique. The band's delicate balance has caught the attention of the likes of CONVERGE, with whom they toured in 2016 and 2017, as well as NEW MODEL ARMY, who invited GOLD as support for dates in 2018. In 2019, GOLD will tour Europe, including performances at Roadburn and Hellfest.
GOLD's fourth and finest studio album, 'Why Aren't You Laughing?', will be released worldwide on Toronto-based Artoffact Records on April 5th. An initial single and video for the sonically satisfying 'He Is Not' was unveiled in February.
Tracklist

01. He Is Not
02. Things I Wish I Never Knew
03. Why Aren't You Laughing?
04. Please Tell Me You're Not the Future
05. Taken By Storm
06. Wide-Eyed
07. Lack of Skill
08. Truly, Truly Disappointed
09. Killing at Least 13
10. Mounting Into Bitterness
11. Till Death Do Us Part
Album facts

Format: Vinyl, CD Digipak
Street Date: 4/5/2019
Label: Artoffact Records
European tour booked - April-May 2019
Produced by Jaime Gomez Arellano (Paradise Lost, Grave Pleasures)
Source: Press Release