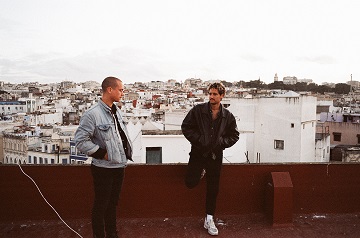 With the video 'I am OK', LEA PORCELAIN send an encouraging message around the world - the new EP is released in summer and the tour starts in two weeks!
With 'I Am OK', the first single of the new EP to be released on June 21, the Berlin based duo LEA PORCELAIN takes a flying start into 2019. 'I am OK' is a broody and soft song, but transports a positive certainty: Everything will be ok, even when you are lying on the ground right now. The band outlines the message and background of the song as follows: "The song describes a time in everyone's life, where you have lost all faith in yourself, in others and life itself - and the only thing you need to hear is someone telling you, that one day everything will be ok again. Not matter what happens, every one of us will be okay again with time and patience."
'I Am OK' is a more reduced release than its predecessor and it transports a message on a minimalistic musical foundation consisting of vocals, bass and ukulele. That framework is enough to establish those atmospheric, cinematic walls, Julien Bracht and Markus Nicolaus are well known for. At the same time, that song is another proof for the extraordinary chemistry between these two musicians. As positive as the song's message is - the video of 'I Am OK' with its New York rainy night sequences reminds of the dark moments, you have to free yourself from at first.
LEA PORCELAIN came into existence, when the two guys bumped into each other at a nightclub in Frankfurt six years ago. Over the years, the duo became more and more successful, and 'I Am OK' can be seen as ambitious letter of intent for an extraordinary new year for Bracht and Nicolaus, which is underpinned by several German (e.g. Intro, Musikexpress, Spex…) and even English media (e.g. Stereogum, The 405, Clash, Wonderland), who expressed their enthusiasm before.
After release of the debut album 'Hymns to the Nights' in the year 2017, LEA PORCELAIN were on concert tour constantly for one year and a half. In April, their European tour starts, further show dates will be announced soon.
Lea Porcelain live:

April 24 - Nuremberg - Club Stereo
April 25 - CH-Bern - ISC Club
April 25 - CH-Baden - Werkk
April 27 - Munich - Strom
April 30 - Wiesbaden - Schlachthof
May 5 - Dresden - Groovestation
May 7 - Hamburg - Hafenklang
May 8 - Cologne - Luxor
May 9 - Münster - Gleis 22
May 11 - Berlin - Funkhaus (Saal 1)
Picture by Peter Kaaden