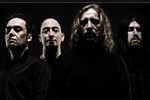 British kings of gloom PARADISE LOST present you their brand-new Ecard allowing further insights in the band's upcoming masterpiece "In Requiem", which will be released via Century Media Records on the following dates:
GERMANY / AUSTRIA / SWITZERLAND / BENELUX / ITALY: Friday, May 18, 2007.
UK / FRANCE / SPAIN / DENMARK / NORWAY / REST OF EUROPE: Monday, May 21, 2007.
SWEDEN / FINLAND / HUNGARY: Wednesday, May 23, 2007.
USA: Tuesday, June 5, 2007.


On the Ecard you can listen to three tracks taken off "In Requiem", namely "Never For The Damned", "Ash & Debris" as well as "The Enemy", which has just been released as a single (in Germany, Austria, Switzerland, Italy only).
The video for "The Enemy", directed by Edward 209, can already be watched at the Ecard's media section, so make sure you check out this fantastic clip!
Furthermore, you can find out more about the new album by reading a detailed "track by track" feature done by the band themselves, check their upcoming tour dates, win some exclusive PARADISE LOST items, and much more.
So, check out the Ecard now @
http://ecard.centurymedia.com/paradiselost/
and spread the word!
Source: Newsletter
www.paradiselost.co.uk
www.myspace.com/paradiselostuk
http://www.centurymedia.com/