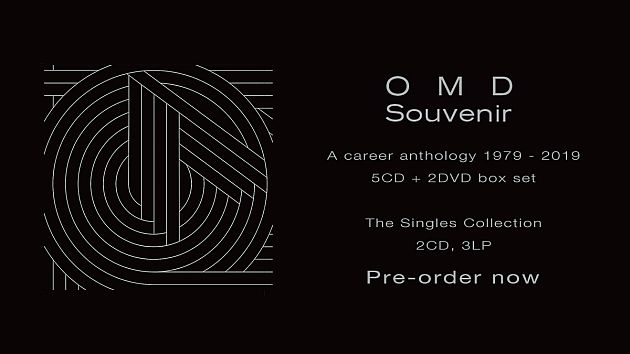 OMD will release the 40th Anniversary Box Set & Greatest Hits Compilation 'Souvenir' on 4 October 2019 including a new single, 'Don't Go'. ORCHESTRAL MANEUVERS IN THE DARK continues its 40th anniversary celebrations with the announcement of a box set and a brand new Greatest Hits compilation. The box set consists of 5 CDs and 2 DVDs housed in a 10" box, a bound book, a poster and a series of 10" prints.
In addition to the box set, there will also be a 2CD and 3LP format, which will include a brand new Greatest Hits compilation from the band's 40-year career. This includes all singles from 'Electricity' to 'What Have We Done', as well as the exclusive brand new single 'Don't Go'. Written and produced by Paul and Andy, 'Don't Go'was recorded at the Bleepworks studio in London, blending the mournful melancholy of McCluskey's lyrical chorus and the ascending synthesizer melody of Paul Humphreys into the classic style of OMD.
The box set also includes a previously unpublished 1983 Hammersmith Odeon live show, 22 previously unreleased demos from the archive selected and mixed by Paul Humphreys, rare and unreleased live material from the BBC, and a full live show from the Mermaid Theater 2011. One of the DVDs includes BBC TV appearances from Top Of The Pops, Old Gray Whistle Test, Later With Jools Holland and more. The other includes a live show from Sheffield City Hall in 1985, another live show from the Theater Royal, Drury Lane in 1981, and 'Crush - The Movie'. The book contains unpublished photos, artwork, an introduction by Paul Morley, and notes on Andy McCluskey's archive material. The complete track listing is available on http://www.omd.uk.com.
German Tour Dates

25 Nov 2019 - Rostock / Stadthalle
26 Nov 2019 - Dresden / Kulturpalast
28 Nov 2019 - Leipzig / Haus Auensee
29 Nov 2019 - Berlin / Tempodrom
30 Nov 2019 - Hamburg / Grosse Freiheit
02 Dec 2019 - Berlin / Tempodrom
03 Dec 2019 - Stuttgart / Liederhalle
05 Dec 2019 - Düsseldorf / Mitsubishi Electric Halle
06 Dec 2019 - Frankfurt / Jahrhunderthalle
Source: Press Release