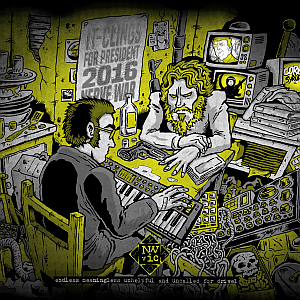 Artist Name: NWvic
Release Title: Endless Meaningless Unhelpful and Uncalled for Drivel
Release Date: June 21, 2019
Label: bugs crawling out of people
Musical Style: Industrial / Experimental / Spokenwordcore
As you can imagine, it's been a hard couple of years for it-clings. Having propelled himself to the very pinnacle of success the self-named "biggest fucking thing in the whole fucking world" has spiralled into a self-deprecating pit of despair. Nothing much has been going on since his last release in 2012. Back in those days he experienced all the glamour and exuberance of a fantasy world of his own creation, a made up post-modern existence where he filled his emptiness with excess and inflated his ego with lies and bravado. And when that failed him, he could always fall back on just getting angry about everything. That was his way of coping with shit.
But jump ahead a few years and everything has caught up with him. His anger and hostility towards the world was perhaps just as empty and meaningless as the dull pitiful lives of those mindless sheep he used to rail against. Maybe there was no space in this new world for it-clings. But at some point he met Nerve War, and by met I mean he encountered him on the internet. This guy still had hope, still had dreams, and still wanted to watch the world burn. With Nerve War's help there was still a place for it-clings.
Are you looking for answers? Well, 'Endless Meaningless Unhelpful and Uncalled for Drivel' isn't the album for you. What is it? It's a hodgepodge of disjointed thoughts and songs, the pounding bass and scathing synthesis adds to the atrocities spoken by it-clings. The assholes behind this filth are connected only through their complacency in the pointless banality of modern existence. This isn't exactly something new and it-clings aren't the first to admit it. 'Endless Meaningless Unhelpful and Uncalled for Drivel' isn't the answer, it's part of the problem.
Unbelievably, this will be it-clings' third full length release. He has appeared on countless releases by other artists (actually a very countable 18) and has written several books. Originally from Toronto, he lived in Halifax, Nova Scotia for far too long. That was a mistake. Halifax is terrible. He now lives in Toronto again.
Nerve War has written/released countless albums (again, a very countable 14) under various project names encompassing many different styles such as metal, industrial, electronic, noise and experimental. Nerve War is from many places but for some reason he currently lives in the bowels of Kansas City, Misery.
Source: Press Release