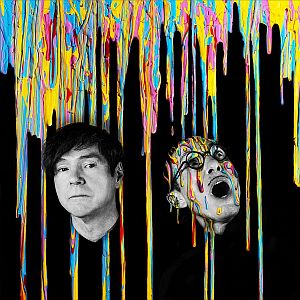 SPARKS release the new single & lyrics video 'I'm Toast' as a small foretaste of the 24th studio album of the Pop pioneers 'A Steady Drip, Drip, Drip' to be released on May 15, 2020. Recently, the legendary Pop icons SPARKS - Ron and Russell Mael - released their new single! 'I'm Toast' is available right now via BMG at all DSPs and streaming portals. The band also created a lyrics video that was released at the same time. "A happy melody for happy times... propose a toast!", the two Maels say. Stream or download 'I'm Toast' via https://sparks.lnk.to/Toast
Watch the 'I'm Toast' lyrics video here:
'I'm Toast' is a small foretaste of the upcoming 24th studio album of the SPARKS, 'A Steady Drip, Drip, Drip', that will be released on May 15. The album can be pre-ordered now, then there is 'I'm Toast' and the acclaimed first song 'Self Effacing' available as a download. The album is released in various formats, including CD, 2x heavy coloured vinyl and picture disc vinyl as well as cassette. The limited exclusive products include signed prints, deluxe CD book editions and a very special SPARKS beret. For more details, visit www.allsparks.com. Pre-order: https://sparks.lnk.to/dripID
'Self Effacing' was released in February including the lyrics video and was celebrated by the Rolling Stone directly as a "song you just have to know": "Who, if not the SPARKS, would release a bombastic song about modesty? 'Self-Effacing' is exactly what you expect from the Art Rock duo: great vocals, dramatic music, and pure camp… A hymn for introverts everywhere, a great start for the band that released their last album 'Hippopotamus' two years ago."
Watch the lyrics video 'Self Effacing' here:
Last year, SPARKS announced 'A Steady Drip, Drip, Drip' with the festive album track 'Please Don't Fuck Up My World'. The title was celebrated worldwide before its release before Christmas. Uncut described it as a "plaintive message of hope expressed in SPARKS' own, inimitable way". "SPARKS is back with a brand-new single that feels very current," enthused Brooklyn Vegan. "While 'Please Don't Fuck Up My World' doesn't name any names, texts like "All that you are pursuing / please don't fuck up my world / can't you see what you're doing" clearly target the head of state of your choice. Russell and Ron Mael let a children's choir sing, so they underline things very well in their own way."
Now, in the sixth decade of their career, SPARKS will celebrate 'A Steady Drip, Drip, Drip' with a short series of live data in Europe, followed by an epic world tour in 2021. This year, the much-anticipated premiere of Annette, the first English-language film by ground-breaking French director Leos Carax (Holy Motors, Pola X), written by Ron and Russell Mael and starring Adam Driver and Marion Cotillard. In addition, director Edgar Wright (Shaun of the Dead, Hot Fuzz, Baby Driver) puts the finishing touches on his long-standing Sparks documentary, which celebrates this unique band properly.
SPARKS European Tour October 2020:

11 – Oslo, Norway – Rockefeller Music Hall
12 – Stockholm, Sweden – Cirkus
14 – Copenhagen, Denmark – The Koncerthuset
15 – Berlin, Germany – Metropol
17 – Amsterdam, Netherlands – Paradiso
18 – Brussels, Belgium – AB Flex
20 – Paris, France – Casino de Paris
21 – London, UK – The Roundhouse
23 – Manchester, UK – Albert Hall
24 – Glasgow, UK – Barrowland Ballroom
26 – Belfast, UK – Limelight Club
27 – Dublin, Ireland – Vicar Street
More information here: www.allsparks.com
Source: Press Release