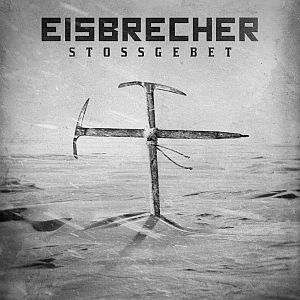 The new EISBRECHER single 'Stossgebet' will be released on May, 21, 2020 and is available as stream and download via https://eisbrecher.lnk.to/Stossgebet. So close to the Lord for Father's Day - EISBRECHER SEND POWERWOLF's 'Stossgebet' ice cold to heaven!
Ave fornicatio et sacrilegum
Deus peccatoribus et patrum Jesu
Frontman Alex Wesselsky blows out these lines into our ears with the new EISBRECHER number 'Stossgebet'. But stop! New number, plus in Latin? And haven't you heard these lines somewhere? These questions are justified. Because here is coming a Power Metal Rock sensation: EISBRECHER interpret POWERWOLF.
Yes, POWERWOLF. The band, which stands for a goose-bump evoking overall experience like no other and has been riding an absolute wave of success for years (various #1 and gold albums). But of course, there have been numerous encounters between the bands over the years, be it festivals like Wacken Open Air or Summer Breeze, where both acts have been regular guests and highlights of billing for years. The request for this cover version came from POWERWOLF themselves and EISBRECHER did not hesitate long.
Alex (former student teacher) found the German-Latin combination particularly attractive, while guitarist and producer Noel Pix stated: "There is a bit of Power Metal in all of us". And so, the EISBRECHER version starts again with a whole new intensity: a little less orchestral, but no less insistent. And so, the band makes 'Stossgebet' their own song to a certain extent, but at the same time bows to the original. EISBRECHER set all signs to GO. After the song collection 'Ewiges Eis', the number 1 record 'Sturmfahrt' and two gold albums, the band is preparing for the next phase with high pressure. The 'Stossgebet' provides much more than just an appetizer for what will come!
Source: Press Release