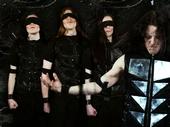 ZONARIA To Release INFAMY AND THE BREED In September, Tracklisting And New Song Available For Streaming
Swedish death metal quartet ZONARIA will unleash their debut album Infamy And The Breed on September 3 (UK), 4 (North America), and 9 (rest of Europe) through Pivotal Rockordings (BLINDED COLONY, SONIC SYNDICATE). The song "Descend Into Chaos" can be heard on the band's OFFICIAL MYSPACE PAGE (
http://www.myspace.com/zonaria
). Guitarist Emil Nyström commented the following on the up-coming release.
"We have been waiting with such anticipation over the last few weeks to finally not only put up a brand new, skull-crushing track on our MYSPACE, but also release the album title and the track listing to all of our fans who have been patiently waiting for brand new material from ZONARIA. We encourage everyone to give us feedback and to let us know what they think of the new song. We can assure each and every one of you that the wait will be well worth it and "Descend Into Chaos" is just a small taste of the full on assault that is Infamy And The Breed."
The track listing for Infamy And The Breed is as follows:

01. Infamy
02. The Last Endeavor
03. Pandemic Assault
04. The Armageddon Anthem
05. Rendered In Vain
06. Image Of Myself
07. Evolution Overdose
08. Attending Annihilation (featuring Christian Ålvestam, Scar Symmetry)
09. Descend Into Chaos (Available For Streaming at
http://www.myspace.com/zonaria
)
10. Ravage The Breed
11. The Black Omen
12. Everything Is Wasteland
13. Misery Dive (Japanese Bonus Track)
A video of ZONARIA performing "The Last Endeavor" can be viewed both on the band's OFFICIAL MYSPACE PAGE and the Pivotal Rockordings
Youtube Channel
. Infamy And The Breed was recorded by Per Nilsson (SCAR SYMMETRY) and mixed and mastered by Jonas Kjellgren (SCAR SYMMETRY) at Black Lounge studios in Gälve Sweden. Infamy And The Breed will once again be released on the following dates in the following regions.
United Kingdom: September 3, 2007
North America: September 4, 2007
Europe: September 7, 2007
Source: Newsletter