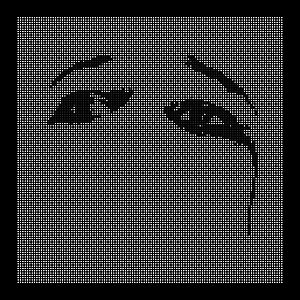 DEFTONES, the Grammy awarded band with the members Chino Moreno, Frank Delgado, Stephen Carpenter, Abe Cunningham and Sergio Vega, release their new album 'Ohms'. Produced by DEFTONES and their long-time companion Terry Date, about one month ago DEFTONES announced their first album since 2016 and received enthusiastic reactions for the title track and its mind-expanding video. Last week, the next track 'Genesis' inclusive video was released.
This week, DEFTONES started the fundraising campaign "Adopt-a-Dot" that invites fans to become part of the 'Ohms' album by adopt one or more of the total 12,995 pixels the cover art is made of (designed by Frank Maddocks). The revenues for each adopted pixel go to the UC Davis children's hospital and Crew Nation in equal parts - to the UC to support life-saving research; and to the Crew Nation to support the crew members that are of priceless value for the music industry and whose living is affected by the COVID-19 crisis. Donate at https://www.deftones.com/adopt.
This year marks the 20th anniversary of the monumental DEFTONES album 'White Pony'. During a virtual press conference at the beginning of this year, the band announced the release of an additional remix album named 'Black Stallion'; an idea that already came into their mind when the original album was created.
"An album that's as thrilling - and as emotional - as they have ever sounded." - NME
"Ohms, is their strongest work in years, a return to form that finds them reconnecting energetically with their heavy, hard-rock roots." - UPROXX
"Deftones are back and doing what they do best: pummelling the depths of their deeply melancholic brand of metal." - THE FADER
"It's good, man. It's very good." - STEREOGUM
Next year, DEFTONES will catch up on their concerts in Germany originally scheduled for 2020. They will also be at Rock am Ring / Rock im Park 2021:
June 11 – 13, 2021 Rock am Ring/Rock im Park
June 28, 2021 Hamburg, Grosse Freiheit 36
June 29, 2021 Berlin, Columbiahalle
At Deftones.com, there are new 'Ohms' merch designs, limited editions and collector's items.
'Ohms' tracklist:
01. Genesis
02. Ceremony
03. Urantia
04. Error
05. The Spell of Mathematics
06. Pompeji
07. This Link Is Dead
08. Radiant City
09. Headless
10. Ohms
Source: Press Release