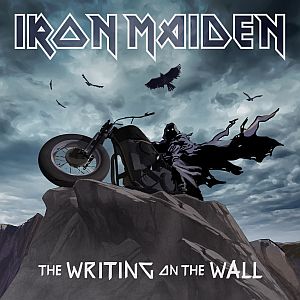 IRON MAIDEN today unveiled their brand-new track, 'The Writing On The Wall', in a highly anticipated worldwide YouTube video premiere. The song was written by MAIDEN guitarist Adrian Smith and lead singer Bruce Dickinson, produced by Kevin Shirley and co-produced by MAIDEN bassist and founding member Steve Harris.
Bruce Dickinson originally came up with a concept for the video that was created in collaboration with two award-winning Pixar ex-executives and long-time MAIDEN fans, Mark Andrews and Andrew Gordon. Together the two have more than 50 years of experience in the animation industry at the highest level, which includes working on 'The Incredibles', 'Ratatouille', 'Merida - Legend of the Highlands', 'Monster Inc' and 'Finding Nemo'. BlinkInk, a London-based animation studio known for its work with a variety of international brands from Adidas to Coca-Cola, as well as a series of high-quality music videos, was chosen from the long line of partners that came up.
In BlinkInk director Nicos Livesey, another long-time MAIDEN fan and soulmate, they found someone who shared the common vision for the track - the result is the finished film with a first look at a breath-taking new incarnation of Eddie in spectacular 3D-shape.
Bruce comments, "I had a pretty clear idea of the concept that was going to accompany the song, and when I met Mark and Andrew through Zoom, it quickly became apparent that we were all on the same wavelength with the addition of Nicos and his young BlinkInk team was reinforced. Our weekly Team Zoom meetings were usually both highly creative and really fun! I'm very proud of the way the video turned out, it's actually more like a mini movie. I knew it would work as soon as Mark brought my treatment to life with his incredible storyboards - I figured we could do something really special together. I think we managed to do that and I hope our fans agree. Basically, it was actually done by MAIDEN fans!"
Director Nicos Livesey continues: "We found the expertise we wanted very quickly, and people just pounced on me to work on a MAIDEN video - we had more than 60 people in 13 countries from Brazil to France, Romania to the USA, who contributed something to the clip and I would say their love, their passion and their basic understanding of the band are clearly evident in every frame. For the producers and me they were a dream team in the handle."
Check out the video here:
Source: Press Release