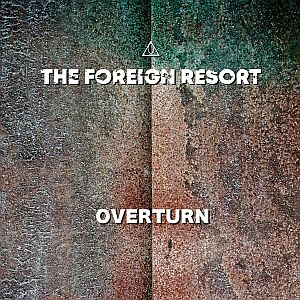 Denmark's enthralling post-punk icons THE FOREIGN RESORT return with brand new music video and single for 'Overturn'. The music video highlights the band's signature dark and gloomy style while complimenting the track which showcases a lighter sound. Directed by Arian Soheili, it is premiering via Post-Punk. The single is out on digital service providers via Artoffact Records.
The band comments, "We are super excited to share new music with the world. This is the first song featuring the new members of THE FOREIGN RESORT, Alioscha on drums and Steffan playing bass. Steffan has been with TFR for quite a while, but this is his first appearance on a recording. Alioscha's punk / rock n roll drumming inspired us to try a new, more dry, tight and lighter drum sound, which is a fresh breath to the heavy sound delivered by the bass guitar and electronics as well as the distorted and reverberating guitars. The lyrics of the song deal with the impact of Covid and politics on friendships and how people suddenly feel estranged to each other. Differences people were able to cope with before suddenly become too much and long-time friends go separate ways."
In addition to the release of 'Overturn' the band is also kicking off their first North American tour in over three years. The tour includes 16 dates across Canada and the USA. All tour dates below. For more info and tickets go here: https://www.theforeignresort.com/northamerica2022
NORTH AMERICAN TOUR DATES:
09/22/22 @ Middle East Upstairs Cambridge, MA
09/23/22 @ Bar Le Ritz Montreal, QC
09/24/22 @ Handlebar Toronto, ON
09/25/22 @ Cold Waves X Chicago, IL
09/26/22 @ Mini Bar Kansas City, MO
09/27/22 @ HQ Denver, CO
09/28/22 @ Aces High Salt Lake City, UT
09/29/22 @ Badlander Missoula, MT
09/30/22 @ Substation Seattle, WA
10/01/22 @ Fox Cabaret Vancouver, BC
10/02/22 @ Coffin Club Portland, OR
10/04/22 @ Elbo Room Jack London Oakland, CA
10/05/22 @ The Virgil Los Angeles, CA
10/06/22 @ Kensington Club San Diego, CA
10/07/22 @ Absolute Fest Tampa, FL
10/08/22 @ The Red Party New York, NY
Formed in 2009 in Copenhagen, Denmark, THE FOREIGN RESORT has spent 10 years creating and honing an explosive yet melancholy post-punk sound that is as rich as it is exciting, and as immediate as it is dark and deep. THE FOREIGN RESORT have toured relentlessly, addicted to the allure of America's lost highways, sharing bills with bands like COLD CAVE, DIIV, THE SOFT MOON, SHE PAST AWAY, THE KVB, SLOWDIVE, MINOR VICTORIES, ASH CODE and many more. Since 2010, the band has been rigorous in playing more than 500 shows across North America and Europe with performances at several festivals, including SXSW, Iceland Airwaves, Wave Gotik Treffen, Canadian Music Week, POP Montreal, and Nocturnal Culture Night.
Source: Press Release