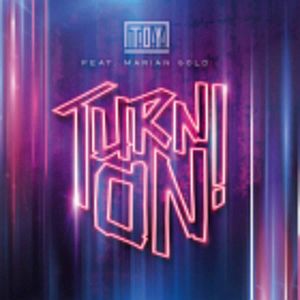 'Turn On!' (Release Date: October 28th, 2022) comes from the forthcoming T.O.Y. full-length album 'The Prophet', which is musically devoted entirely to the 80s. The Eighties couldn't sound more authentic nowadays, because most of the production was created on original equipment from what is probably the craziest decade in pop history, such as the Roland Juno 60, the Linn drum or the Prophet 5 synthesizer.
The typical eighties sound of 'Turn On!' and the contact to long-time friend and companion Thomas Thyssen (Schubert Music Publishing, Managing Director / Schubert Music Europe, Head Of Recorded Music) gave rise to the wishful thinking, to request ALPHAVILLE frontman and founding member Marian Gold as a singer. Known for speed and reliability, Thomas set to work getting the track to Marian, with whom he had worked on trust for many years before at Universal Music.
Out of nowhere, after a while, Thomas sent the message, "I have a surprise for you!". This was followed by an e-mail with a demo on which Marian sang 'Turn On!' in his unmistakable voice. Shortly thereafter, the first direct contact between Marian and T.O.Y. thinker and driver Volker Lutz was established, and a creative process that focused on the subtleties and details in the song was set in motion.
The journey to the final version was marked by the passion of the two passionate musicians. Marian is extremely creative, experienced, an absolute team player and the collaboration developed more and more into a friendship, so that the creative collaboration even resulted in a joint music video. Director Rytis Titas, who skilfully staged T.O.Y.'s last music videos, was quickly won over to the idea of giving the song its unmistakable cinematic look. The music video for 'Turn On!' was shot on location in Berlin and Kaunas, Lithuania.
On the occasion of the vinyl compilation 'Metropol Nights', which was also released in 2022 and is a homage to the Berlin club world of the 80s, 'Turn On!' is additionally released as a remix on this sampler on the collectors label Private Records along with luminaries like BOY GEORGE, ANDY BELL (ERASURE), JOHN CARPENTER and contemporary acts like RAGO & FARINA and SCARLET FANTASTIC.
Source: Press Release