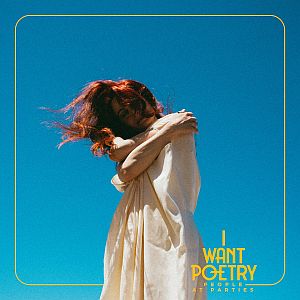 Artist: I Want Poetry
Title: People At Parties (Single), Solace + Light (Album)
Release Date: 27th January 2023 (Single), 26th May 2023 (Album)
Genre: Pop / Dream Pop
Label: recordJet
As I WANT POETRY, Tine von Bergen and Till Moritz Moll make international Pop with ethereal vocals and cinematic soundscapes. Piano chords like from a dusty Hollywood movie, plus smooth beats and strings - with their new track 'People at Parties' they invite you on a nostalgic trip. Singer Tine von Bergen paints strangely familiar scenes: At the party, you unexpectedly encounter your own past. A lost friendship, a memory of what was - but in the flickering disco light there is only the moment, close your eyes and dance.
I WANT POETRY are known for visually stunning music videos and the clip accompanying the song is no exception. The video captures the psychedelic mood of the song cinematically - like the rush of a night of dancing. I WANT POETRY created the Lana Del Rey-like sound of 'People at Parties' with US producer Electra Lovelle. The song is the prelude to the album 'Solace + Light', which will be released on May 26, 2023.
Watch the official 'People At Parties' clip here:
With their visually powerful signature mix of atmospheric Dream Pop, mental cinematic soundscapes and ethereally floating vocals, I WANT POETRY have advanced from being an insider tip to becoming a fixture on the German Electro Pop scene in a very short time. Singer/ songwriter Tine von Bergen and pianist/ composer Till Moritz Moll invite you on their tracks to atmospheric thought trips between the worlds of sound. An eternal interplay of warm nostalgia, an undercooled elegance and a light-flooded glimmer of hope that runs like a red thread through their songs.
I WANT POETRY caused a sensation last year with their debut album 'Human Touch'. "... and above all lies the intoxicating trendlessness of one's own style; a fine elegance that one knows from great Pop masters like TEARS FOR FEARS or WOODKID," writes the Freie Presse.
They work together with internationally renowned acts and producers such as Kieron Menzies (Lana del Rey), Roy Kerr aka MyRiot (London Grammar, Aurora), Rob Rox (Banks) and Michael Vajna (Malky). I WANT POETRY are prize winners of the Pop Music Saxony 2022 competition, scholarship holders from BV Pop and nominated for the European Songwriting Awards.
Website: www.iwantpoetry.com
Facebook: www.facebook.com/iwantpoetry
Instagram: www.instagram.com/iwantpoetry
YouTube: http://www.youtube.com/iwantpoetry
Spotify: IWantPoetry@Spotify
Source: Press Release