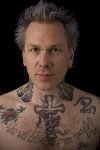 "Wüste", the debut album from SEHNSUCHT, the noise/darkwave/ambient project from Maniac (SKTILIV, MANIAC/LILES/CZRAL, BOMBEROS, VOLUSPA, SEPTIC CUNTS, TOTENKOPF, VERNICHTUNG, STATUS FATAL, ex MAYEHM) hits the streets on the 8th March, on Cold Spring Records. Recorded in
Oslo, Tokyo and Heptonstall, "Wüste" was engineered and mixed by Maniac and Andrew Liles (NURSE WITH WOUND, CURRENT 93), with final mix and postproduction also by Liles. Released in a 6-panel digipak format, track listing on "Wüste" is as follows.
1: Sult
2: Cunt Queen
3: South of Cincinnati
4: Wüste
5: Tarn of Guilt
6: Good Morning Great Moloch
7: Stadt Der Engel Der Vernichtung
8: Tokyo Daymare
9: Hanging in English Gardens

One of the early pioneers of the Black Metal genre, and one of its most instantly recognisable vocalists for over 20 years, Maniac has, since quitting MAYHEM, concentrated on moving away from the genre for which he is most noted, so that he can develop and explore other musical avenues. Whilst his blackened doom band SKITLIV retains some vestiges of his Black Metal vocal style, SEHNSUCHT is a complete departure, forging as it does, a much more experimental path. Aside from Maniac himself on vocals, guitars, loops, electronics and field recordings, SEHNSUCHT includes in its line up experimentalist Andrew Liles on FX, electronics and sound-design, Vivian Slaughter (GALLHAMMER) on bass, alto sax, FX, vocals and backing vocals, and SKITLIV guitarist Ingvar Magnusson.


Continuing the collaboration between Maniac and Cold Spring Records, also released on the same day is "Bloodletting", a limited edition three-track 10" picture disc from SKTILIV. Side A, which is illustrated by part of a painting by David Tibet, features the track "Slow Pain Coming" (Cold Spring Mix) and opens with the intro "Who Will Deliver Us From Gold And Planets", which is the piece of music usually used by SKITLIV as an introduction to live performances. "Who Will Deliver Us…" was created and recorded by David Tibet and Andrew Liles at the request Maniac, and is described as "an introductory collage destruct". Side B is illustrated with a painting by the Norwegian artist Munch and features the extremely hard to find demo version of the track "A Valley Below". The disc is strictly limited to 777 copies and will not be reprinted again.

More information about SEHNSUCHT can be found on the band's MySpace page at
http://www.myspace.com/sehnsuchtofficial
Source: Newsletter