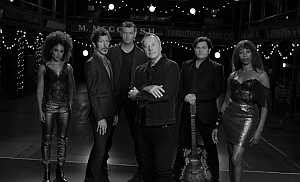 Colosseum, Essen, Germany
8th and 9th April 2017
Simple Minds & KT Tunstall

Despite their long and changeable band history SIMPLE MINDS are still 'Alive and kicking'. Starting in 1977 as Punk band, JOHNNY AND THE SELF ABUSERS by Jim Kerr and Charlie Burchill, they disbanded already at the end of the year just to form SIMPLE MINDS a couple of weeks later. The band name was inspired by the song 'Jean Genie' from DAVID BOWIE. With a musical career of more than 30 years the Scottish band released 15 studio albums, several live albums and live videos, a cover album, best of albums, as well as numerous singles.
Its music spans a great spectrum of musical genres and influences during the years, from Punk, to Minimalism, Experimental, Industrial Electronic, Trance and Rock music. With albums like 'New gold dream (81- 82- 83 84)', 'Sparkle in the rain' success set in but it was the song 'Don't you (forget about me)' which was a film song for the teenage film 'The Breakfast Club' the band reached the N° 1 in the USA. SIMPLE MINDS is one of the most busily touring band. Its live performances are outstanding and the guys are still enjoying it to tour worldwide. With the release of the new album the band has a surprise in the bag as this is an acoustic one with songs that reflect the cross section of the band's career. The songs are not just stripped down to a simple acoustic version but are interpreted in different styles as well. And now the guys will tour and perform an acoustic set. With the first videos SIMPLE MINDS gave the fans already a little appetiser:
https://youtu.be/lAVt9Y-4XRs
.
On this tour the band will be supported by KT TUNSTALL who just started to write music and perform again after her hiatus. Apart from the shows in Essen there are further dates in Germany as there are:
10th April 2017 Frankfurt, Jahrhunderthalle Frankfurt
11th April 2017 Nuremberg, Meistersingerhalle Nürnberg
13th April 2017 Berlin, Admiralspalast - Theater
14th April 2017 Hamburg, Laeiszhalle Hamburg, Großer Saal
17th April 2017 Baden- Baden, Kurhaus Baden- Baden, Benazet Saal
Additional Concert Info

Doors: 7:00 pm
Starts: 8:00 pm
Ticket fee: 54.95€ + Charges (Pre- Sales)
Tickets can be bought at
https://shop.derticketservice.de/prime-tickets/details/?evId=1369662
and also at
http://www.eventim.de
Band Info:
http://www.simpleminds.com/sm/index.php
/
https://www.facebook.com/simpleminds
Info:
http://prime-entertainment.de/index.php?id=34&eventid=4232
Picture by PaulCox