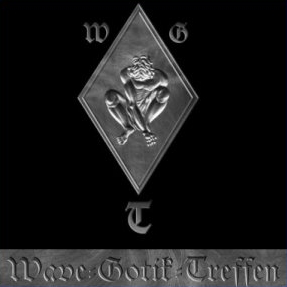 Leipzig, Germany
2nd to 5th June 2017
26th Wave-Gotik-Treffen with Aeon Sable, Amorphis, Angels & Agony, Erdling, Peter Heppner, Rotersand, RRoyce, She Past Away, Skinny Puppy, The 69 Eyes, The Devil And The Universe, The Mission, VNV Nation, Xandria - and many more

Twenty-five years ago, two Gothic people from Leipzig had an unusual idea: They didn't want to create yet another dark music festival but rather a supra-regional gathering of like-minded fellows for relaxed meeting, chatting and celebrating. When the 1st Wave Gotik Treffen took place in 1992 at the edge of Leipzig with about 2,000 visitors and just a handful of bands, it was unlikely that anyone imagined that within a few years the WGT would become the world's largest meeting of the Gothic tribe, taking possession of a whole city every year at Whitsun. By now, the WGT has been in existence for a quarter of a century... This year, from June 2nd to 5th once again more than 20,000 Gothics from all over the world are expected to come together again in Leipzig, Germany, to celebrate the jubilee of Wave Gotik Treffen as THE international gathering of the dark family.
All over the city, there will be about 200 bands performing, projects and single artists covering the whole wide range of Gothic music: from Electro-Pop to Goth-Metal, from EBM to Neofolk, from medieval music to Post Punk. Apart from famous bands of the scene, you are invited for new discoveries with several less-known, real underground bands or artists from the edge of the Gothic music universe. The concerts and events take place at more than 50 venues spread throughout Leipzig, for instance in the vaults of the Moritzbastei, in the splendid neo-antique cupola hall of the Volkspalast, and in the historical public bath Stadtbad, as well as in large concert halls. As always, there will be an enjoyable and diverse program in addition to all the concerts. Details will be published soon here: http://www.wave-gotik-treffen.de/english/prog/programm.php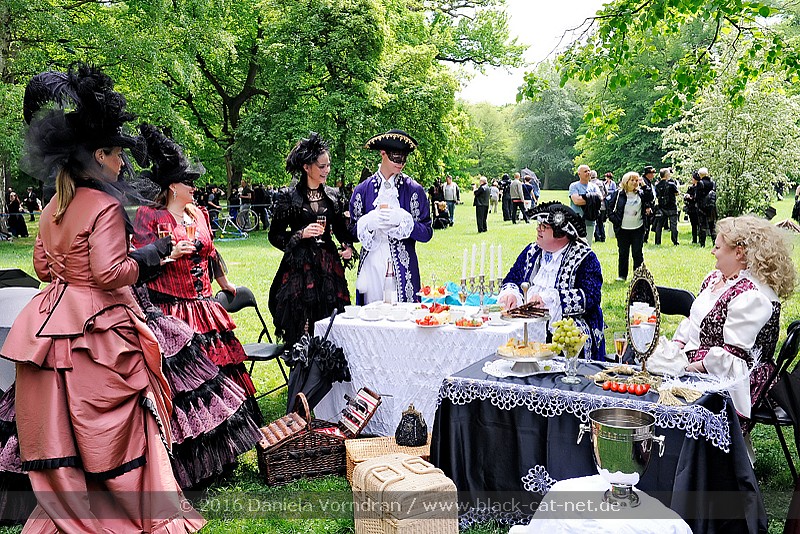 From its beginning the Wave Gotik Treffen has been much more than a music festival: its guests may step back to the romantic atmosphere of ancient times at the medieval market place at the Pagan Village (Heidnisches Dorf). They will present author readings and unusual theatre, cinematic performances will take place. People in historic clothing will gather for a Victorian Picnic in a park. For four days a large hall at the agra-Messepark will be transformed into the biggest Gothic-wares marketplace in the world. In numerous clubs DJs from all over the world will invite you to dance until dawn. There will also be a large fetish party where entrance is only possible by following a strict voluptuous dress code. A stroll through the winding passages of city centre of Leipzig with its historical buildings of the Renaissance, Baroque and Jugendstil (Art Nouveau) eras is especially worthwhile for art and culture lovers: the entrance to several of Leipzig's museums is free for WGT-guests.
Cheap and entertaining accommodation is available at the huge Treffen camping ground. To enter, you need a special ticket (called Obsorgekarte). This time, the Obsorge ticket does not include the extensive WGT-program-book titled
"Pfingstbote", however, you can purchase the book for a price of 15 EUR both at the box offices and the central WGT merchandise stall at the Agra market hall. Public transport in the city is free for all WGT-guests from Friday morning until noontime Tuesday. The inhabitants of Leipzig have become familiar with the Treffen over the last two decades – there are no longer any prejudices and the Gothic guests are very welcome here. The most fascinating aspect of the Wave Gotik Treffen is surely its unique magic atmosphere that covers the whole city. Gothics from all over the world celebrate their gathering in a peacefully relaxed manner, turning Leipzig into a diverse wave of black. Once a year about twenty thousand Gothics come home: to the Wave Gotik Treffen.
Bands

Currently, the following 145 artists are confirmed (as of April 18, 2017):
13th Monkey (D) - Aeon Sable (D) - Ah Cama-Sotz (B) - Ah! Kosmos (TR) - Alcest (F) - Amanda Palmer (Dresden Dolls) & Edward Ka-Spel (Legendary Pink Dots) (USA/NL) - Amorphis (FIN) - Andi Sexgang (GB) acoustic show - Andyra (D) - Angels & Agony (NL) - Annwn (D) - Autodafeh (S) - Azar Swan (USA) - B-Movie (GB) - Besides (PL) - BFG (GB) - Blac Kolor (D) - Black Nail Cabaret (H) - Bleib Modern (D) - Bloody, Dead & Sexy (D) - Box And The Twins (D) - Cabaret Voltaire (GB) exclusive German show 2017 - Cephalgy (D) - Chemical Sweet Kid (F) - Chrom (D) - Codex Empire (GB) - Corde Oblique (I) - Cryo (S) - Cuelebre (E) - Da-Sein (E) world premiere - Decoded Feedback (CDN) - Der Blaue Reiter (E) - Der Fluch (D) - Desperate Journalist (GB) - Die Selektion (D) - Dorsetshire & Gäste (D) exclusive reunion show - Drab Majesty (USA) - Dunkelschön (D) - Eden (AUS) european premiere - Eisfabrik (D) - Emma Ruth Rundle (USA) - Empusae (B) - Equilibrium (D) - Erdling (D) - Esben And The Witch (GB) - Fïx8:Sëd8 (D) - Finsterforst (D) - Folk Noir (D/NL) - Framheim (D) - Frankenstein (USA) - Funker Vogt (D) exclusive German show 2017 - Hamferð (FO) - Hautville (I) - Hørd (F) - Herbst In Peking (D) - Hexperos (I) - Iamtheshadow (P) - Ianva (I) - Illuminate (D) - In the Woods... (N) - Iszoloscope (CDN) - Jarboe (USA) exclusive acoustic show - Johnny Deathshadow (D) - Klangstabil (D) - Klez.e (D) - Klimt1918 (I) - Landscape Body Machine (CDN) - Larrnakh (H) - Lebanon Hanover (GB) - Lolita Komplex (A) - Lucifer's Aid (S) - Machine De Beauvoir (D) - Masquerade (FIN) - Massive Ego (GB) - MGT & Friends (GB) - Mlada Fronta (F) - Moon Far Away (RUS) - Nachtblut (D) - Nikolas Schreck (USA) - Nim Vind (CDN) - Noisuf-X (D) - Novakill (AUS) - Nox Interna (D) - Odroerir (D) - Ohm (CDN) - Ordo Rosarius Equilibrio (S) - Peter Bjärgö (S) - Peter Heppner (D) - Pouppée Fabrikk (S) - Principia Audiomatica (HR) - Ragnaröek (D) - Red Cell (S) - Red Mecca (S) - Rendered (D) - Revolting Cocks (USA/B) exclusive German show 2017 - Ritual Howls (USA) - Romuvos (LT) - Rotersand (D) - Rotting Christ (GR) - RRoyce (D) - S.P.O.C.K (S) - Saigon Blue Rain (F) - Sündenrausch (D) - Scary Bitches (GB) - Schneewittchen (D) - Sex Gang Children (GB) - She Past Away (TR) - Shireen (NL) - Sinistro (P) - Sixth June (SRB) - Skinny Puppy (CDN) exclusive German show 2017 - Soviet Soviet (I) - Spiritual Front (I) present "BLACK HEARTS IN BLACK SUITS" - Suicide Commando (B) - Superikone (D) - Sutcliffe Jügend (GB) - Sylvaine (N) - Sylvgheist Maëlström (F) - Tanzwut (D) - Technique (BR) - The 69 Eyes (FIN) - The Agnes Circle (GB) - The Creepshow (CDN) - The Devil And The Universe (A) - The Eye Of Time (F) - The Mission (GB) - The Pussybats (D) - The Vision Bleak (D) - This Morn' Omina (B) - Thrudvangar (D) - Too Dead To Die (RUS) - Unlight (D) - V2A (D/GB) - Vain Warr (USA) ex-Blacklist - Varg (D) - Virgin In Veil (FIN) - VNV Nation (IRL/GB) - Vogelfrey (D) - Wednesday 13 (USA) - Welicoruss (RUS) - Whispering Sons (B) - Whispers In The Shadow (A) - Wires & Lights (D) - Xandria (D) - Yggdrasil (S)
For more information on the confirmed artists, there is a list of their official webpages here:http://www.wave-gotik-treffen.de/forumwgt3/viewtopic.php?f=3&t=23992 On the WGT website, a newsletter quickly informs you about the latest program updates.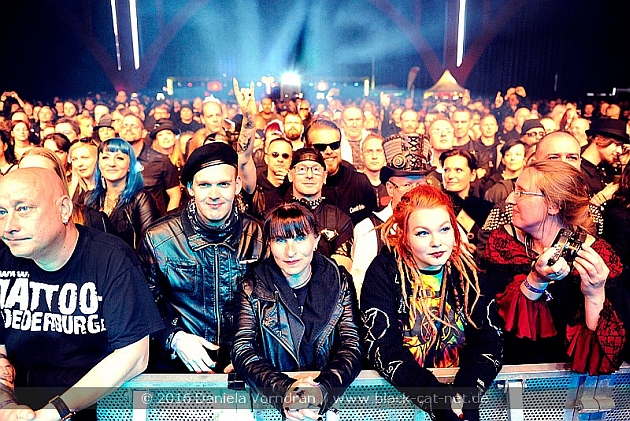 Tickets

Event Ticket

4-days tickets for all events during the 26th Wave Gotik Treffen 2017 are available for 120 EUR on pre-sale (incl. pre-sale charges).
Parking Vignette

In order to use the parking places on the Treffen Area, a parking vignette for 15 EUR (incl. pre-sale charges) for the whole time of the festival is necessary. Important! Without a vignette you're not allowed to park at the area.
Camping

Possible with "Obsorge Ticket", limited up to 9,999 tickets for 25 Euro (includes advance sale charges), contains the following service-package:
- Camping at the Treffen-Campground (agra-fairground)
Important!: Without an Obsorge Ticket the entering and the use of the camping grounds is not possible. The Obsorge ticket is only valid in combination with an event ticket and has to be bought for each person separately.
You can order your tickets here
http://www.wave-gotik-treffen.de/karten.php (Germany)
http://www.wave-gotik-treffen.de/english/karten.php (foreign countries)
Official WGT program book "Pfingstbote"

The book will be available for a price of 15 EUR both at the box offices and the central WGT merchandise stall at the Agra market hall.
Additional festival information

Further information will follow soon and are always available at http://www.wave-gotik-treffen.de/english/
WGT on Facebook: https://www.facebook.com/WaveGotikTreffen/
Event on Facebook: https://www.facebook.com/events/475663002638210/
Location

Leipzig, eastern Germany (at about 40 venues, spread all over the city); camping site and main venue at the edge of town at the "Agra-Messepark" Markkleeberg; for information on the city you may check http://en.wikipedia.org/wiki/Leipzig or the official city website http://www.leipzig.de/int/en; overview of where events will take place: http://www.wave-gotik-treffen.de/info/orte.php
Music styles

All kinds of dark music: Gothic; EBM; Industrial; Ambient; Neofolk; Synth-pop, Goth-Metal etc.
Expected number of visitors

About 20,000
Info line

0049-341-2120862 / Email:
This email address is being protected from spambots. You need JavaScript enabled to view it.
WGT-app

The useful and free app WGT-Guide can be downloaded in the app stores of Google Play, iTunes or Amazon.
"Low emission zone" in Leipzig

Since March 2011 about 60 percent of the urban area of Leipzig has been declared a "low emission zone" to protect the environment from air pollution. Therefore, within this zone only vehicles which have an official green sticker placed on the front windscreen are allowed. To obtain such a sticker, the vehicle must meet certain standards (i.e. age, type of fuel, diesel particulate filter etc.). This regulation is also valid for foreigners who travel to Leipzig by car. If you cannot show a valid sticker during a traffic check, you will have to pay a fine of 80,- Euros. The stickers are available for about 5,- Euros at most car repair shops in Germany or via internet, e.g. the website of TÜV-Nord (6 Euros): https://www.tuev-nord.de/en/private/traffic/car-motorcycle-caravan/emissions-sticker/order/. ATTENTION: The agra-area with parking lot and camping site can be reached via A38 / B2 without having to enter the "low emission zone"! That means it is possible for visitors to park their vehicle at the agra-parking lot (you will need a WGT parking ticket in this case, which can also be obtained on location) and reach all other locations by public transport. Please use the following links to find more information: https://www.tuev-nord.de/de/privatkunden/verkehr/auto-motorrad-caravan/umweltplakette / http://www.leipzig.de/umwelt-und-verkehr/luft-und-laerm/umweltzone / www.lowemissionzones.eu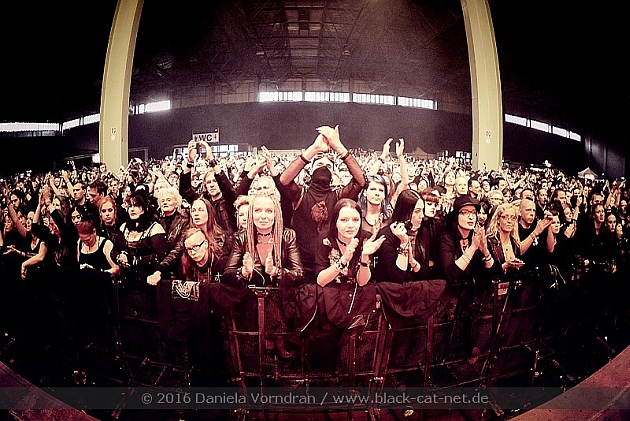 WGT special tips

Apart from famous bands of the scene, the coming WGT program will again include several hidden treasures whose names are maybe not known to everybody, but which will surely perform outstanding concerts. So before visiting the WGT, it's worthwhile to take a closer look into the program and to listen to some sample tracks of the artists you don't know. Here are some hints on a few less known, yet interesting bands and artists which will play at the WGT 2017:
Ah!Kosmos

Minimal Techno, Ambient | Turkey: https://www.youtube.com/watch?v=NeOzh9H0-DU
The woman behind this somewhat oddly named project is the Istanbul producer Basak Günak. The mostly instrumental tracks, which drift between Ambient, Minimal Techno and Post-rock, are atmospheric, dark and hypnotic. Dreaming, dancing, wondering - everything is possible. Recommended for friends of Thom Yorke, Apparat or Plaid!
Annwn

Neoklassik, Ethereal | Germany: https://www.youtube.com/watch?v=xX_KLoDbgjs
Ethereal, wafting chamber-folk, carried by the heavenly voice of Sabine Hornung, who leads a large ensemble of classical musicians. Sometimes indistinguishable from the undisputed ruler of the genre, Loreena McKennitt,
Besides

Post Rock | Polen / Poland: https://www.youtube.com/watch?v=mBOH43jvnUE
Post Rock has been an integral part of WGT for several years now. The program includes not only well known bands like God Is An Astronaut, Caspian or I Like Trains that already played at WGT, but also relatively unknown acts like this fantastic formation from Poland. A highly recommended tip for fans of the genre!
BFG

Gothic Rock | UK: https://www.youtube.com/watch?v=3NhiYd-2E80
Founded in 1985, BFG was one of the prototypes of the Gothic Rock. They supported New Order on their 86 tour and were often compared to Joy Division. Now they are back again, having recently played a well-received gig in Berlin.
Cuélebre

Pagan Folk, Medieval | Spain: https://www.youtube.com/watch?v=aWA0s1eqopY
A new, sympathetic ensemble from Valencia, named after a giant winged snake from northern Spanish mythology. Friends of Hagalaz' Runedance or Trobar De Morte should attend at least one of their two planned concerts.
Da-Sein

Industrial, Angstpop | Spain: https://www.youtube.com/watch?v=WqP1vbxORnk
After the performance of TeDIS last year, we present another stage premiere of a band from the industrial cult label Galakthorrö. Gloomy, reduced analogue electronics, varied from danceable to destructive, with an alien, mostly female voice intoning in Polish and English.
Desperate Journalist

Indie, Postpunk | UK: https://www.youtube.com/watch?v=xNwQTRLHTE8
Their 2015 self-titled debut album was a smash hit, this year they follow up with their second album and finally their first appearance at the WGT! Music lovers, who mourn the demise of a band, called The Organ, and still hold a place in their hearts for Cure or the Smiths as well, will want to be there or they might kick themselves in the pants in regret.
Drab Majesty

"Tragic Wave" | USA: https://www.youtube.com/watch?v=pdy6dONsbQ0
Andew Clinco aka "Deb DeMure" has been running his solo project since 2012. Before that he was the drummer for the outstanding band Marriages. His current LP 'The Demonstration' mixes relaxed electronic rhythms with guitar sounds like The Cure or The Chameleons once made.
Eden

Ethereal, Wave | Australia: https://www.youtube.com/watch?v=TUI4T5djc1o
Eldergoths may remember the US label Project as the Wavers and Romantics who in cooperation with their German colleagues, Hyperium, consistently produced fantastic releases of bands like Lycia, Love Spirals Downwards, and Black Tape For A Blue Girl in the 90s. The cutting edge of the Project program was a band called Eden, which has become an obscurity over the years. Their mini-album 'Healingbow' (1993), recorded with Pieter Bourke, who would later work with Lisa Gerrard and others, remains one of the milestones of the genre. Friends of Dead Can Dance or the above listed Project bands should listen up here, because after their recent reconfiguration, Eden is now coming to Europe for the first time.
Hautville

Neoklassik, Neofolk | Italy: https://www.youtube.com/watch?v=vfo6onkKaDU
Already making their second appearance at the WGT, but still worth mentioning. Powerful, Italian Neofolk. Friends of Argine, Corde Oblique or Ashram should not miss this concert.
Hørd

Minimal Synth | France: https://www.youtube.com/watch?v=J-VbRCUbQtg
New one-man project from France that produces spherical-melodic synth sounds, quasi the male answer to Hante.
Klez.e

Indie, Post Punk | Deutschland / Germany: https://www.youtube.com/watch?v=u0TAAbsNfhk
This indie band suddenly presents itself visually and musically as a German version of The Cure and titled their current album 'Desintegration' (!). Still, it's obvious they aren't flat and calculated copycats – 'Desintegration' is an honest concept album dealing with the disappointed dreams of the time of the German reunification and the bleak, broken world of the present. The German lyrics may require a bit of getting used to, but the music is so good that it it's worth it.
Lucifer's Aid

EBM | Sweden: https://www.youtube.com/watch?v=TKb3ogbmrPI
The Progress Productions label (home of Kite, Hendric De La Cour, Agent Side Grinder, etc.) once again serves as a talent-forge and quality guarantee for high-quality electronic sounds, in this case for the finest Old-School-EBM from a new Swedish project.
Moon Far Away

Neofolk | Russia: https://www.youtube.com/watch?v=tp2c9DR4QK0
In principle, MFA has always been the spearhead of Eastern European Neofolk and is thus no longer a really secret tip. The ensemble draws inspiration from the old North Russian folklore and creates an entranced mood on its rare concerts, not in the least through the ritual-like costumes and masks. After their 2011 performance, now appearing for the second time at the WGT.
Peter Bjärgö

Neoklassik, Ambient | Schweden / Sweden: https://www.youtube.com/watch?v=cDimQwl58Hg
The names of the musicians behind the well-known band are not always common knowledge, so it should be pointed out that this is the head of the (ex-Cold-Meat-Industry) cult project Arcana. Peter has just released a new solo album, which upon the first listen goes a bit in the direction of Shoegaze, so be ready for something unexpected.
Red Cell

Synthpop, Future Pop | Schweden / Sweden: https://www.youtube.com/watch?v=NCkqFrSRhdQ
Again, the label Progress Productions from Sweden is the pearl diver who discovered this act. Red Cell certainly do not reinvent the wheel, but their talent for melodies is clear.
Ritual Howls

Post Punk, Cold Wave | USA: https://www.youtube.com/watch?v=fIKN26CyD2Q
It would be tough find a darker band in this genre. The songs of this band from Detroit, which after two albums are finally playing at the WGT, are hopeless and suffocating, hypnotic and abysmal.
Shireen

Elfenpop, Ethereal | Holland: https://www.youtube.com/watch?v=CyWUd5Whh9w
They come from the Netherlands and call their music Witchpop. They sound similar to bands like Euzen, Valravn or Mila Mar. If you hold these bands close to your heart, don't miss Shireen.
Sylvaine

Postrock, Shoegaze, Black Metal | France: https://www.youtube.com/watch?v=N6w4FxmYjh8
With her current album 'Wistful' the Norwegian multi-instrumentalist steers stylistically toward the so-called Blackgaze, which was recently created by bands such as Alcest. To dismiss her as a mere clone, however, would not do justice to the quality she delivers or her angelic voice which brings something beautiful to the sound spectrum. In contrast to her studio work, at the WGT of course she will not all play the instruments herself, but will appear with a full band.
The Agnes Circle

Post Punk | UK: https://www.youtube.com/watch?v=zjIC8JPQm50
Fresh London Post-Punk duo stylistically similar to bands like The Soft Moon, Kiss The Anus Of A Black Cat or Winter Severity Index.
Vain Warr

Wave, Postpunk | USA: https://vainwarr.bandcamp.com/track/deadline-season
The US band Blacklist was already confirmed for the WGT some years ago, but they broke up shortly before the Treffen. Now, Joshua Strawn comes to Leipzig with his current project Vain Warr - and according to his own statements, he'll be bringing along a few Blacklist songs from epic album 'Midnight Of The Century'.
Whispering Sons

Wave, Postpunk | Belgium: https://www.youtube.com/watch?v=zmffv-ZV4iE
One of the most promising new bands of the genre, hailing from Belgium. They already set an ice-cold milestone with their first EP in 2015. Songs such as 'Time' or 'Wall' are by all means indispensable for a good club playlist.
Wires & Lights

Wave, Postpunk | Germany: https://www.youtube.com/watch?v=nwKTll0cme0
After the dissolution of his band Passion Play, which gave their last concert at the WGT, Justin Stephens begins a new era under the name 'Wires & Lights'. It is their second appearance after their debut at the 15th anniversary party of the legendary Pagan Love Songs party series in Bochum.