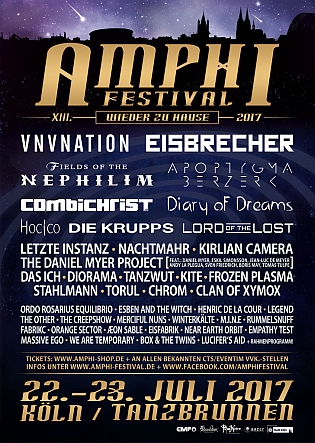 Tanzbrunnen, Cologne, Germany
22nd & 23rd July 2017
Amphi Festival with Aeon Sable, Clan of Xymox, Diary of Dreams, Diorama, Eisbrecher, Fields of the Nephilim, Hocico, Kite, Kirlian Camera, Merciful Nuns, VNV Nation, and many more

In just about three months, on July 22 and 23 to be precise, the AMPHI Festival in Cologne, Germany, will open its gates for about 12,000 Goth fans from all over the world once again. After its comeback to the former venue and getting an award for a decade-long, fruitful cooperation with the Tanzbrunnen, the AMPHI Festival 2017 is building a bridge between tradition and modern zeitgeist. AMPHI fans can look forward to, all in all, 42 diverse bands on three stages.
Electro-heads as well as friends of electric guitars will have a good time with VNV NATION and EISBRECHER as this year's powerful headliners. The same is true of the entire program as, for example, British Goth Rock legends THE FIELDS OF THE NEPHILIM are going to share the stage with harsh Electro heroes HOCICO from Mexico. Top-acts such as APOPTYGMA BERZERK, COMBICHRIST, DIARY OF DREAMS, LORD OF THE LOST, EBM / Industrial Rock-pioneers DIE KRUPPS, and many more call for a truly promising Amphi 2017. What is more, one-third of the current line-up consists of acts that will celebrate their premiere on the Amphi stage this year. Among these are, for example, the Swedish Synth Pop shooting stars KITE, epic Electro rockers LEGEND from Island, and British Post rockers ESBEN & THE WITCH.
The legendary Amphi Festival opening event CALL THE SHIP TO PORT is also well known as a phenomenon! Brought to life first in 2013, we return to the MS RheinEnergie again in 2017 for another exclusive extravaganza, when the epic Rhine panorama unites with massive beats, forming a symphony of images, sounds and emotions. Either for the rhythm of the music or the sundown on deck - CALL THE SHIP TO PORT is a special experience, sharing its fascination with anyone who once stepped aboard the unique European event catamaran. In good tradition CALL THE SHIP TO PORT will open the Amphi Festival on Friday, July 21, at 8pm with an impressive line-up, exclusively playing aboard the MS RheinEnergie. This year, FRONT 242, NEUROTICFISH, and SCHEUBER will be on board! The ship will be back on shore at about 00:30am. Tickets are limited and available exclusively at Amphi Ticketshop www.amphi-shop.de while stock lasts. Further info on the event and a timetable are at: www.amphi-festival.de/calltheshiptoport.html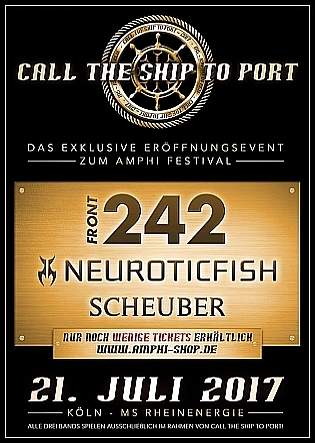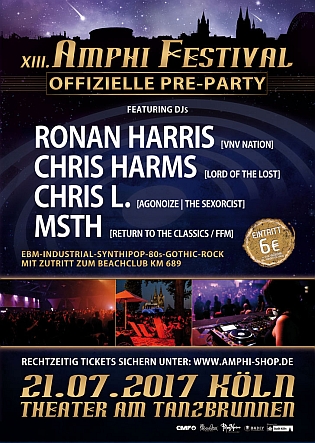 As always, there will also be an OFFICIAL PRE-PARTY on Friday, July 21, starting at 10pm in the Theater at the Tanzbrunnen. Thus, those festival goers who won't be on the ship are also going to sound the bell for the 13th Amphi get-together. The dance floor will be shaken by a mix of EBM, Industrial, Synthpop, 80s, Gothic and Rock tunes, presented by a sublime DJ-line-up, this time consisting of: RONAN HARRIS (VNV NATION), CHRIS HARMS (LORD OF THE LOST), CHRIS L. (AGONOIZE / THE SEXORCIST), and MSTH (RETURN TO THE CLASSICS). In addition to the party-ground at the Theater the beach club "km 689" will take part again, contributing its relaxed beach atmosphere, outside the party-zone. Also you will have the opportunity to pick up your weekend festival wristband during the pre-party. Tickets on pre-sale are 6.60€ (plus fees) and are available at Amphi Shop, www.amphi-shop.de, at all nationwide CTS/EVENTIM box-offices, online at
EVENTIM
, www.oeticket.com, www.ticketcorner.ch, www.eventim.nl and as PRINT@HOME edition.
Furthermore, Amphi fans are organizing a Dark Romantic picnic under the name of "Jardin de Belle Époque" and everybody is invited to join in for free. Folks will meet at 4pm at Cologne's Friedenspark and, fittingly, there is a dress code: Please appear in your Dark-Romantic, Goth, Baroque, Steampunk wardrobe, a uniform, or whatever comes to your mind. Finally, the Amphi beach club "km 689", the mead lounge, the merchant mile, signing sessions with the artists, and after-show-parties will of course also not be missed this year at the Tanzbrunnen. Amphi 2017 is calling you!
Line-up

Saturday, July 22, 2017 (in alphabetical order):

AEON SABLE / BOX & THE TWINS / CHROM / CLAN OF XYMOX / DIARY OF DREAMS / DIE KRUPPS / DIORAMA / EISFABRIK / EMPATHY TEST / ESBEN AND THE WITCH / FABRIKC / FIELDS OF THE NEPHILIM / FROZEN PLASMA / HENRIC DE LA COUR / KITE / LORD OF THE LOST / NACHTMAHR / TANZWUT / THE CREEPSHOW / TORUL / VNV NATION
Sunday, July 23, 2017 (in alphabetical order):

APOPTYMA BERZERK / COMBICHRIST / DAS ICH / EISBRECHER / HOCICO / KIRLIAN CAMERA / LEGEND / LETZTE INSTANZ / LUCIFER'S AID / MASSIVE EGO / MERCIFUL NUNS / M.I.N.E. / NEAR EARTH ORBIT / ORANGE SECTOR / ORDO ROSARIUS / EQUILIBRIO / RUMMELSNUFF / STAHLMANN / THE DANIEL MYER PROJECT / THE OTHER / WE ARE TEMPORARY / WINTERKÄLTE
The final running order is not set yet and will be announced in time before the festival.
Tickets

Festival tickets are available at all nationwide CTS/EVENTIM box-offices, at
EVENTIM
, www.oeticket.com, www.ticketcorner.ch, www.eventim.nl and as PRINT@HOME edition. Day-tickets are available for 59.50€ (plus fees), the weekeend-ticket is 82€ (plus fees). Limited "Call The Ship to Port 2017 + Amphi 2017" tickets are available for 136€ and you may purchase a "Call the Ship to Port Upgrade" for 54€. Tickets for the official pre-party are 6.60€.
Additional Festival Information

Doors: 10am (both days)
Starts: 11am (both days)
Festival Websites: www.amphi-festival.de / www.facebook.com/amphifestival
Facebook Event Call the Ship to Port: https://www.facebook.com/events/652961481549063/
Facebook Event Amphi Festival 2017: https://www.facebook.com/events/938823659573330/