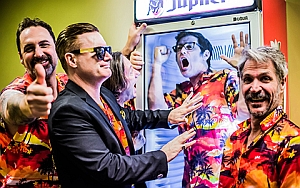 FZW, Dortmund, Germany
21st June 2017
Me First And The Gimme Gimmes

For the uninitiated, ME FIRST AND THE GIMME GIMMES consist of
LAGWAGON
front man Joey Cape on the guitar, Chris Shiflett (
FOO FIGHTES
) on the other guitar, LAGWAGON drummer and FAT WRECK utility superhero Dave Raun on the skins, and are rounded out by FAT WRECK-head-honcho /
NOFX
main-dude Fat Mike, and incomparable crooner Spike Slawson. Together, ME FIRST AND THE GIMME GIMMES - an outfit that has always operated more like a beer-hall
PUSSYCAT DOLLS
than a regular mortal band - contain so much hot air, so much pomp, so much attitude, that it's a wonder that these guys can still manage to pull their five individual tour buses into the same parking lot, put their differences aside and belt out the ballads without clawing each other's eyes out. But they do, for the love of the fans, the music, and of course, the applause.
So, what is really left to say about punk super-group and cover band extraordinaire ME FIRST AND THE GIMME GIMMES? After seven studio albums, a live record and too many singles to count, they've tackled just about every genre under the sun. Be it Motown, Country, show tunes, Japanese Pop (sung in Japanese!), these seasoned punk rock pros have triumphed on every occasion in a way only the GIMMES could. With such an extensive and wide ranging catalog, where does one begin?
Lucky for you, they've done that work for you. Out April 7, 'Rake It In: The Greatest Hits', finally compiles all the best hits onto one disc! From perpetual favorite 'I Believe I Can Fly' to the classic Country tune 'Desperado', to the diva sensation 'Straight Up', the hits just keep a-comin'! They've even thrown in some deeper cuts for the GIMMES' most fervent enthusiasts with 'City of New Orleans' and 'Hats off to Larry'. With 17 of only the very best hits, Rake It In is sure to satisfy GIMMES fans from all reaches of the globe.
ME FIRST AND THE GIMME GIMMES will be on a worldwide tour in 2017 so be sure catch them live. When duty calls for one of the GIMMES to perform with their other band, rest assured a traveling GIMME will step in. Scott Shiflett, you guessed it, Chris Shiflett's brother and guitarist for FACE TO FACE will be filling in and on occasion, Jay Bentley from BAD RELIGION will sub for Fat Mike. The powerhouse continues and they'll be singing ballads, show tunes, Country and Motown tunes all year long, so don't miss it!
Additional Concert Info

Doors: 7:00pm
Starts: 8:00pm
Tickets: are available for 23.80€ (pre-sale plus fees)
HERE
and at
Ticketmaster
Info: http://www.fzw.de/programm/detail/21.06.2017/Me+First+And+The+Gimme+Gimmes/1501/
More on
ME FIRST AND THE GIMME GIMMES