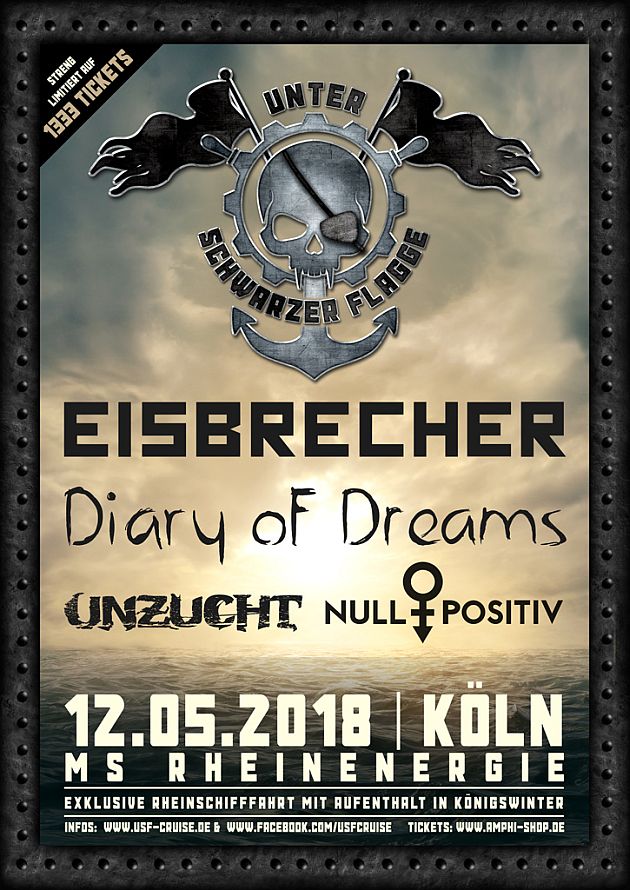 MS Rheinenergie, Cologne, Germany
12th May 2018
Unter schwarzer Flagge ("Under Black Flag") 2018 with Eisbrecher, Diary of Dreams, Unzucht and Null Positiv

When Jolly Roger asks for a ride on board of the MS Rheinenergie on 12th May 2018, the Rhine River turns into a black sea. Festival meets day trip with heavy riffs and big scenery, strictly, limited to 1,333 tickets only! "Under black flag", the cruise leads you up the river into the myth-enshrouded Siebengebirge to the historic old town of Koenigswinter, at the foot of the Drachenfels (Dragon's Rock). On board, four bands take care for heavy swell.
While on the way to Koenigswinter first NULL POSITIV will enter the stage, DIARY OF DREAMS will afterwards awaken their gloomy visions. During the return, UNZUCHT and EISBRECHER will lead the ship safely back to harbour. Between the concerts on afternoon and evening, the MS Rheinenergie will drop anchor in Koenigswinter for a three-hour shore leave and offers all participants the opportunity to explore the city of Koenigswinter on their own.
For example you could climb up the Drachenfels and enjoy the phenomenal view on the Rhine River. You may visit the Niebelungenhalle (with a reptile zoo) or take a ride with the Drachenfels train. Another highlight of the city is the fairy-tale castle Schloß Drachenburg. The Sealife right beside the quay allures with its fascinating underwater worlds. In cooperation with the cruise, the Niebelungenhalle, Schloß Drachenburg and Sealife Koenigswinter grant reduced entrance fees and longer opening hours until 19:00 to all participants of the USF-cruise by presenting their festival tickets.
This unique combination of a boat cruise and a music festival, merged with the wonderful landscape of the Siebengebirge will care for unforgettable moments.

Tickets

The tickets are strictly limited to 1,333 units and exclusively available at the Amphi Shop under www.amphi-shop.de for a pre-sale price of 69 euros plus 6 euros fees. Shipping will be on top. The price includes the cruise on the Rhine on board of the MS Rheinenergie on 12th May 2018 from Cologne to Koenigswinter and back. NOT included are possible entrance fees for the sights during your shore leave as well as all costs for accommodation or food and beverages. Information about possible rebates for participants of the cruise are available via www.usf-cruise.de/tourismus.html. All fees have to be paid directly at the respective venues.
Additional Information

UNTER SCHWARZER FLAGGE - 12.05.2018 - KÖLN | MS RHEINENERGIE
Bands: EISBRECHER + DIARY OF DREAMS + UNZUCHT + NULL POSITIV
Date: 12th May 2018
Doors: 11:00
Departure: 12:00
Shore Leave Koenigswinter: 16:30 - 19:30
Arrival: ca. 23:30
Info: www.usf-cruise.de
Tickets: www.amphi-shop.de