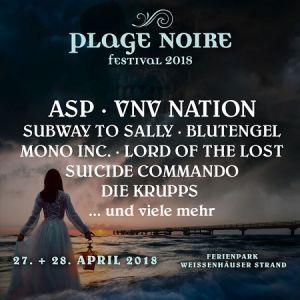 Ferienpark Weißenhäuser Strand, Germany
27th to 28th April 2018
Plage Noire Festival 2018 with ASP, Mono Inc., Megaherz, Zeromancer, Ost+Front, Solar Fake, VNV Nation, Subway To Sally, Blutengel, Lord Of The Lost, Suicide Commando, Die Krupps, Diorama, and many more

After a long break, the PLAGE NOIRE FESTIVAL finally finds a place again in the festival calendar. It took place in 2009 for the last time, and now returns aiming to be bigger and more professional than ever.
The PLAGE NOIRE will take place at the Weissenhäuser Beach holiday park. With the sounds and views of the Baltic Sea on its doorstep, the entire holiday park looks forward to welcoming its dark side on this special weekend. In between the bands' performances, festival goers can also take the time for the great nature walks and enter into the holiday spirit!
The concerts, however, will take place indoors. This year, the audience will be offered a very special mixture of electro, dark rock, alternative and gothic rock. German band ASP and VNV NATION from Ireland will appear as headliners. A highlight will surely be the performance of LORD OF THE LOST, who always deliver live and surprise the fans with great new outfits. With many of the bands enjoying a big fan base, and a festival so close to the beach the atmosphere and ambience of the weekend will surely be one to remember. Please visit the official festival homepage, which will soon be showing the running order.
Line-up

Friday, 27th April: ASP | MONO INC. | MEGAHERZ | ZEROMANCER | OST+FRONT | SOLAR FAKE | NOISUF-X | CHROM | EDEN WEINT IM GRAB | LEICHTMATROSE |APRON
Saturday, 28th April: VNV NATION | SUBWAY TO SALLY | BLUTENGEL | LORD OF THE LOST | SUICIDE COMMANDO | DIE KRUPPS | DIORAMA | CENTHRON | ABSURD MINDS UNZUCHT | SCHWARZER ENGEL | EWIGHEIM | EMPATHY TEST | FLORIAN GREY | ACCESSORY | JOHNNY DEATHSHADOW
Additional Concert Info

Doors: 12:00
Tickets: sold out
Info Event: https://www.facebook.com/events/144444316160003/
Festival Website: http://www.plagenoire.de/public/