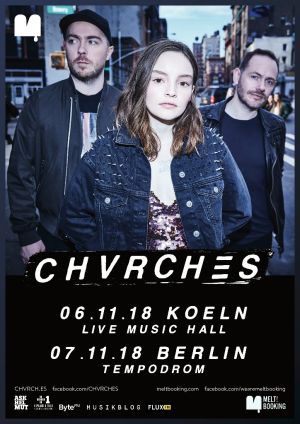 Live Music Hall, Cologne, Germany
6th November 2018
Chrvches - Tour 2018


Since appearing on the scene for the first time in 2013, eclipsed by the sparkling glamor of their single 'Recover', CHVRCHES have always struggled with subtle but unequivocal caution to be reduced to their summer hit potential, because at heart they are real punks from Glasgow. The three have done everything they can to protect themselves and their inherent melancholy, giving depth to their sunny synth pop.
And now they are back with their third album, Lauren disappeared for days to write the lyrics to the songs, this time the three band members spent the whole time together in one room.
"This makes the album feel more coherent than the two before,"
says Lauren. And her look at the things she addresses in her texts are far less introspective, rather than extensive and pictorial.
"I tried to write less about romantic love in particular, and instead about the concept of love in general."
The single 'Get Out' is a sweeping crescendo of heartbroken joy and therefore the perfect opener of the album. It is followed by 'Graffiti' with its lively, syncopated backbeats.
"Wrote our names along the bathroom walls, graffiti-ing our hearts across the stalls,"
Lauren sings.
"I've been waiting for my whole life to grow old and now we never will."
Additional Concert Info

Doors: 19:00
Start: 20:00
Tickets: EUR 30.80 plus fees at tixforgigs and via
Eventim
More Info: https://livemusichall.de/CHVRCHES.1368.html
Facebook Event: https://www.facebook.com/events/2093907387544329/
More on
Chrvches