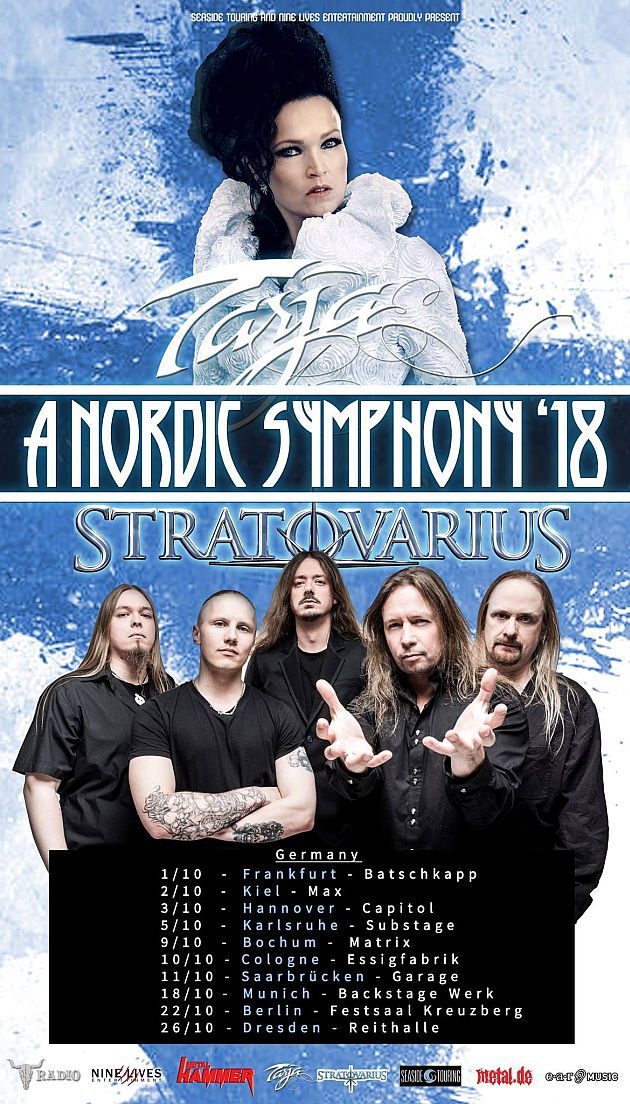 Reithalle Str. E, Dresden, Germany
26th October 2018
Tarja & Stratovarius - "A Nordic Symphony 2018"

Needless to say that one can await big things when the queen of heavy rock, the brightest star of the symphonic rock scene and certainly the most internationally well-known Finnish female voice in the world of music, TARJA TURUNEN, and her band team up for a tour with one of the most successful, enduring power metal bands in the world, who influenced a whole genre with their distinguished mix of fast progressive metal and a melodic approach, symphonic metal originators STRATOVARIUS.
Recently, STRATOVARIUS presented their long awaited "Best Of" album, which included 29 hits and fan favourites (and there could have been more!) as well as starting a reissue campaign of all their 16 studio albums, with one of the band's most successful and most loved albums, 'Destiny' (originally released in 1999), and the cult live album 'Visions Of Europe' (originally released in 1998). The series will be continued in summer 2018 with the not less loved albums, 'Episode' (originally released in 1996), and 'Visions' (originally released in 1997), again packed with rare and newly recorded bonus material.
Now these two major players from Finland decided to go on "A Nordic Symphony '18 Tour" together and not only who is aware of both acts history can hint that this will have some more exiting surprises than just outstanding extra ordinary shows by TARJA with her band and STRATOVARIUS!
Additional Concert Info

Doors: 18:30
Start: 19:45
Tickets: can be bought for 41.25 + charges (pre-sale) via
Eventim
Info: https://www.facebook.com/tarjaofficial/ https://www.facebook.com/stratovarius
Facebook Event: https://www.facebook.com/events/448946862207909/
Location: http://www.strasse-e.de/termine.php
More on
Tarja
and
Stratovarius